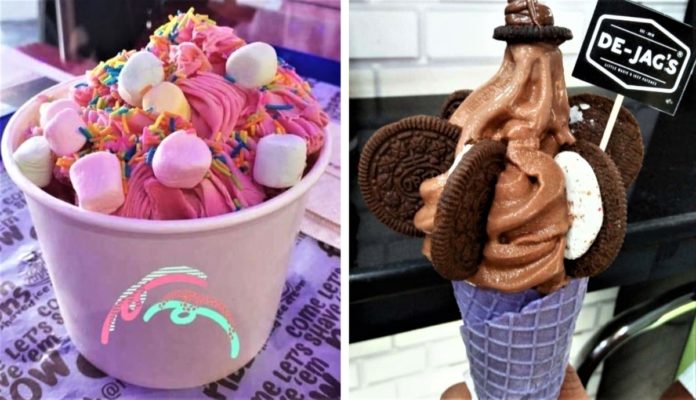 It's the official ice cream o'clock season! Admit it, one of the major reasons why we love summer season is that we get to devour on thandi-thandi and delicious ice creams. Since the ice cream season is back we have handpicked 9 fantastic standalone ice cream parlours in the city where you can devour on your favourite ice cream flavours, scroll on.
1. Oh So Stoned!
Image Source: Zomato


Image Source: Zomato
The pretty looking ambience and delicious ice cream sundaes to-die-for, Oh So Stoned are all things fabulous! Their Hot Chocolate Fudge and Mississippi Mudpie are amazing. And if you are one of those who love to add fruits in their ice cream, then you should try their Fruit Factory- creamy vanilla ice cream topped with fresh fruits and layered with cream and jelly. This is something that you can't miss!
Where: Cyber Hub, DLF Cyber City, Gurgaon; BG 45, Ground Floor, B Block, Elements One, Sector 49, Gurgaon & Shop A-19, 3rd Floor, Ardee Mall, Ardee City, Gurgaon
2. Goosebumps

Image Source: Zomato


Image Source: Zomato
East Delhi peeps are blessed with one of the best ice cream parlours in the city! All the ice cream flavours and sundaes are either doused in chocolate sauce or with almonds or fruits. All the chocoholics you will be spoilt for choice with their Willy Wonka(chocolate ice cream with chocos) Nutella (chocolate ice cream with generous spoons of Nutella), Brownie Break and what not. The Candy Land, Magic Pop and Bubble Gum is something which all the kids will love it for sure!
Where: House 1, Dayanand Vihar, Opposite HOD, Karkardooma, New Delhi
3. Minus 30
If you are some who loves to experiment with their desserts and especially ice cream, then Minus 30 is where you need to head. Some of their hot seller's flavours are- Dark Chocolate Matcha, Banoffee, Nutella, Oreo Cookie and Green Tea Matcha. Known for their vegan ice cream flavours try Dark Chocolate and Coconut. Which one is your pick?
Where: 246, Okhla Industrial Area, Okhla Phase 1, New Delhi
4. Get Desserted

Image Source: Zomato


Image Source: Zomato
What if we tell you that your favours- ice cream and Indian mithai are combined into one dish? Yes, Get Desserted makes mithai flavoured ice creams! Take your pick from Banana Banoffee Ice Cream, Red Velvet Ice Cream, Moti Chur Ice Cream, Brownie Waffle and more. One of their best and all favourite ice cream flavour is Gulab Jamun; it's a mush-have!
Where: Property 2, Ground Floor, Road 81, Punjabi Bagh, New Delhi
5. Jaatre

Image Source: Zomato


Image Source: Zomato
It's an eco-friendly ice cream joint that is going their bit to save the environment. Wondering how? Jaatre serves homemade ice cream in coconut shells instead of plastic cups. You can choose from four categories– Sorbet, Classic, Two-of-a-kind, and Fresh Fruits. Their Mango Red Chilli, Jamun Jeera, Black Pepper and Cardamom are something to go for!
Where: Shop 1, Near Sukhdev Vihar Metro Station, New Friends Colony; M21, Ground Floor, Greater Kailash 2 (GK 2), New Delhi and more
6. De Jags

Image Source: Zomato


Image Source: Zomato
De-Jag's in Rajouri Garden whips up 24 carats gold plated and cray ice cream tower. The gold plated ice cream 'Go For Gold' is served in a cone, consisting of layers of cakes, fudge brownie, various flavours of ice creams and topped with Swiss chocolate ice cream. Finally, the three gold sheets of 24 carats each are added on top. Doesn't it sound heavenly?
Where: J 39, Rajouri Garden Market, Rajouri Garden, New Delhi
7. Frozen Ribbons Shaved Ice Cream

Image Source: Zomato


Image Source: Zomato
Nestled in Hauz Khas Village, Frozen Ribbions Shaved Ice Cream will leave you spoilt with choices! Choose from flavours like Bubble Gum, Kiwi, Blueberry, Mandarin and more. Once you have selected the flavour, top it up with rainbow sprinkles, choco chips and more. And finally, you can dunk your ice cream in a different sauce such as dark chocolate, strawberry or more. We are craving for this one, are you?
Where: 29 A, Ground Floor, Hauz Khas Village, New Delhi
8. Cremeborne

Image Source: Zomato


Image Source: Zomato
We scream for ice cream, what about you? Known for their hatke flavours, Cremeborne is for all those people who love experimenting with food. Their Black Nutella Swirl Ice Cream that comes topped with Coconut Powder is something to die for! This is what we define quirky and irresistible.
Where: 57, Municipal Market, Connaught Circle, Connaught Place, New Delhi
9. Emoi

Image Source: Zomato


Image Source: Zomato
Emoi is all kinds of adorable ice cream! Known to dish out the cutest gelatos in the city, these guys are a personal favourite. Their SoVelvet, Pawfee, Strawblush and Gum Yum are all things fabulous. So, it's time to update your Instagram before you start digging into it. Grab a bite of these offbeat ice cream!
Where: Cyber Hub, DLF Cyber City, Gurgaon; Pacific Mall, Tagore Garden, New Delhi & more outlets
(Featured Image Source: Just Dial/Magicpin)