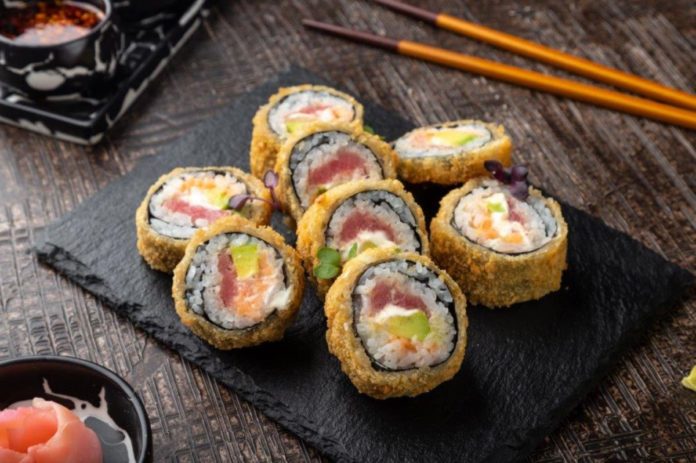 If you want to cling to the breezy springtime, then you should experience it at You Mee- The Japanese Restaurant. YOU MEE is an Asian cuisine restaurant and they are celebrating the Cherry Blossom Festival with a special Sushi menu. Scroll down to know more about this festival at You Mee.
What All Is There In-Store?
It's going to be a month-long fiesta, starting from 2nd March up till 1st April 2020. For those who don't know, Cherry Blossom Festival is celebrated in Japan, and it is a kind of a holiday where families have picnics underneath the trees, enjoy delicious food and drinks while watching beautiful cherry blossoms and fireworks at night.
It's time to get ready for a roller-coaster ride of some serious sushi action and authentic flavours. With the fun & lively Manga art on the walls and relaxed ambience, the celebration here promises to be the culinary escape which you will thoroughly enjoy.
What's On The Menu?
If you are one of those who is always up for experimenting with food, then this is the place to be for you. It's going to be one of the most memorable gastronomical rides! The menu is curated by Chef Rattan Kumar and is tempting bait for all the Japanese food lovers. It's time to begin your meal with Mushroom Truffle (a blend of crispy fried enoki mushroom), Crunch Misaki with salmon and tuna cream cheese and of course the crab stick.
You Mee's menu also features artisan rolls and balls, which are an ideal mix of flavours and texture. Hog on to their yummy Teriyaki Chicken rolls with Grilled Chicken, Scallion & Teriyaki Mayo. All the avocado lovers, you must try Karikari Yasai and Takuwan & Avocado. You can even try Japanese popular dish – Sake & Maguro, which is a handmade sushi ball topped with salmon and tuna on awase miso flavoured rice.
When: 2nd March – 1st April 2020
Where: M-27, Ground Floor, Greater Kailash 2 (GK2), New Delhi
Time: 11:00 AM – 11:30 PM