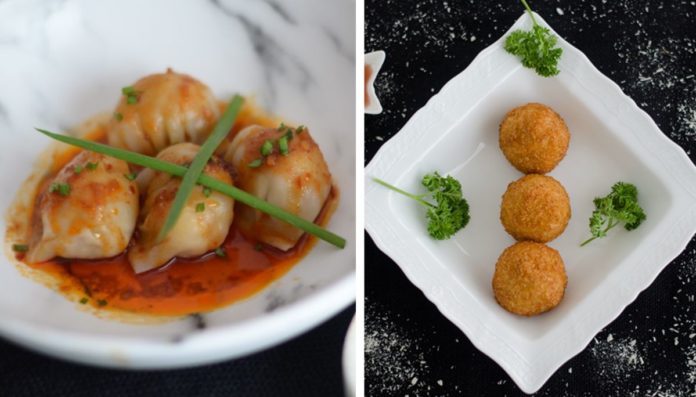 Who doesn't on this planet loves a steaming plate of juicy dim sums? But if you thought that there are only a few types of Dimsums like Steamed Rice Rolls, BBQ Pork Buns, Soup Dumplings, then you are mistaken! There's a restaurant in CP, The Art Of Dumpling, that serves 149 types of dim sums! Yes! Just scroll down to know more about this restaurant.
The Art Of Dumpling
Located in the heart of the city, The Art of Dumpling is a beautiful dining place that dishes out of 149 types of dumplings (oh yes)! If you're someone who loves gobbling down these fluffy treats of happiness, this is where you need to head. It's also said that this might be the largest dumpling menu in the whole wide world! How cool is that!
The menu has been curated by the Adipta Majumder, the founder, along with other culinary chefs, to bring you the best of the best. The Art of Dumpling relives the idea of an Asian Teahouse by bringing an exclusive range of teas, desserts and mocktails along with dumplings. Not to miss, they have a Live Kitchen so that you can see the whole process and trust us it is thrilling and exciting!
Types of Dumplings
Image Source: Zomato


Image Source: Zomato
Once you are here sample their yummy kind of dim sums like Tortellini (chicken with enoki mushroom), Dombolo Sou Dumplings (South African dumpling), Thai Gingered Chicken Chebuureki (Crimean tart cuisine), Mixed Veggies Crystal Dumplings, Grilled Garlic Seabass Humitas (dumpling from Chile) and many more from different parts of the countries. 
Wait up, how about trying dumpling as a dessert? The Art Of Dumpling serves six kinds of dessert dumplings. Their dessert menu includes Dango (made from rice flour covered with Shouyu syrup), Modak (steamed Indian rice dumpling teamed with grated coconut and jaggery), Tangyuan (Chinese dessert) and more.

Image Source: Zomato


Image Source: Zomato
Where: G 18, 19, Outer Circle, Connaught Place, New Delhi
(Featured Image Source: Zomato)