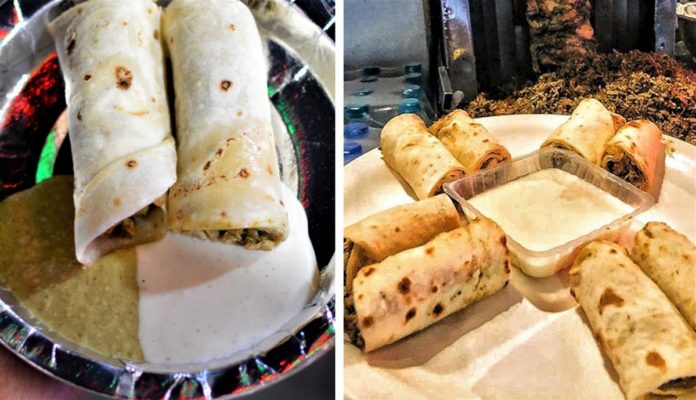 The one thing that we need the most after a long and tiring day is a tummy-filling and soul-satisfying meal, right? Like us we are sure, you are also not always in a mood of indulging in butter chicken or an extra cheesy pizza. Sometimes all we need is a quick fix food that's equally delicious. Raise your hands if the very thought of super-loaded shawarma will make you tummy dance in joy! So, all the foodies out there, we have mapped out the amazing local joints in Delhi-NCR that serves the yummiest shawarmas. 

1. Spice Aangan


Image Source: Zomato


Image Source: Zomato
If you are a true Shawarma lover, then you will definitely know this one. Tucked in SDA Market, Spice Aangan serves the juiciest meat in the softest bread. One plate serves only two pieces and is perfectly cooked meat and wrapped in a paper-thin pita that melts in the mouth in just first bite. Chicken lovers, you can go for their Chicken Malai Tikka. And if you're a vegetarian, then try their Paneer Shawarma Roll, it is equally yummy!

Where: C-21/2, Opposite IIT Main Gate, SDA Market, SDA, New Delhi

2. Uncle Chicken Shawarma


Image Source: Zomato


Image Source: Zomato
This tiny stall in Dwarka has been in business for quite a number of years now. The rumali roti is smeared with a mixture of mayonnaise after which it's topped with heaps of shredded or minced chicken. Shawarma is served along with the green chutney and mayonnaise. Their Chicken, Chicken Egg, and Tandoori Chicken Shawarma are the best seller. So what are you waiting for? Head here with your squad now!

Where: Sector 10 Market, Sector 10, Dwarka, New Delhi

3. The Tummy Section

Image Source: Youtube

Image Source: Just Dial
The Tummy Section is our personal fav! Located in West Delhi, they have been winning the hearts of all the foodies with their creamy momos and shawarmas. Try their chicken shawarma and we are sure you will come here again and again. Perfectly soft meat mixed with mayo wrapped in rumali roti makes it more delicious. Their shawarmas are something you just can't miss out on!

Where: Shop 4, 23/1, Prem Nagar, Jail Road, New Delhi

4. Hunger Strike

Image Source: chompslurrpburp

Image Source: Instagiz
The crowned king of momos, Hunger Strike has been ruling our hearts with their yummies for years. This little eatery buzzes with people during the evenings, all lined up to grab their yummies Chicken Shawarma and momos. Their offerings are perfectly spiced and loaded. Trust us, you will fall in love with it at the very first bite.

Where: C-9, Amar Colony Market, Amar Colony, New Delhi

5. Shawarma House


Image Source: Zomato


Image Source: Zomato
Located in Gurgaon, Lamb Shawarma from Shawarma House is just what we crave after a boring and long day at work. Loaded with meat, there is something very special about the mayonnaise sauce. You've gotta try out their shawarma for their amazing taste and quirkiness!

Where: 2, Central Plaza Mall, Golf Course Road, Gurgaon

6. Concept Shawarma


Image Source: Zomato


Image Source: Zomato
Located under Defence Colony flyover, Concept is a popular joint for your tandoori food cravings. They dish out some really amazing Shawarma Chicken Roll. Besides this, they also serve some scrumptious Soya and Paneer Shawarma! Drooling, yet? We are heading there for our shawarma cravings, are you joining us?

Where: 138/139, Flyover Market, Defence Colony, New Delhi

7. Shish Shawarma

Image Source: Eat Treat


Image Source: Zomato
Bringing the authentic Lebanese flavours in the city, Shish Shawarma is the best place to head. Packing the tender pieces of meat, Arabian sauces, and veggies, their shawarmas are a treat to the tummies. Hog on to their mixed shish shawarma that is made with Chef's special chicken and mutton kebab, lettuce, onion, mint and Arabian sauces. It's just a perfect meal after your boring and tiring day at work!

Where: 55, Grandlays Cinema Complex, Community Centre, New Friends Colony, New Delhi

8. Arabian Nites


Image Source: Zomato


Image Source: Zomato
Nestled in Vasant Vihar, Arabian Nites is a one-stop destination for all shawarmas. Devour their Lemon Chicken Shawarma and Paneer Shawarma while you're there. They also have an amazing variety of wraps and platters. So, head there on your next cheat day and have a great time binging!

Where: 59, Basant Lok Market, Vasant Vihar, New Delhi

9. Al Bake

Image Source: Zomato

Image Source: Curly Tales
Al bake is a takeaway outlet that has become every go-to joint for delicious and cheap food. The juicy and tender shawarma served with mayonnaise is every foodie's dream come true. Al bake is a haunt for a variety of Afghani and Mughlai delights too. But their chicken shawarma remains one of its best-sellers. And for vegetarians, you can try their delicious paneer shawarma!

Where: 23/3, PVR Anupam Complex, Community Centre, Saket, New Delhi
(Featured Image Source: Food NDTV)