The spiritual and cultural hub of India, Rishikesh is a peaceful city where numerous tourists go to find salvation and inner peace. And yoga has always played an essential part in that. In fact, Rishikesh has been the hub for learning Yoga, and it has only grown over time! so, all you yoga enthusiasts out there, the International Yog Festival is happening in Rishikesh from 1st to 7th March, and you should totally check it out.
All About The International Yog Festival
Image Source: News India Times

Image Source: All Eventz
The International Yog Festival is all set to be one of the most significant yoga events organized and is a must-visit event for all the yoga enthusiasts. And Rishikesh is the birthplace of yoga, so it adds as a bonus point!
Amidst exotic birds, lush green lawns and flowing water, a rejuvenating yoga session is going to make your stress melt away. It's not a stress buster, but these yoga asanas will help you to improve your overall mental and physical health.
Who All Will Be There?
Image Source: internationalyogfestival.co.in


Image Source: internationalyogfestival.co.in
Organized by Uttarakhand Tourism Development Board, The International Yog Festival is undoubtedly something to look forward. Musical afternoons, meditation breaks, Ayurveda, therapies and much more is what's in store for you here. And some of India's most renowned yoga masters & gurus like Gaur Gopal Das, Gurudev Sri Sri Shankar Ji, Swami Avdhesanand Giri Ji, Anushka Parwani, Acharya Balkishna and more.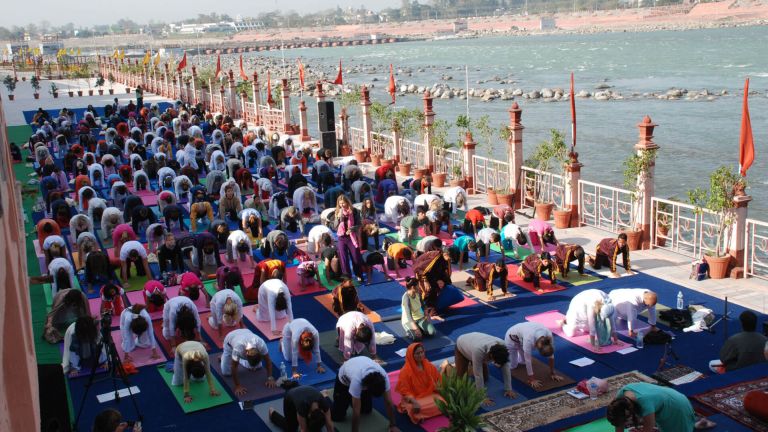 Apart from spiritual gurus and leaders, you will also witness some of the performances by Sushmit Sen Trio, Rajan Sajan Mishra, Ajay Prasanna among others. Also, all the yoga enthusiast who participates in this week-long festival will be provided a 50 hours yoga training certificate. If you are into Ayurveda, then you can learn about some of the therapies like Naturopathy, Acupressure, Acupuncture & Chinese Medicine, NeuroTherapies, Pranic Healing and more.
So, if you believe yoga is the way to strengthen your mind, soul and body, then learn directly from these masters. We are sure you are going to love it!
When: 1st to 7th March 2020
Where: Ganga Resort, Muni Ki Reti (Rishikesh), Uttarakhand
(Featured Image Source: Pinterest)