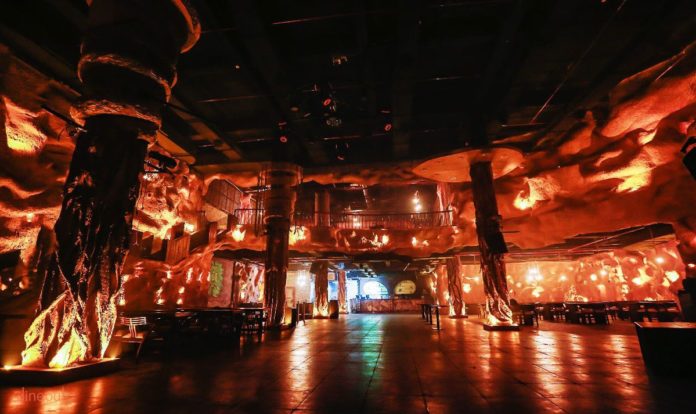 Are you hunting for a new, cool place for your weekend get-togethers with your buddies? Trust us, there's no dearth of new and amazing places to check out in our city. So, if this weekend you feel like heading to an awesome new place, then we have news for you! There's a cool lounge in Noida, Ali Baba Cave Reloaded, which is made in a cava themed. Isn't something unique and exciting to check out?
Dim Lighting With Medieval Era Feels
Image Source: Zomato


Image Source: Zomato
Located in Noida, Ali Baba Cave Reloaded is a unique eatery that will give you a feeling of dining inside a magical cave with medieval era feels. The lounge and bar have been inspired by the popular childhood folklore of Ali Baba and his famous treasure trove. Remember that?
The ambience of this unique cave themed lounge is super funky with dim lighting all around. The walls are painted in a rock-like design, and the overall mystic vibe will make you feel as you are dining inside a real underground cave! Also, they have got an outdoor seating area, so you can chill under the stars while sipping those boozy cocktails. They have a kickass DJ area, and you can request the DJ to play some Punjabi and Bollywood pop music!

Image Source: Zomato


Image Source: Zomato
Crispy Garlic Chicken, Keema Nachos & More
When it comes to food, we Delhiites are also picky and choosy. If you are a Chinese and Punjabi food lover, then you should definitely out this place. Once you are here, you should devour on yummies like Keema Nachos, Seekh Tauk, Ghosht Biryani, Tandoori Mushroom and more. While munching on these yummies, you can pair them up with Virgin Mojito, Beer and more.

Image Source: Zomato


Image Source: Zomato


Image Source: Zomato
So, what are waiting for? Call up your squad right now and make plans for a much-needed outing with your gang here!
Where: Building 105, Plot A2, Entertainment City, Opposite Kidzania, Sector 38, Noida
(Featured Image Source: Dineout)