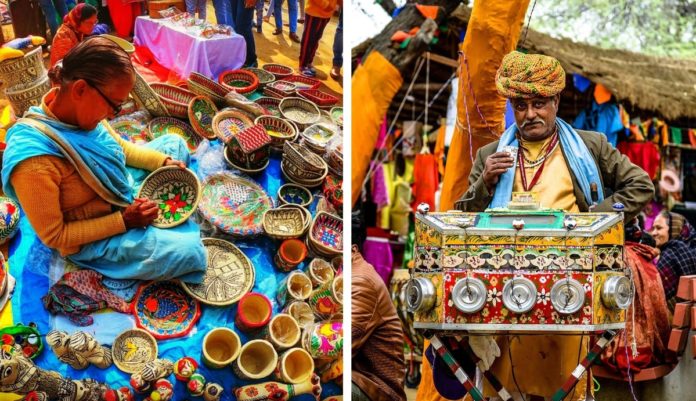 The legendary and annual Surajkund International Crafts Mela is hitting our city yet again with a splash of colours, regional music, food and lots more to look forward. It's happening from the 1st to the 16th of February, and we're already pumped to witness all the fun. Scroll on to know more about this iconic mela!
34th Edition of Surajkhund Mela
Image Source: Instagram/delhistreetlife

Image Source: Instagram/ilustratiks
The 34th edition of Surajkund International Crafts Festival is back in the town. Being one of the largest craft fairs in the country, the main aim of the Surajkhund Mela is to showcase and promote the handicrafts of India.
Theme Of Surajkund International Crafts Festival
Every year the organizing committee (Haryana Tourism Department) picks a theme state. And the motive behind this is to accentuate India's diverse cultural history and make it prominent. And this year, Himachal Pradesh has been chosen as the theme state. Not just that, apart from the states, around 20 countries will also participate. So you will find a plethora of accessories, textiles in traditional prints, delicious food, cultural activities to witness.
What All Is There On Offer?
Image Source: Instagram/myjournal

Image Source: Instagram/memoirs_of_wandering_nomad
You have to restrain yourself from snagging everything including home decor items, accessories in vibrant hues, apparel and beautiful Kullu shawls. All the things of the display will make your heart skip a beat! Leather goods, silver jewellery, paintings, textiles all are displayed at throwaway prices. And trust us, you are all sorted for the gifting requirements for all the birthdays and anniversaries for the next six months.
Image Source: Instagram/anamateurlens

Image Source: Instagram/khanapyarhai
Talking about the delicious food, you could choose from over 20 stalls offering street food from Rajasthan, Gujarat, Nepal and even Mysore, among others. Soak up the winter sun while munching on dosas, jalebis, gajar ka halwa, momos, kulfis and more. Renowned national and international folk artistes and cultural groups will be performing through the fortnight. The line-up includes ghazals, Kavi sammelans, folk dances and folk plays.
So, peeps, block your dates and book the tickets as it's going to a fantastic fair to attend starting from this weekend! We shall see you there then?
When: 1st to the 16th of February
Where: Surajkund Mela Ground – Lakewood City, Surajkund, Faridabad
Time: 10:30 AM onwards
(Featured Image Source: Instagram/travelkida; instagram/myournal.jpg