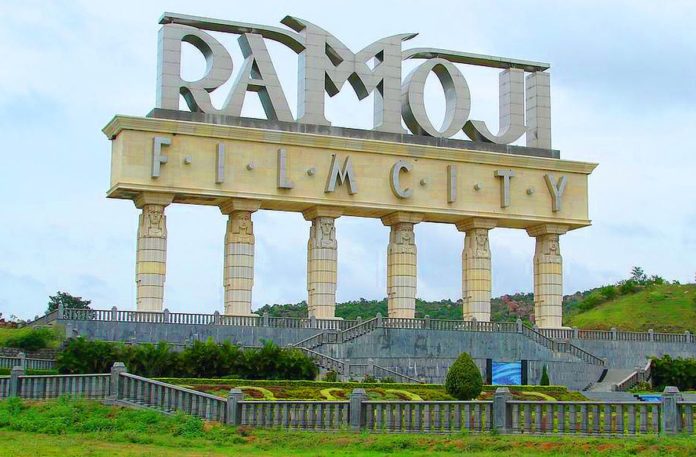 We're sure that all the die-hard Baahubali fans would already know about the Ramoji Film City in Hyderabad. Right? After all, that's where a huge chunk of the epic movie was shot. But what a lot of you might not know is the fact that the Film City has hordes of more attractions, yes! Did you know it houses Asia's largest Aviary with different species of birds? Or that it even has sets of cities like Pattaya and Bangkok? Scroll down to know why you've got to visit this magical place in Hyderabad!
All About The Magnificent Ramoji Film City
Located 28 kilometres away from Hyderabad main city and covering a large area of over 1,666 acres, the Ramoji Film City was founded in the year 1996 by Tollywood producer Ramoji Rao. It is the largest integrated film city in Telangana state and has been certified by the Guinness World Records as the largest film studio complex in the world!

Image Source: ramojifilmcity.com?


Image Source: ramojifilmcity.com?
Ramoji Film City is one of the most popular recreations and tourism centre that contains some human-made and natural attractions, including an amusement park. Every year, around 1.5 million tourist visits to this magnificent place. And here's why a visit to this magnificent place is a must-visit!
1. Start With Studio Tour
Book a red tram to take you to the humongous Ramoji film city tour. You will find streets replicating Northern parts of India and international city space. There are also sets for the gorgeous Kripalu caves that are made in the memory of Lord Buddha which throws the light on religion, culture and art.
Image Source: ramojifilmcity.com


Image Source: ramojifilmcity.com
Apart from these gorgeous attractions, you will also come across some attractive gardens like Bonsai, Japanese, Mughal, Sun Foundation, Sanctuary and the Askari garden. All these gardens are built, keeping in mind the types of regional films where singing and dancing are shot in these kinds of gardens. So cool, right?
2. Go For Ramoji Movie Magic Tour

Image Source: ramojifilmcity.com


Image Source: ramojifilmcity.com
If you are an entertainment buff, then the tour at movie magic will just brighten up your day! Travel to different continents with Filmy Duniya here and visit the Action Studio to get the feel of action-packed thrills which you see in these movies. The sets of artificial cities of Pattaya and Bangkok and set of Ali Baba Aur Chalis Chor are some of the highlights at the Movie Magic Park. You can also walk through some of the live streets shows happening there.
3. The Marvellous Baahubali Movie Set
Image Source: YouTube

Image Source: Tripoto
The 2015 super hit film Baahubali took the world by storm with its magnificent sets, special effects, and the fantastic cast. Did you know that you can visit the fantastic kingdom of Mahishmati here? From the artwork of characters like Kattapa, Baahubali, Devasena, and Bhallaladeva on walls, magical staircases, structures of elephants, the Shivalinga, and the underground prison, everything is open for you all to explore. Film enthusiasts or not, it's time to explore what all goes behind the screens.
4. Walk Through The Largest Asia's Largest Aviary

Image Source: ramojifilmcity.com


Image Source: ramojifilmcity.com
Yes, it also houses Asia's largest aviary. You will find a plethora of birds in unique colours and with numerous plants all well arranged in an alluring style. Swainson Lory, Yellow Streaked Lorry, Crowned Pigeon are some of the exotic bird species you will spot here. Just listen to the chirping and singing of the birds as you walk through the complete areas. Also, you can see an educating short film on the birds here while you are exploring.
5. Fun Zone For Kids- Fundustan

Image Source: ramojifilmcity.com


Image Source: ramojifilmcity.com
If you thought that it's not a place meant for the kids, then you are mistaken! They have multiple activities and rides, including Wonderville, Dadajinn's Ark, Timberland, Ballerina Fount, Enthraller, Thrillville Rides, Borasura & many more, kids will surely have a gala time here.
6. EcoZone For All The Nature Lovers

Image Source: ramojifilmcity.com


Image Source: ramojifilmcity.com
Are you a nature lover, then visiting the EcoZone at Ramoji Film City would be the best thing in your life. There is a beautiful terrace garden spread over 15,000 sq. ft. an area that displays a mix of seasonal and perennial plants.
7. Shopping Zones & Some Delicious Food

Image Source: ramojifilmcity.com


Image Source: ramojifilmcity.com
The film city has so much for all the shopaholics to splurge on! You can visit Meena Bazaar, Wild West Souvenirs and Movie Magic Memorabilia while you are on your shopping spree. From keychains, juttis, bags, Hyderabadi gems. Cowboy hats to imitation jewellery, there's something for each one of you.

Image Source: ramojifilmcity.com


Image Source: ramojifilmcity.com
A day is incomplete without food, right? Once you are done exploring this magnificent place, all you need is a relaxing place and comfort food. There are multiple restaurants to look where you can eat from like Galaxy, Hollywood, Super Star, Dil Se, Jimmy Drive-In, Alampana, Sangam, Chanakya and Bahubali Darbar. There are a variety of cuisines you will be served.
Ramoji Film City is definitely going in our bucket list of 2020!
(Featured Image Source: tca.in)