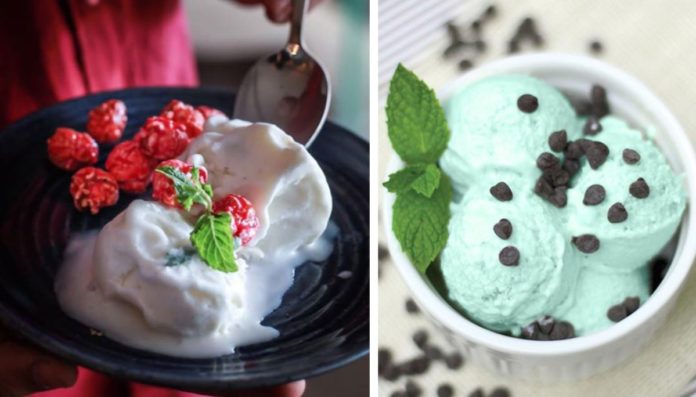 Even though it's winter, who says you can't gorge on ice cream? In fact, we'd go to the extent of saying that we enjoy ice creams better in winters! We love having scoops of ice cream in this chilly weather while being wrapped up in our quilts. And guess what? Minus 30 in Okhla have introduced some fantastic vegan and alcohol flavours in their ice cream menu. And it seems like the perfect weather to enjoy them!
Sugar-Free, Lactose-Free & Vegan Ice Cream
Image Source: Instagram/minus.30


Image Source: Instagram/minus.30
Started in 2016, Minus 30 is the brainchild of Delhi-based Gayatri Narang who wants to provide people with truly diverse flavours of ice cream. The artisan ice cream is served in various restaurants, at different gourmet food stores, and even have their own ice cream parlour in Okhla, Delhi.
If you are someone who can't intake animal products or lactose or sugar, then Minus 30 is your BAE as they make ice creams with all-natural ingredients and delivers them directly to your doorstep! Also, they take orders for zero-sugar, vegan, and lactose-free ice creams too.
Classic Flavours

Image Source: Instagram/minus.30


Image Source: Instagram/minus.30
All the flavours served here at Minus 30 are made with the highest qulaity of ingredients sourced from across the world. A clear conscience is written-free of artificial flavours and preservatives. Their classic flavours include French Vanilla, Belgian Chocolate, Salted Caramel, Milk Chocolate and more.
And if you are one of those who love to experiment with their choice of flavours in ice cream, then you should check out their 'Indulge' flavours. Banoffee, Nutella, Green Tea Matcha, Oreo Cookie, Dark Chocolate Macha are some of their hot-sellers.
Alcohol Flavoured Ice Cream? Yes, Please!

Image Source: Instagram/minus.30


Image Source: Instagram/minus.30
All the ice creams from Minus 30 are free of added preservatives and are made with a lot of attention to flavour, temperature and texture. If you are on a vegan diet, then you should try from these 3 flavours- Drak Chocolate, Hazelnut and Coconut.
How about having two of your favourite things in one dish? Booze+ice cream= sorted plans! Minus 30 have imaginative combinations, such as White Chocolate & Bailey's; Dark Chocolate & Malt; Dark Chocolate & Cointreau and more. Perfect for those who love their ice creams and booze!
Call up Minus 30 and snag some delicious thandi-thandi ice cream this evening!
Where: 246, Okhla Industrial Area, Okhla Phase 1, New Delhi
(Featured Image Source: Instagram/minus.30)