What do you see in the picture? Is it a painting? Even though it may seem like it, people, it's actually a mountain in Peru! Surprised? Well, so are we! Aptly called the 'Rainbow Mountain' or Vinicunca Mountain, it's one of our planet's incredible natural wonders. And if you're still preparing your #2020 travel bucket list, then this one is a must in it! But what makes the rainbow mountain look like a literal rainbow? Scroll down to know about the actual reason about it!
About Vinicunca Mountain
(Image Source: Travel + Leisure)


(Image Source: Travel + Leisure)
Vinicunca also called Montana de Siete Colores or Rainbow Mountain (Mountain of Seven Colors), is located in the Andes in the Cusco region of Peru. The mountain stands at a height of 5,200 meters above sea level. It is tucked on the road to the Ausangate mountain, between the districts of Cusipata.
The Pitumarca village makes the entrance to the mountain, which is roughly two hours from the city of Cusco. Trekkers or the adventure seeker, a 45-minute hike through the mountains is the best. And if you drive through, then you can witness the viewpoints of the valley as well as llamas and alpacas being herded by the shepherds on the mountains.
Image Source: talesfromthelens.com

Image Source:selina.com
Where do The Rainbow Colours Come From?
The hill looks straight out of a dream- as if it is painted in greens, yellows, reds, pinks and purples. But what causes these colours? The colourations of the mountain of the 7 colours are due to the mineralogical composition. Once the ice covering the Vinicunca starts to melt, the water is mixed with the minerals in the ground that turns it into many colours. The red areas are due to the claystone (iron) mixtures, the yellow are because of iron sulphide, green comes from chlorite, and the earthy brown is of composed rock with magnesium. So technically, every colour here has a reason.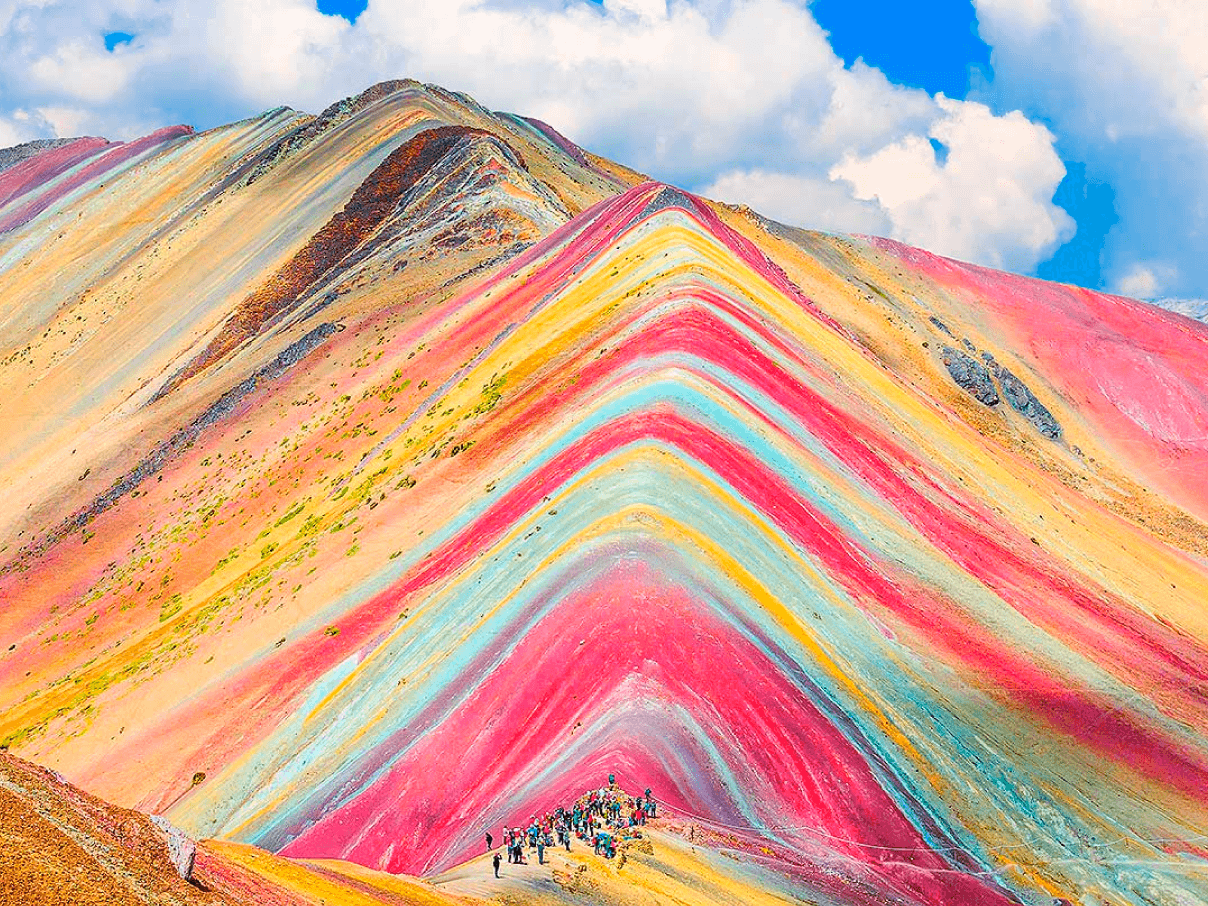 Best Time to Visit?
Weather makes a big difference in your experience here! Locals and travellers to Peru agree that the best time of the year to visit the colourful site is in August as it is the dry season. During that season, it provides a beautiful view and maximizing the vivid colours of the mountains.
Image Source: kray Line peru

Image Source: Oops i booked again
Avoid visiting during the months- December, January and February as that's when it rains heavily there. It makes the trail difficult to hike, and the colours duller. The best time to visit is in the morning or evening hours, either after sunrise or right before sunset.
Planning already, are we?
(Featured Image Source: Liamapath.com)