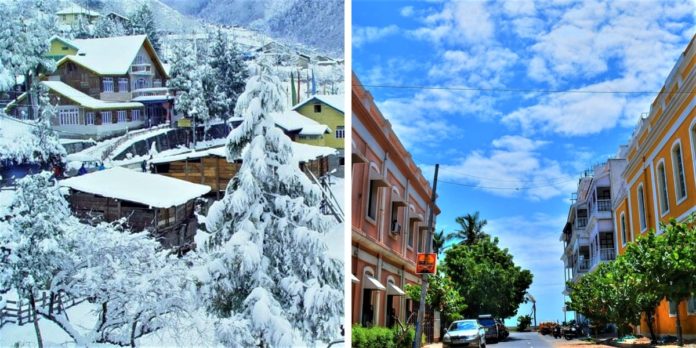 New Year is just around, and we are sure you must be already planning the New Year's Eve celebrations, right? In fact, a lot of people prefer to head to a getaway during this time. Goa, Shimla, Manali are some of the most popular getaways for New Year's Eve. But if you are planning a less crowded getaway, then you are on the right path! Away from all the noise & loud parties, just surrounded by your loved ones, that too amongst beautiful scenery- doesn't it sound like the perfect way to bring in 2020? Well, if that appeals to you, then you must check out these peaceful destinations in the country you can head to.
1.Pondicherry
Image Source: Villameena

Image Source: Holidify
Known for its French colonies and Aurobindo Ashram, this quaint little town in Tamil Nadu is the perfect place to ring in New Year with your loved ones. Walkthrough the charming old French Quarters, visit the botanical gardens, and for all the history lovers, you can also visit their famous Puducherry Museum. You can also visit the gorgeous beaches, ancient churches and colonial buildings. Might we add that they have some cutesy cafes too!
2. Jaisalmer
Image Source: Trip Savy

Image Source: India
Bid farewell to 2019 by exploring the spectacular Havelis in Rajasthan's Jaisalmer. Known for its golden dunes and the mystery of the Thar Desert, Jaisalmer is a good option for a quick yet quiet getaway. Desert, dark, clear skies, peaceful camel safari, and the local Rajasthani cuisine make it one of the new year destinations in India where you can have the best time with your #FamBam.
3. Pelling
Image Source: Tour My India

Image Source: Travel Triangle
How about celebrating New Years in white snow? Located 130 km from Gangtok, Pelling in Sikkim is simply gorgeous. The main attraction is the breathtaking sight of the Khangchendzonga and its neighbouring peaks. If you are an adventure junkie, then mountain biking, rock climbing are the two major sports activities you can indulge in while here. For the no so adventurous souls, you can simply curl up in your blanket and enjoy the snow and breathtaking views!
4. Andaman and Nicobar Islands
Image Source: Veena World

Image Source: The Better India
Celebrating New Years in Islands is our kind of getaway! It can't get better than this! With white-sand beaches and crystal clear water, Andaman and Nicobar Islands are perfect to ring in 2020 in a relaxed way. And in case you feel a bit adventurous, you can challenge yourself to try scuba diving and snorkelling here. For all the beach babies out there, you should visit the Radhanagar Beach, which is Asia's best beach for the year!
5. Yelagiri
Image Source: My Holiday Club

Image Source: thrillophilia
Tamil Nadu has it's now charm! There can be nothing more exciting than winter treks! Tucked in Tamil Nadu, Yelagiri is perched at 4626 ft surrounded by green valleys, rose gardens and orchards. If you love to go on a long drive, the road uphill has 14 hairpin bends. This place is lesser crowded as compared to Ooty, so for remarkable trekking with your squad hit here this New Year. Surrounded by greenery and nature- if that's how you wish to ring in 2020, then this is your best bet!
6. Bhimtal
Image Source: Untravel

Image Source: Goibibo
Located 23 kilometres from Nainital, Bhimtal is an offbeat place famous for the picturesque Bhimtal Lake, surrounded with a forest of pine, oaks and shrubs. There are a few ancient temples which you can explore here. It is a scenic hill station, and with its charm, it makes it one of the gorgeous places in the hills. Go for paddle boating, birding and nature walk- that is Bhimtal for you!
7. Kodaikanal
Image Source: Booking.com

Image Source: Lonely Planet
Stunning climate, cliffs covered in mist, mountains and beautiful valleys- you will all this and more in this quaint hill station called Kodaikanal. Nestled amidst sloped of Palani Hills, perched at an altitude of 7200 feet above the sea level, this place has pleasant climate all year around. This New Year celebration with your Fambam amongst the forests and cool breeze.
8. Tarkarli
Image Source: India.com

Image Source: tarkarlitourism.com
Known for its long and narrow stretch of beach, Tarkarli in Maharastra is one the beautiful beaches along the Konkan Coast. With its pristine water and beautiful white sand, it is Maharashtra's famous sea fort. All the leisure seekers, you can indulge in several exciting activities, keeping yourselves engrosses in never-ending fun-frolic moments just before entering the year 2020.
9. Chandipur
Image Source: Sand Blue

Image Source: Outlook India
Tucked in Kolkata, Chandipur is a less crowded seaside retreat. The main attraction is the beach as it turns gorgeous during ebb tide. Chandipur is a silent and quaint destination that will help you find your den quickly away from all the hustle-bustle. Do you know the best bit about this place? During the nights under the moonlight, the beach of Chandipur looks like pure 'Chandi' or silver. How about walking hand-in-hand with your BAE on New Year's eve here?
10. Majuli Island
Image Source: Lost With Purpose

Image Source: Travel Triangle
It is the biggest river island in the world, located on the Brahmaputra River in the state of Assam. Majuli Island is one of the most surreal places in India. It is medley of enthralling sights of the extended water body, wooden boats and green paddy fields. You can also soak in the beauty of incredible sunset views. If you plan on rining in the New Year with your partners, then definitely you should head to this place.
(Featured Image Source: villameena; travel triangle)