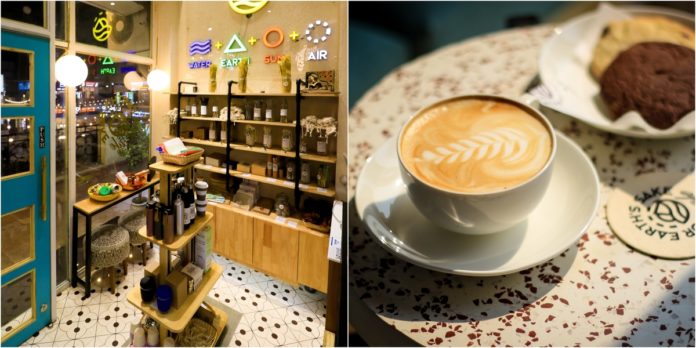 Redemption is the need of the hour, especially when it comes to our planet. (Yes, let that thought sink in.) Which is why, Vidur and Vidushi, a brother-sister duo, have opened up a zero-waste lifestyle store and cafe in Gurgaon's popular Galleria market. A cosy little place tucked away in the corner of what is literally known as the heart of G-Town, For Earth's Sake's mission is to reduce waste in terms of single-use plastic and to find sustainable alternatives for all our daily needs. Intriguing concept, isn't it? So, here is everything else you need to know about this store cum cafe.
The Story
We got in touch with Vidur Mayor, the founder of the cafe cum lifestyle store to explain to us what Zero Waste actually means, "Zero-waste is not just eliminating plastic from your life but it is also changing your lifestyle in such a way that every product that you use is ethically sourced without impacting the nature and our planet."
Talking about what led to For Earth's Sake, he added, " Just a couple of months back I was in Kashmir with my family. I was taken aback by the sight of garbage strewn about in a land considered as 'Paradise on Earth'. Instinctively, I started cleaning the place and my sister joined me too. In a few hours, the entire area was clean and this incident got us thinking and led to the birth of For Earth's Sake."
Their Products
For Earth's Sake's thoughtfully designed products are all you need to make the switch to a healthier, cruelty-free and waste-free lifestyle. They sell bulk foods for which you can bring your own bottles and jars and fill them up as per your requirement, stationery, household items, personal care products, toiletries and much more. All of their products are planet friendly and sourced ethically with the help of communities spread across India.
Their Menu
For Earth's Sake's menu may not be elaborate but they've got some of the best-baked delicacies and coffees in town. Vidur added, "All the coffees that we do are single estate Indian coffees which are very ethically sourced. Also, the baked goods that we have – savoury and the cakes – the cakes are produced with freshly churned butter, refined flour etc. So all the ingredients that go into our foods are very high quality and chemical-free."
Where: SF-10, I floor, Galleria Market, DLF Phase IV, Sector 28, Gurugram, Haryana 122022
For more information, you can check out their website.