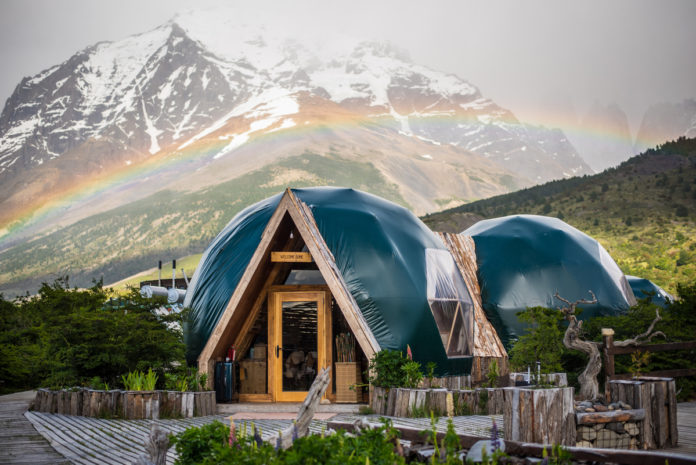 Sustainability is the need of the hour and this geodesic dome retreat in Chile proves we can ensure that even while on a vacay! Set in the stunning landscape of Chile's Torres del Paine National Park, Ecocamp Patagonia is a sustainable retreat made up of upscale geodesic domes. According to Designing Buildings Wiki, the geodesic dome was developed by the American engineer and architect Richard Buckminster Fuller in the late 1940s. Geodesic domes are sphere-like structures consisting of a network of triangles which provide a self-balancing structural framework whilst using minimal materials. The word geodesic is Latin and means 'earth dividing'.
The retreat is the region's first fully sustainable accommodation, complete with green technology. It's also the world's first-ever geodesic dome hotel, which is also a 100% sustainable. You get to enjoy guided treks and wildlife excursions by day and share evening meals with loved ones, before falling asleep gazing up at the star-filled sky through your EcoCamp dome ceiling. Sounds like something straight out of an ecological dream, doesn't it?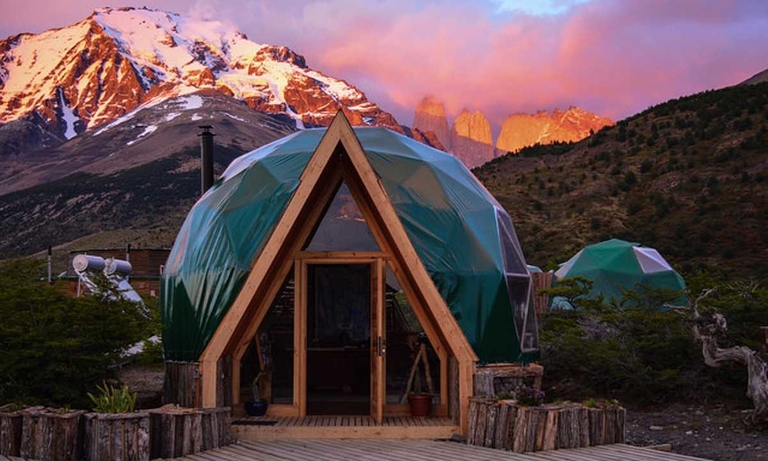 Environment-Friendly
Image Source: Cascada

Image Source: swooppatagonia
Tucked into the otherworldly landscape of the Andes mountain range, the award-winning EcoCamp operates completely on environmentally sound principles. The guest accommodations, as well as the common spaces, are run on solar and hydraulic energy. All waste is either composted or recycled.
Additionally, the meals are made with locally-grown food and the EcoCamp works closely with the local community on sustainability issues. Not only that, but the glamping domes are built off the ground on elevated platforms to minimize the impact on the landscape.
What does the place have to offer
Image Source: cacada travel

Image Source: nomadosaurus
There are four types of guest domes on offer – from standard accommodations to swanky Suite Dome Lofts. They all come with quality amenities like comfy beds, private bathrooms and skylights that flood the interiors with natural light. Guests can mingle in the Community Domes or take a class in the Yoga Dome. The lodge also offers hiking excursions through the amazing mountainous landscape of the Andes.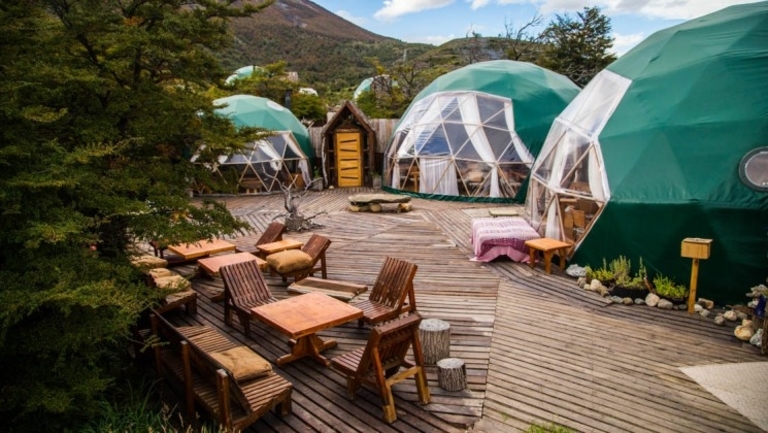 To know more about Ecocamop Patagonia, click here.