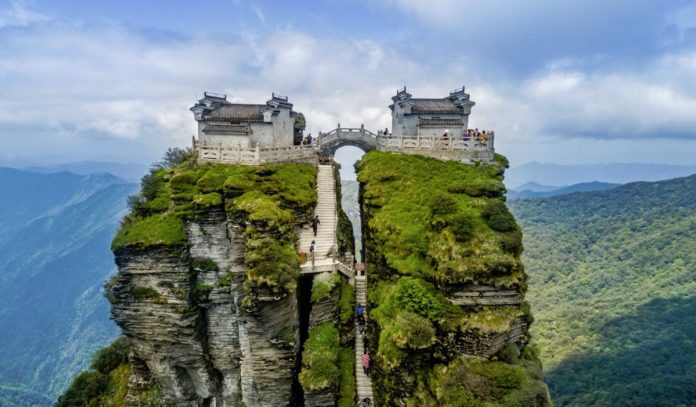 There's no denying that our Earth is full of breathtaking sights and wonderful natural locales. And mountain peaks definitely are one of those. But we bet you didn't know about this insanely gorgeous peak in China. Located in Tongren, Guizhou province, Fanjingshan is the highest peak of the Wuling Mountains in southwestern China. It was named as a UNESCO World Heritage Site last year.
Also known as Mount Fanjing, it is a sacred Buddhist site and an attraction for nature lovers with its unusual rock formations and rich biodiversity. The finger-like peak is believed to have been formed during the Tertiary period somewhere between 2 million and 65 million years ago! Yes, let that sink in! So, here's a lowdown on the peculiar Chinese mountain that needs to be added to your travel bucket list now.
All about Mount Fanjing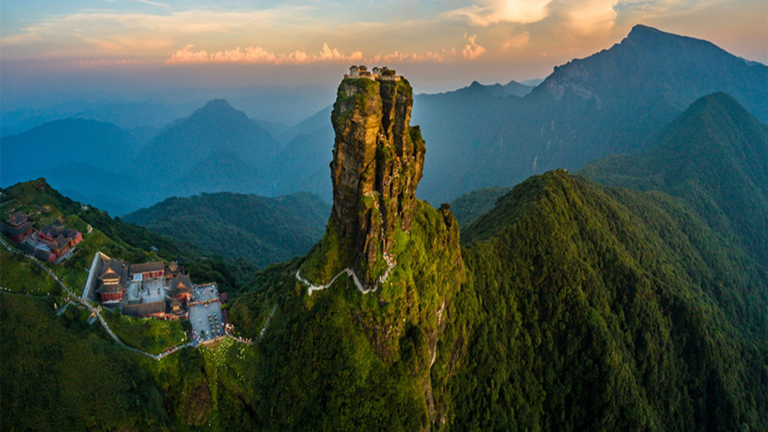 The mountain was named Fanjing which is an abbreviation of Fantianjingtu, a Buddhist term which means "Brahma's Pure Land". It is 2,570 metres (8,340 ft) above the sea-level. Which means you'd have to climb approximately 8,888 steps to reach the top! But trust us its worth the effort! Because at the top you'll be greeted with the most stunning above-the-clouds views of the Wuling mountain range!
Sacred Mountain of Buddhism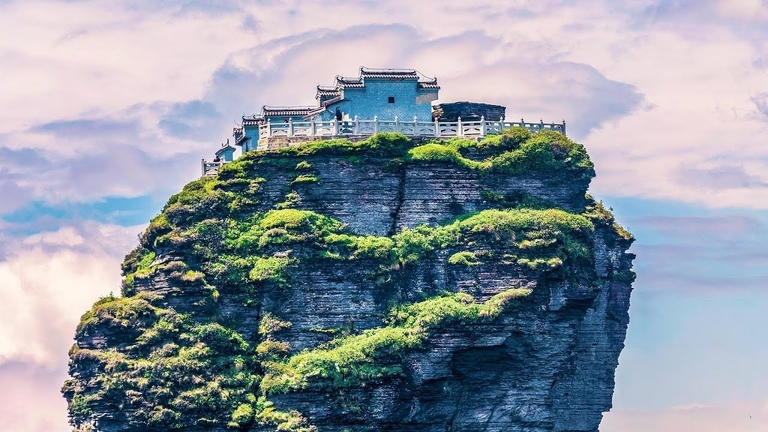 After the Four Sacred Mountains of Buddhism, Fanjingshan or Mount Fanjing has been a holy and peaceful site for Buddhists. Followers of Buddhism believe that Fanjingshan is a spot where one can reach their spiritual enlightenment, just like Maitreya Buddha.
48 Buddhist temples were built on this mountain, during the Ming Dynasty (1368AD-1644AD). While many of them have since been destroyed, the ones that still remain are significant sites for Buddhist worshippers around the world.
'The Gene Database of China'
Image Source: CGTN

Image Source: My Modern Met
Another name for this isolated mountain range is The Gene Database of China, all thanks to its rich biodiversity. The region has 2,000 different species of plants, 31 of which are endangered along with 19 threatened animal species roaming these forests.
One among those endangered animals is the endemic grey snub-nosed monkey. Some of the other rare species found on Fanjingshan and its surrounding mountains include the Reeve's pheasant, Chinese giant salamander and the forest musk deer.
The highlights of the mountain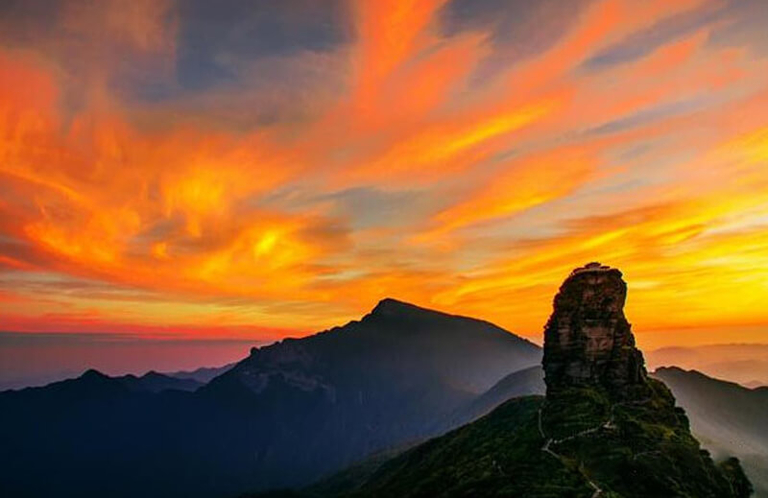 The thumb-like peak has a lot of attractions to offer, starting with the stunning views from the summit. Or rather the summits since there are three up there. But, the view from the Red Cloud Golden Summit (about 2336 meters above sea level) is the most breathtaking.
The most clicked of all of Fanjing's attractions is the Mushroom Stone. It stands ten metres high and is magnificently lit up at night. There are many other strange rock formations on the peak, such as the Wanbao Rock and the Book Shaped rock. So keep your cameras out!
The Old Golden Summit has a temple dedicated to Buddha Dipamkara. At the New Golden Summit (Red Clouds Golden Summit) there is a tricky vertical ascent of 100 metres to the top. There are two peaks here- each one topped by a Buddhist temple and connected by a bridge. Both these temples are a must-visit!
Featured Image Source: The Atlantic