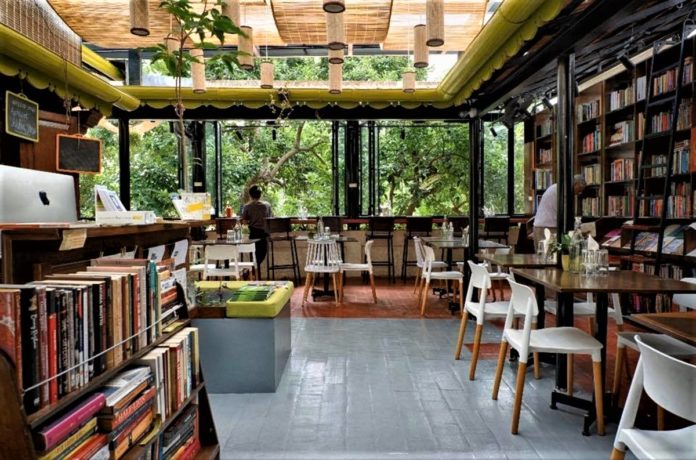 Are you one of those who likes to flip through life with a book in one hand and coffee in the other? Also, do you happen to be bitten by the travel bug? Well, then we've found just the perfect place for you. If you're from Delhi or from any part of the country, and you happen to find yourself in Bangalore, then you must head to this cutesy place called Champaca. It's a bookstore, library and cafe- all rolled into one! But what makes this place interesting is the fact that they host book readings, discussions, workshops & more and are building a community space for readers. Scroll down to know more about this awesome place.

Story Behind The Name!

Image Source: CN Traveller

Image Source: Homegrown
Located on Edward Road, Bangalore, Champaca is every booklover's dream come alive! Must be thinking why the name Champaca? We got in touch with the Founder of this stunning place-Radhika Timbadia, who explained the concept and the story behind the name.
"We are named after the well-loved Magnolia Champaca tree, also known as sampige, golden champak or Champa. Our logo has the Champaca flower, a racket-tailed drongo and a sambar stag – all creatures local to southern India. From the logo and overall design to the food to the curation, everything has come together as a collective effort by a community of like-minded individuals".
Grab Some Books From Their Independent Bookstore

Image Source: Facebook/champacabooks
The cafe also has a bookstore and their collection is pretty good. You can buy books on diverse genres here- poetry, philosophy & more. The bookshelves will remind you of Hogwarts library! You can get your hands on books of amazing writers like Jonas Jonasson and Amitav Ghosh along with critically-acclaimed books like Wolf Hall and offbeat ones like Tamil Pulp Fiction. Are you in for a reading session here?
They also hold regular book readings, discussion, workshops & more and are building a community space for book lovers.
A Place for Little Ones


Image Source: Facebook/champacabooks
For all the little bibliophiles, there is a separate corner furnished with cute details like floor cushions. Small reading parties and storytime sessions are always fun here. The library is for children up to the age of 14. Their collection features thoughtful and fun board books, picture books and chapter books by Indian and international authors. Isn't it cool?
Foodies, This Place is Heaven For You!
Remember, it's a cafe too! Their menu features all-day breakfast options such as the desi avocado toast. And if you want to eat something while you are working here, you can pick pulled pork sliders and roast veggies on hummus! Or just sip their fresh brewing coffee!

Image Source: Facebook/champacabooks


Image Source: Facebook/champacabooks
Where: 7/1, Edward Road, Off, Queens Rd, Vasanth Nagar, Bengaluru, Karnataka
(Featured Image Source: champaca/facebook)