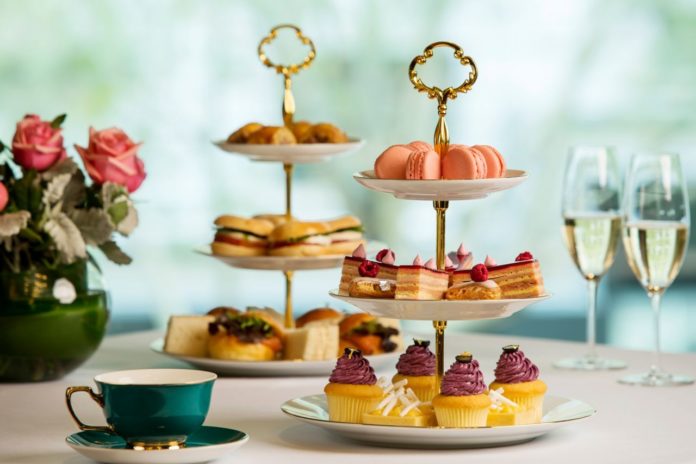 We'll forever we biased towards cocktail nights. But at times, one needs to take a break from alcohol, right? Especially with so many of us going on detox diets, vegan diets etc, ditching the usual ladies night sounds like a good (and healthy) plan. Instead, you can grab your girl gang and go for high-tea. Yes! The concept of high tea menu arrived with the British rule, where the high-class English women sit in the afternoon sipping on a cup of tea with some snacks and sweets. So here are the 8 handpicked places where you can enjoy a delish high tea in the city!

1. Elma's Kitchen


Image Source: Zomato


Image Source: Zomato
This quaint bakery will remind you of the British tea room with floral curtains, beautiful cutlery, and minimalistic setting. They have a separate high tea menu that includes 3 tier tray from that you can select- cakes, sandwiches, cookies and more. They have a variety of teas to choose from- Earl Grey, Nilgiri Black, Chrysanthemum, Jasmine, Tulsi, Green Tea and many more.

Where: 31, 2nd Floor, Hauz Khas Village, New Delhi
Contact: 00 46080533

2. The Tea Lounge- The Taj Palace

Image Source: India.com

Image Source: Zomato
The interiors of this place are so fascinating. As soon as you enter you will feel as if you have been transported to France. Serving more than 10 types of teas like Dikom from Assam, Castelton from Darjeeling, Matcha, Green Tea, English Breakfast and more. Along with that, you can order their Lemon Cheesecake, Cupcakes, macaroons and sandwiches. Spoilt for choice?

Where: Taj Palace, 2 Sardar Patel Marg, Chanakyapuri, New Delhi
Contact: 011 66503890
3. The Atrium-Imperial


Image Source: Zomato


Image Source: Zomato
One of the best places in the city to indulge in high tea with your besties! The lavish setting and delicious platter served with tea will make you come here again and again. From regular to high tea menu, you will get a variety of flavours to choose from. The high tea platter comes with cookies, sandwiches, tarts, cupcakes and fresh fruit. Want to join us for a cup of tea? 

Where: The Imperial, Janpath, New Delhi
Contact: 011 41116606

4. Wagh Bakri Tea Lounge

Image Source: Zomato


Image Source: Zomato
With over 30 varieties of teas available here, a mix of green and black tea, this place tailor-made for all tea lovers! A cutesy little tea room, these guys serve everything going from Tulsi Green Tea to Masala Tea, Rose Tea, Mint Green tea and tons more. Along with the yummy teas, they've even got some classic tea nibbles like paneer croissant, veg puff, vada pav to go with your cuppa. Isn't it perfect?

Where: L-7, Outer Circle, Connaught Place, New Delhi
Contact: +91 9560022798

5. Rose Cafe

Image Source: Eat Treat


Image Source: Eat Treat
Rose Cafe is one of the cutest and prettiest cafes in the city. With the charming ambience and superb food, it's everyone's go-to place. They offer delicious finger sandwiches, chilli cheese toasts, tarts, and lets you choose from a plethora of beverages. How about iced herbal teas? Yes, they serve it in flavours like jasmine & honey, mint & honey and more. We shall see you there then? 

Where: 2, Westend Marg, Saidulajab, Saket
Contact: +91 9899055665

6. Pickwicks – The Claridges

Image Source: Trip Advisor


Image Source: Trip Advisor
This place offers a high tea experience with a unique style. With alluring and plush interiors and yummy food, high tea here with your bestie will turn out to be one of the best. The platter here is the three-tier with scones, cupcakes, sandwiches, biscuits and more delights. Serving an array of exotic teas from the Indian classics like Darjeeling Tea to the East's Jasmine Tea. What's your pick?

Where: The Claridges, 12, Dr. A.P.J. Abdul Kalam Road, Aurangzeb Road, New Delhi
Contact: 011 39555070
7. The Red Kettle


Image Source: Zomato


Image Source: Zomato
With over 50+ kind of teas for all you chai lovers, including super niche ones like a herbal, black, lemon that is actually good for your health! And if you like experimenting with your tea then you should try their fruit tea like peach black tea, mango green, strawberry green tea and more. They offer delicious cookies, sandwiches, burgers, vada pav, and brownie. 

Where: 2A, Westend Marg, Butterfly Park, Saiyad Ul Ajaib Extension, Saket, New Delhi
Contact: +91 9711986217

8. The Tea Room From Blossom Kochhar


Image Source: Zomato


Image Source: Zomato
This pretty cafe offers a classic high tea experience with style. The place has alluring interiors where you can enjoy the traditional British high tea. With multiple options to choose in tea flavours- Assam, Darjeeling, with milk, without milk. They have an array of exotic delights like cookies, pancakes, and crepes.
Where: Part One, Hauz Khas Village, New Delhi
Contact: 011 40817655
(Featured Image Source: weekendnotes)