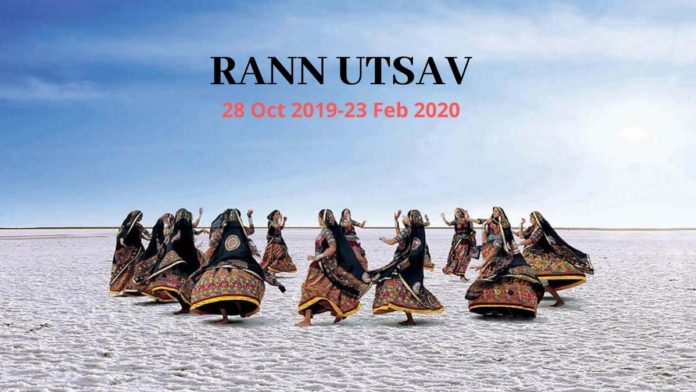 The country's favourite white desert festival, aka, Rann Utsav is back! Its already begun and will go on till 23rd February 2020. And if you have no idea what this festival is about, well, then you're missing out on some serious fun! The Rann Utsav is an annual cultural fest which takes place in the white desert, Rann of Kutch, in Gujarat. From folk music & dance, native crafts, food and a lot more, there's something for everyone at this fest. Also, might we add that visiting the Rann of Kutch is once in a lifetime experience! Read on to know what all you can witness there.
What All The Festival is All About?

Image Source: rannutsav.com
Tucked 85 km away from Bhuj, Rann of Kutch is one of the biggest salt deserts in the world covering more than 3,800 square miles. And it also plays host to the ever famous, Rann Utsav, which is visited by almost 8000 people every year! It's a festival that celebrates the arts, culture, and beauty of Gujarat under one roof. Perched on the insanely gorgeous white desert, this festival is absolutely unmissable!
Organized by the Tourism Department of Gujarat, Rann Utsav is a grand winter rendezvous. Back in 2006, this desert festival was inaugurated by Narendra Modi, Prime Minister of India. The festival is organized to attract global tourists to Gujarat and to showcase the culture of the land. From shopping to food, the Rann Utsav has everything covered- from folk dances, handicrafts, sightseeing, star gazing and other adventures.
Image Source: Facebook/rannutsavkutchgujarat


Image Source: Facebook/rannutsavkutchgujarat
Tent Stay, Cultural Fiesta, Food, Shopping & More

Foot tapping music, tents, full moon, delicious food, clear white sand- the Rann Utsav in Kutch sounds like the perfect fest to be at! You can just laze around and chill on the white sand while you take in the beauty that you are surrounded with. Visit this festival for cultural experiences like local cuisines, handicrafts, musical performances – all on the gorgeous desert of Kutch.
Image Source: Facebook/rannutsavkutchgujarat


Image Source: Facebook/rannutsavkutchgujarat

Image Source: rannutsav.com
You can also enjoy activities like the Rann Safari, cultural programs, camel cart excursion, meditation, yoga and enjoy Gujarati culture. So, it's time you unleash the traveller and artist in you!
When: October 28th, 2019 To February 23rd, 2020
Where: White Rann Resort, White Dessert Road, Dhordo, Gujarat
For More Information, Click Here