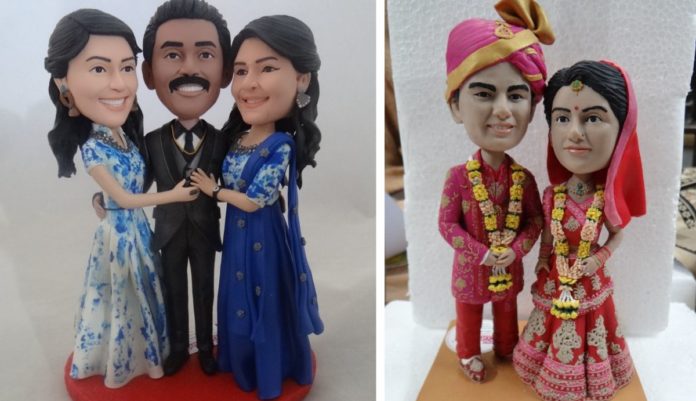 It's amazing how many talented people are in this country, especially when it comes to art. Now, we often see painters, potters, dancers, poets etc. But how often do you see a bobble head and miniature doll maker? Yes, we've found a rather really talented one! The man behind Chennai-based 'My Cute Mini', Sri Hari Charan, is a sculptor who makes customised handmade replica dolls and bobbleheads. And we recently caught up with him for an interesting chat too! Read on.
All About Mycutemini

In picture: Sri Hari Charan, Founder
Chennai-based Sri Hari Charan is a passionate sculpturer of interior and garden landscaping. But once while carving a self-portrait in stone, the idea of making miniature replica dolls struck him. And hence started My Cute Mini in 2014. Through the label, Hari creates customised miniature replica dolls and bobbleheads made of synthetic ceramic. Yes, it's all handmade! Quite remarkable, right?

They create adorable, customised, hand-sculpted, 3-D miniature replica figures and bobbleheads, that makes a truly memorable gift. We spoke to Hari about his venture,

"People choose our gift for their important emotional moments like love proposals, wedding, retirement and anniversary. We are primarily in people's happiness business handmaking dolls. Not everyone can afford a wax statue in Madame Tussauds, but they can get their MyCuteMini"!

Process Behind The Cute Replicas!

Each of the order goes through a multi-level process! It's 100% handmade and the process begins right from the time they get photos from the customers. Once the photos are finalized, a production file is sent to the customers for approval, based on which the sculpting is done.

Firstly, the head is made and sent to the customer for their approval. On approval of the head sculpt, the body and head with hair are made. The dolls are lifelong and stay permanent. It takes about 10 days for the dolls to be completely ready!

You could get single, couple sets, family sets, superheroes and even figurines of your pets! Apart from that, they have a fun variant in form of bobbleheads, where your head can be attached to a body of your choice. So, if you've always wondered what you would look like Batman, this is the only way to find out! Hari added,
"There is a lot of emotional value that our customers have for their happy moments and with our product at the centre of all their smiles, we make sure the experience that each of our customers has right from inquiry to gifting it to their loved one, we travel along and be an important part of their gifting moment".

So next time when you are hunting the perfect gift for BAE, friend, any family member or even for yourself, you know where to go. It's time to get your mini-me from this cool website!
Check Out Their Website Here
(Featured Image Source: facebook/mycutemini)