There's no doubt about the fact that every corner of our country is beautiful. No matter where you are in India, there's always so much to see and explore. And when it comes to exploring, Rajasthan remains one of our favourite destinations. And why not? The state is full of history and culture, and some prominent forts and palaces. But did you know it also houses the deepest stepwell in the entire country? Yes! The 'Chand Baori' in Abhaneri village in Dausa, Rajasthan, is nothing short of an architectural marvel! Scroll down to know all about this mysterious place.
Named After King Chand Raja

Image Source: Lonely Planet

Image Source: Pink City Post
Built during the eighth century, Chand Baori is said to be named after a local ruler called Raja Chanda. The stepwell was built to conserve water since Rajasthan doesn't receive enough rainfall and had water scarcity. However, the upper stories were built around the 18th century during the Mughal era. It's also said that the air remains 5-6 degrees cooler at the bottom of the well.
The Marvellous Geometric Architecture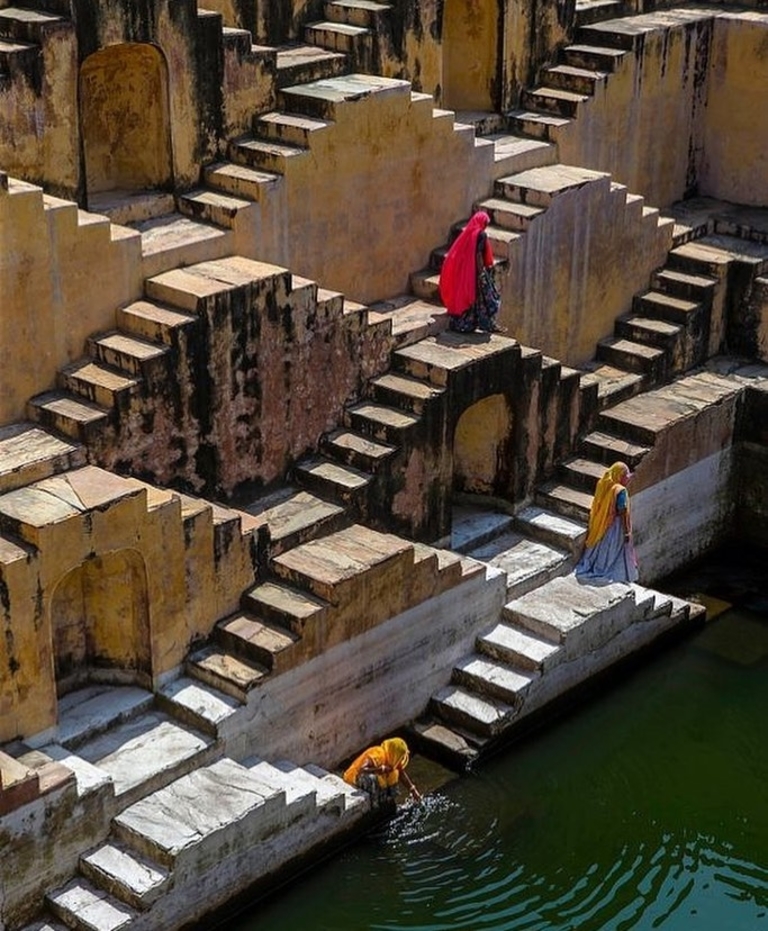 Chand Baori has 3,500 narrow steps arranged in perfect symmetry over 13 floors, which descend 20m to the bottom of the well. It is about 64 feet deep, which makes it India's largest and deepest stepwell! It's sideways steps and its unique geometric architecture is what attracts tourists here from all over the world. In fact, it's also said that the steps are designed in a maze-like manner and the same path cannot be used to climb up and down.
Image source: behance

Image source:lonelyplanet
The stepwell is a square construction and three out of the four sides have steps that lead down to the bottom of the well. Whereas the fourth side has a pavilion with three storeys. You can see the carved jharokhas, galleries supported on pillars and two projecting balconies enshrining beautiful sculptures here.
Filming Location

Image Source: Imgur

Image Source: Rajasthan Tourism Beat
Do you remember the scene where Bruce Wayne attempts a perilous climb to escape his confinement and return to save Gotham? Yes, we are talking about the Dark Knight Rises movie and yes, it was shot here. Apart from this, the shooting of Bollywood movies like Bhoomi, Bhool Bhulaiyaa and Paheli was also done here.

Another Attraction is Harshat Mata Temple

Adjoining the baori is the architecturally splendid Harshat Mata temple which was built between the 7th-8th centuries, but was later damaged by Mahmud Ghazni.

Image Source: Hotel Shahar

Image Source: Chand Baori
The temple is dedicated to Harshat Mata, believed to be the goddess of happiness and joy, who spread her glow and brightness around the town. The landscape is perfect with green fields, narrow village roads, and tiny houses.

From Delhi, it's a 5 hours drive and around 95 km. It's perfect for a quick weekend getaway!
(Featured Image Source: Jaipur Tourism)