If you are a new parent or the cool uncle/aunt, there's no doubt about the fact that you adore the little one more than you could ever imagine! Right! And of course, you want to catch their each and every move, their each and every cute, little sigh on camera. Probably that's why baby photoshoots have become such a huge thing now! So, we got in touch with one of Delhi's popular bay photographer couple, Shipra & Amit Chhabra, to tell us all about how they manage to click newborns and older kids, what preparations parents need to do from their end and more!
Hi Shipra, Amit. Can you tell us when and how did you decide that you both have to become professional baby photographers? It's a very unique career path, especially for a couple.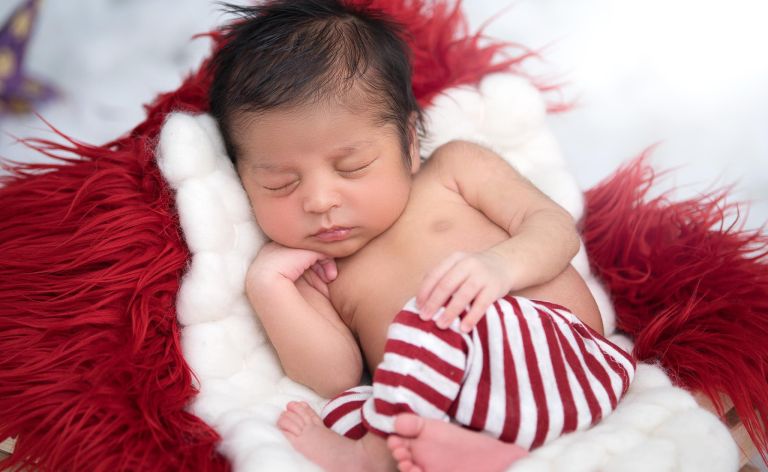 Amit and I used to live overseas for about 13+ years and photography started as a hobby when our son was born. When he was born we thought wanted to capture all these memories for other families as well, like we have been doing for him. Since he grew up so fast and quickly, so we thought we will stick to only kids photography and newborns. So, that's why we left our full-time job and careers and started with this. We have been in photography for 10+ years but India we move back 5 years back and started the studio.

How much time does a photoshoot with a baby take?

We start at the maternity days for the couples where there is a pre-pregnancy shoot. Newborn shoots happen after 7-14 days of birth because that's the best time to work with them as they are sleeping so we can actually pose them in a comfortable way. Then comes the stage of a toddler, we work with kids until they are 2 -3 years of age. 

Image Source: Facebook/delhi.kids.photographer


Image Source: Facebook/delhi.kids.photographer
What are the different packages parents can opt for and how much do they usually cost?

All the packages are different, they are priced according to the number of themes and setups we work on. We don't work image wise because you never know when the child will give you the best shot. The basic packages start with two themes which means there would be 4 change for the baby and 2 different kinds of setups. So, the basic package starts at about Rs 21,000 and it goes up to Rs 2 lakhs for multiple sessions in a year.

What would you say are the most popular themes when it comes to shooting young girls and boys?


Image Source: Facebook/delhi.kids.photographer


Image Source: Facebook/delhi.kids.photographer
For young toddlers, a lot of parents these days are experimenting with different kinds of themes.
Unicorn theme, a lot of interactive stuff like chef, pilot, camping theme and more.
We have started a new concept, the milk bath concept. It is basically a life beautiful tub with a beautiful step up where we pour some warm milk and child is spilling inside and splashing around. The milk bath can be enhanced with flowers, to add colours you can add strawberries to the water.
Is it better to shoot young kids at different venues or inside a studio?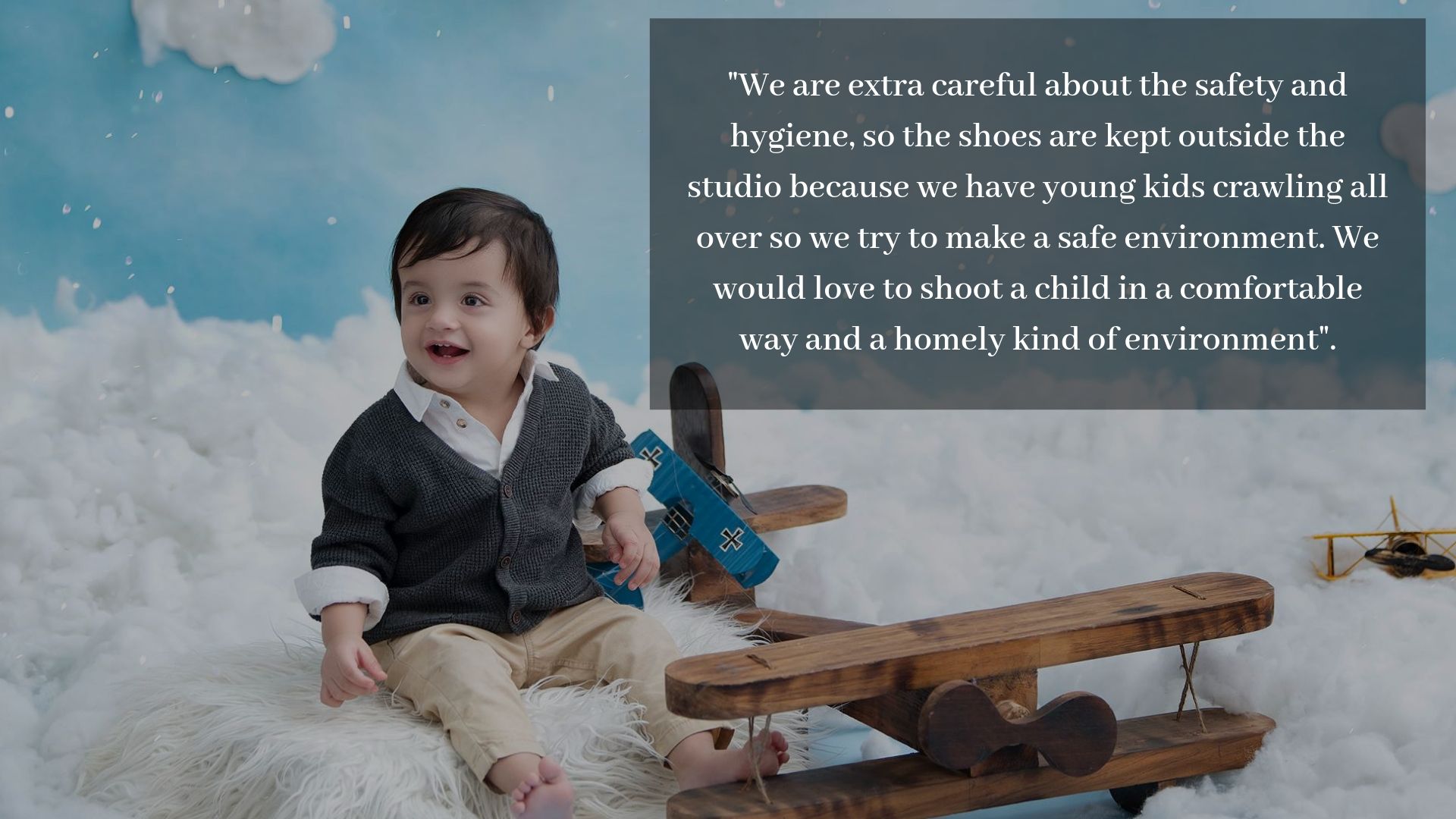 We only work with the children inside the studio for the sole reason that the baby has to be comfortable. Shooting outside you have a lot of factors like weather, hygiene, so we have made our studio like home and we also have a feeding area. We are extra careful about safety and hygiene, so the shoes are kept outside the studio because we have young kids crawling all over so we try to make a safe environment.

The first birthday of any child is a big deal. What special shoot can parents get done or what kind of shoots are popular when it comes to the first birthday of the child?


Image Source: Facebook/delhi.kids.photographer


Image Source: Facebook/delhi.kids.photographer
These days parents come to us for half birthday shoots as well. When a baby is born, parents are super excited to capture the whole journey, so they come to us 3-4 times a year starting with newborn, 4 months, 6 months and 1 year. So once we get to the first birthday, at this stage we do a lot of cake smashes in the studio which has become a very nice concept.
The cake, color, and setup are designed according to child preferences. Apart from cake smashes, parents come up for a milk bath because kids love smashing. Not everyone wants a cake smash on the first birthday, they just want a bright colorful theme with a lot of balloons. 

So, when it comes to photographing newborns, the first concern which comes to our mind is such young kids are not allowed to be photographed. Could you tell us all about what kind of cameras and equipment do you use and how is it safe for the baby?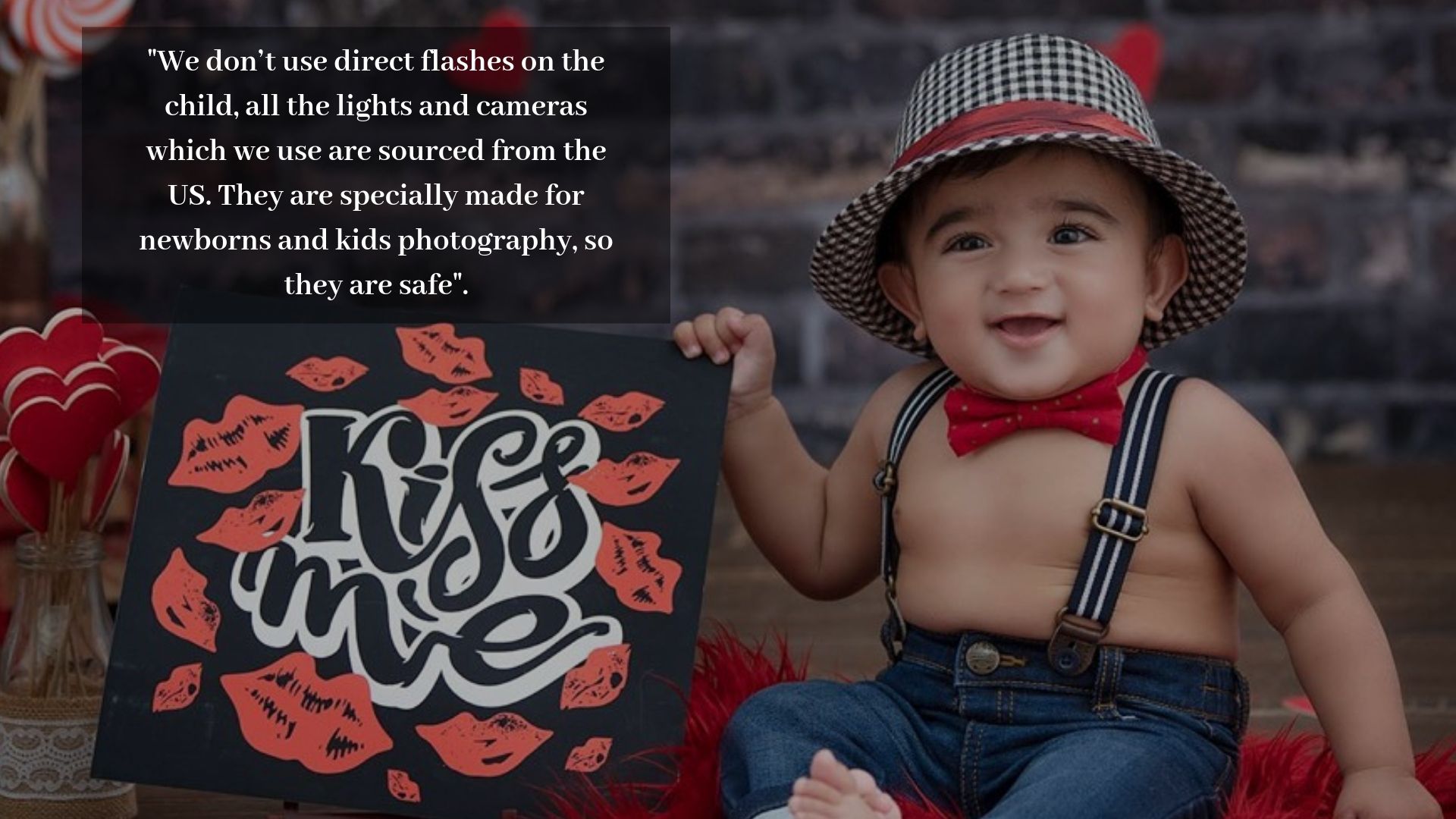 We don't use direct flashes on the child, all the lights and cameras which we use are sourced from the US.
They are specially made for newborns and kids photography, so they are safe.
It is made in such a way that kids are not exposed to light in any way. So, all types of equipment are pretty safe for babies.  
Talking about the venue or the studio, how do you ensure the place is sanitized and hygienic enough for a newborn?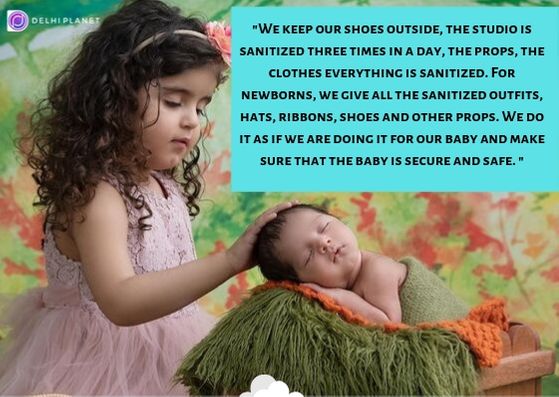 Our motto here is safety and hygiene first, good pictures will follow automatically. We keep our shoes outside, the studio is sanitized three times in a day, the props, the clothes everything is sanitized. For newborns, we give all the sanitized outfits, hats, ribbons, shoes and even for maternity stage we provide International gowns. After all the shoots, they are cleaned and packages individually, so that the next time we use it, it's totally safe for the child. We do it as if we are doing it for our baby and make sure that the baby is secure and safe. 


Image Source: Facebook/delhi.kids.photographer
What safety measures do you ensure so that the baby is safe during the shoot, especially when there's a lot of heavy equipment and lighting around?

Every child that sits in our set while we ready to photograph, there are two people sitting next to them for safety purposes. There are two-three people who are there just to keep an eye on the kid. Apart from that everything is positioned in such a way that there is nothing that can harm the baby. Even the props are kept at such a distance so that it doesn't harm the kid. There is a lot of open space for them so even if they are crawling we have soft-edged sofas that are safe.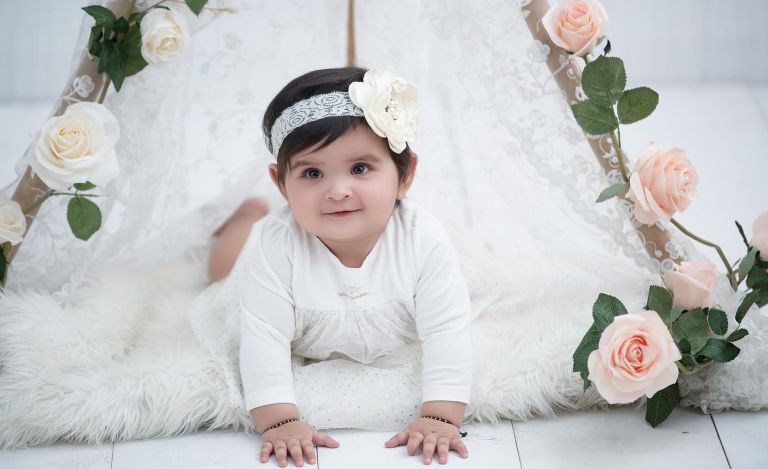 If families want their pets (say a dog) to be photographed with the child, do you do those shoots as well?

We prefer not to because a lot of pets leave hair, and as I said hygiene can't be compromised here. We don't allow pets to our studio but very special cases if the dog is very small and is not shedding hair and will only be contained in the arms that's the only time we allow.

Lastly, tell us about any of your famous/memorable clients and how was shooting for them like?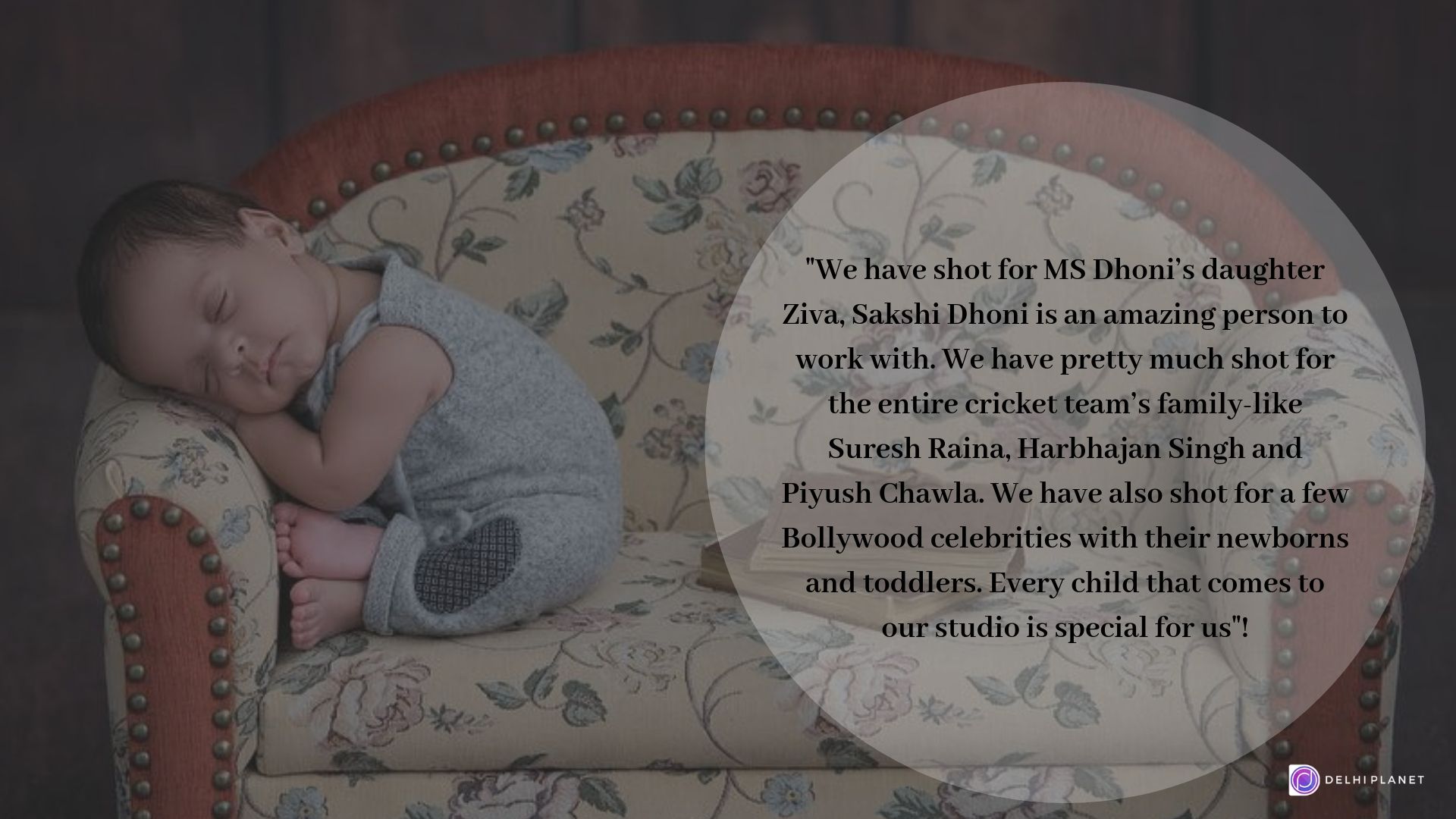 We have shot for MS Dhoni's daughter, Ziva. Sakshi Dhoni has been here a bunch of times and she is an amazing person to work with. We have pretty much shot for the entire cricket team's family-like Suresh Raina, Harbhajan Singh, Piyush Chawla. We have also shot for a few Bollywood celebrities with their newborns and toddlers. Every child that comes to our studio is special for us!
(Featured Image Source: Facebook/delhi.kids.photographer)