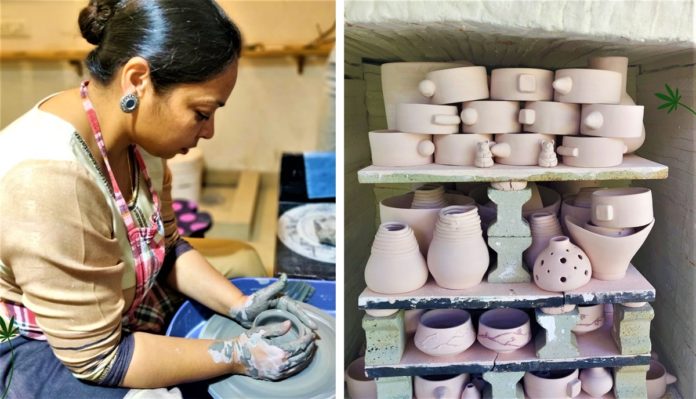 In today's time, when most of us have hectic jobs & lives, it's really important to take a break. While some people simply like to explore the world, some like to sink into their couches and binge watch Netflix, and some take up creative hobbies which helps them de-stress. And if you too are looking for a creative yet relaxed time out from your hectic life, then you must check out Aura Pottery Farm in Chandigarh. It's not just any other pottery studio. It offers long stay programmes, pottery retreats, organic meals during your stay and much more. Read on to get all the deets about them!
What is Aura Pottery all about? 

Image Source: Facebook/AuraPottery


Image Source: Facebook/AuraPottery
A 4-hour drive from Delhi, Aura Pottery is tucked in the beautiful city of Chandigarh. It's a Pottery Farm and Retreat which helps you learn pottery, away from the hustle-bustle of city life. The prime focus is on pottery with other interesting activities like yoga, swimming, and varied workshops. This retreat includes pottery workshops, entertainment, organic meals, and of course, accommodation. They invite people to come and experience the place, discover themselves and unwind from their regular lives. Sounds like your thing?
Aura Pottery was initially just a hobby for Anuja Lath, the owner of this pottery farm, which later turned into a residential pottery learning place.
Talking about Aura, she mentioned, "The idea was born when on a trip to Palampur, I experienced pottery for the first time in 2015. Thereafter a trip to Gaya Ceramics in Bali, Indonesia, motivated me to develop the place more and more as a learning center specifically for pottery".

Image Source: Facebook/AuraPottery


Image Source: Facebook/AuraPottery
Interiors And Food Can't Be Missed!

Comprising of a 1000 sq. feet studio space with pottery related infrastructure, tools, and wheels, you'll get all the amenities related to pottery here. It's a large airy studio where 6-8 people can work together. Located on the edge of a 1-acre fruit orchard and surrounded by greenery, it's the perfect place to experience nature and relax.

Image Source: Facebook/AuraPottery


Image Source: Facebook/AuraPottery


Image Source: Facebook/AuraPottery
At the far end of the orchard, there's the Potters Villa, where you can stay during your pottery retreat. It's a twin sharing basis and each room has an attached bathroom. Yes yes, how can we miss the food? All the meals are served in the studio dining room and mostly comprise of organic vegetarian food straight from the Aura organic kitchen garden.  

Program Which You Can Take Up!

Pottery retreat program range from one week to twelve weeks.
You can learn pottery, organic farming, you can do a quick cycling trip to the village, swim to cool off. In fact, they also have three adorable dogs here you can cuddle up with!


Image Source: Facebook/AuraPottery


Image Source: Facebook/AuraPottery


Image Source: Facebook/AuraPottery
Where: Aura Farm, Off, Kurali Chandigarh Rd, Manakpur Sharif, Punjab
Timings: 11 AM To 6 PM
For more details hit here
(Featured Image Source: Facebook/AuraPottery)