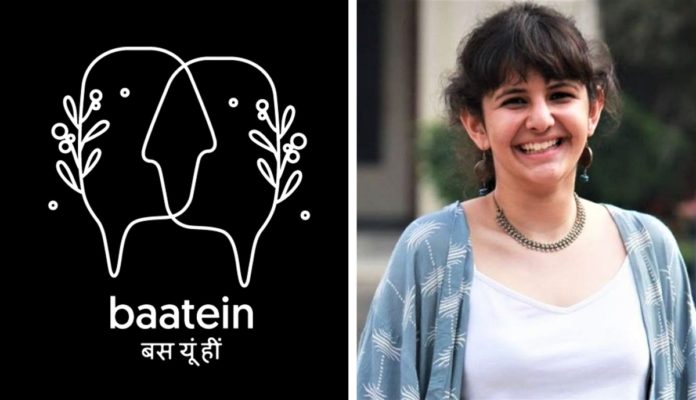 We're sure a lot of you would already know that 14th September is celebrated every year as Hindi Diwas in our country. And in today's modern times, there are numerous Hindi language authors and poets who are doing some great work and keeping the language alive. We recently spoke to one such person- Chhaya Dabas, on the occasion of Hindi Diwas.
Chhaya may seem like a regular Delhi girl, but what sets her apart is her love for poetry, storytelling and her genuine love for words! Born in the family of writers, and with her grandfather being a published author, it's only natural that Chhaya too aspired to be in the same field. And she started 'Baatein', a creative platform which aims to take conversations, storytelling and poetry beyond the digital platform.
We recently caught up with her and discussed how she developed her love for Hindi, how she started Baatein and much more!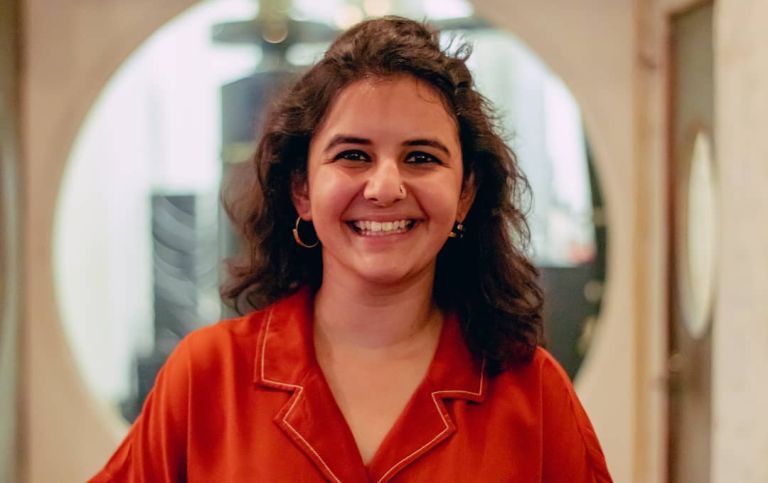 Hi Chhaya. Can you tell us how did you set up your platform 'Baatein'?

I started Baatein as a blog in 2014. And over the years, it has grown into a for-purpose organization that focuses on creative skill and educational training; creative content services and poetry engagements.
I started the platform to create a space to showcase my writings and of crouse build a community for similar creative folks. My love for words and expression comes from the household I grew up in.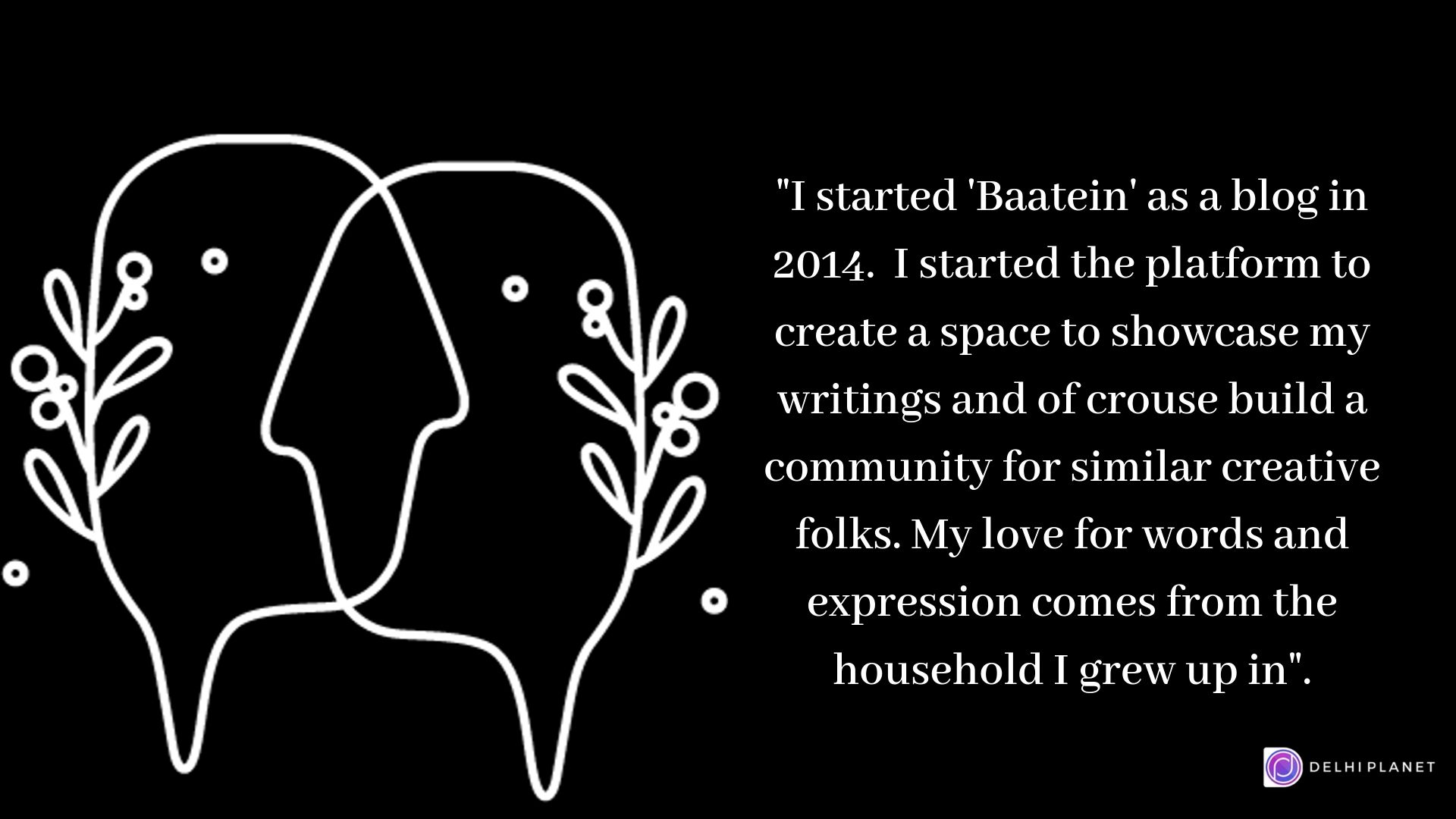 Stories took the prime stage at an early life, as both my mother and grandma were teachers and nana nani were remnants of partition. And of course, my grandfather (paternal) is a PhD in Linguistics and a published writer. So it was the environment that nurtured me to become fond of poetry, storytelling, and writing.

Can you tell us more about your grandfather and his tryst with the Hindi language?
My dadaji is who my world revolved around! He is a man of tremendous experience and knowledge. Having faced many personal losses at a young age, including the premature demise of his parents, he has made his own life on his own terms, with immense hard work, passion, and pursuit.
He was the first to pursue a bachelors in Hindi which eventually made its way to a PhD. in Hindi Linguistics.
He has fought ill-health and has built a family in a one-bedroom house to now being known and respected in literary circles and immensely loved by his close ones. He and I share a very special bond – one that travels beyond words, family and love – a bond of exploring.
He sounds like a great person! So, could you tell us a bit more about 'Baatein'?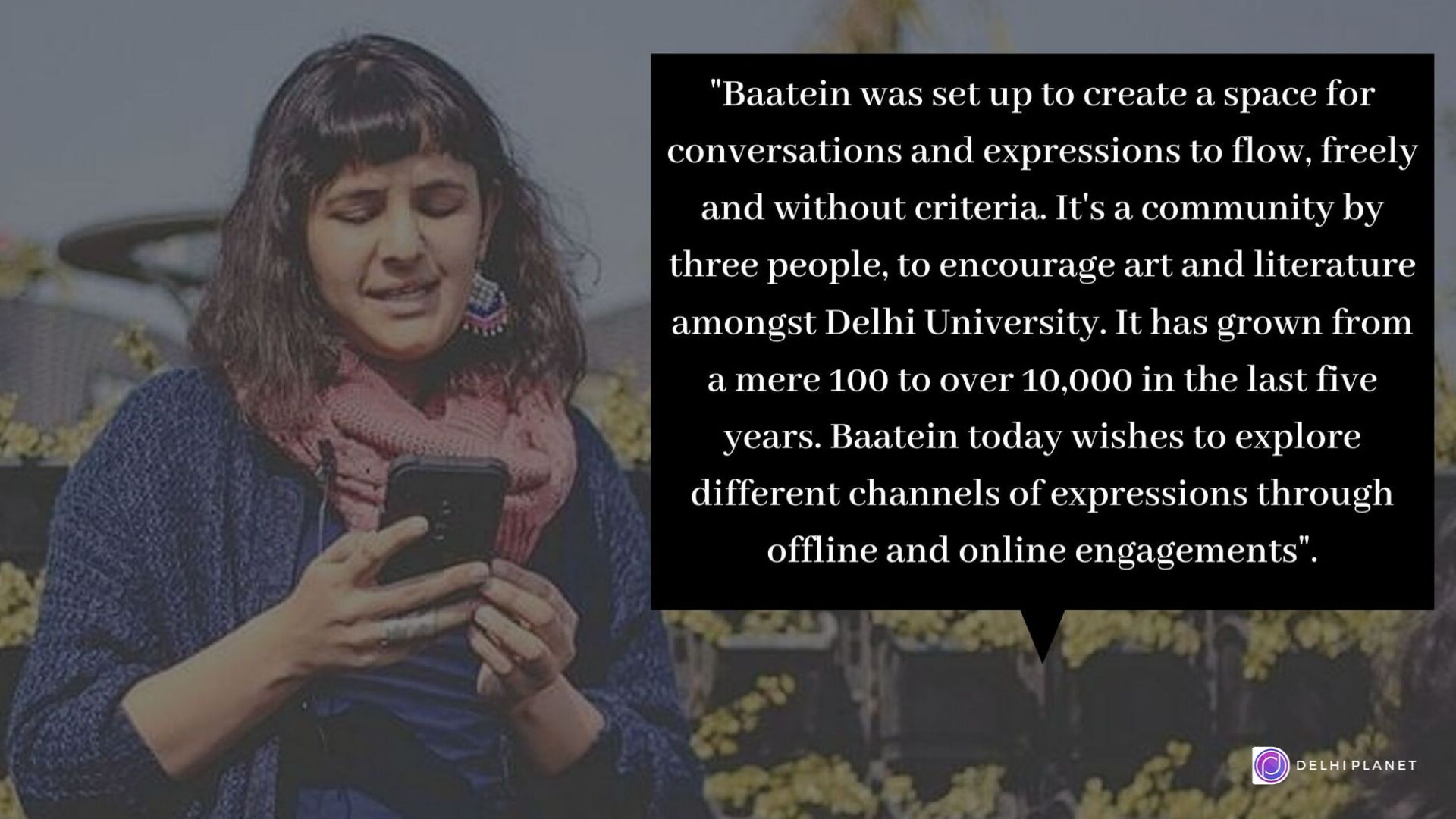 Baatein was set up to create a space for conversations and expressions to flow freely and without criteria. Set up in 2014, as a community by three people, to encourage art and literature amongst Delhi University. It has grown from a mere 100 to over 10,000 in the last five years.
Baatein today wishes to explore different channels of expressions through offline and online engagements. Over the last year, we have worked with ITC Hotels, TED, Hindustan Times, Paytm and Insider; to name a few of our collaborations.
Oh great! Could you tell us a bit about your workshops and podcasts?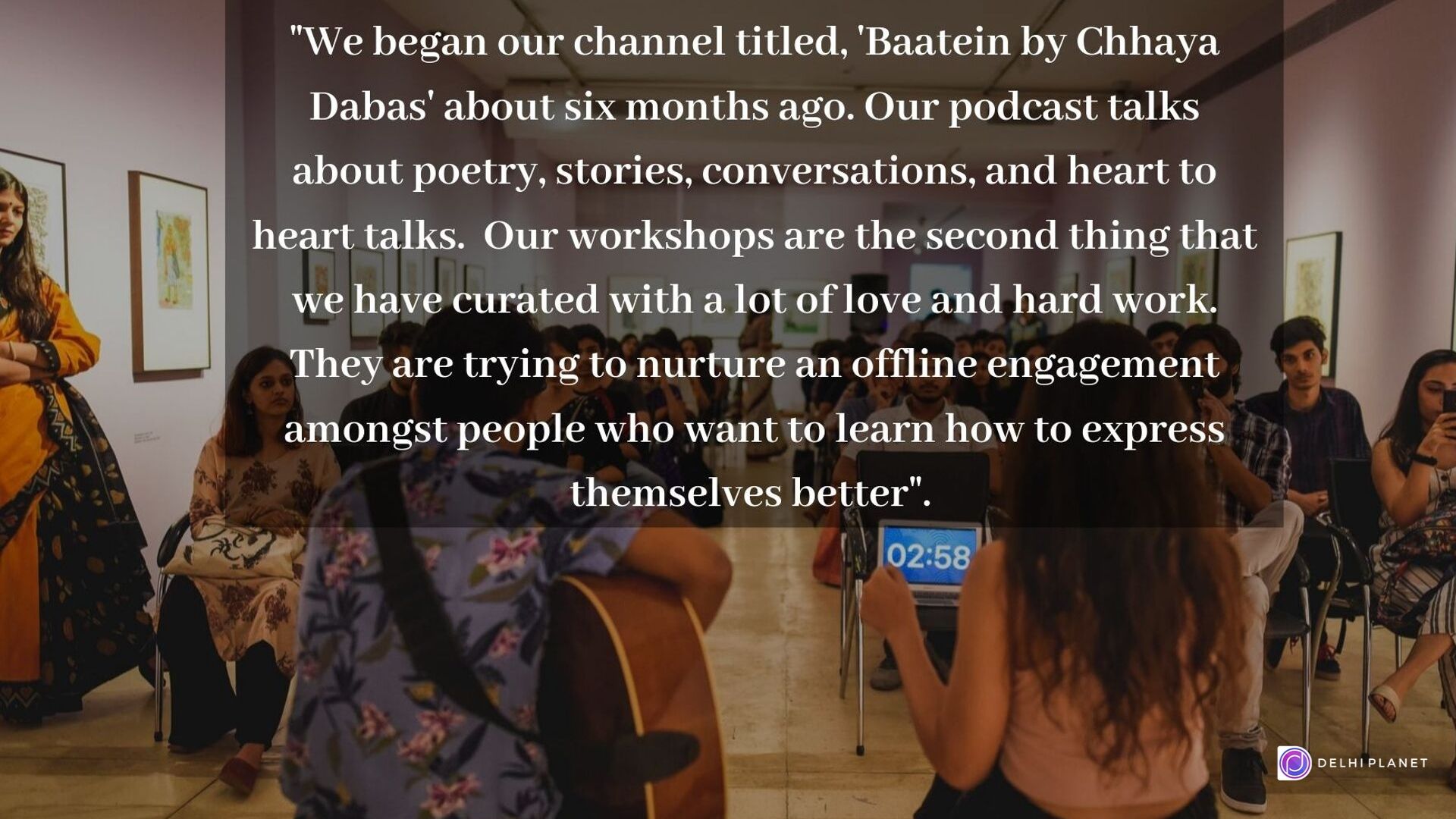 Our podcasts are a prized possession! We began our channel titled, "Baatein by Chhaya Dabas" in association with Hubhopper about six months ago. Our podcast talks about poetry, stories, conversations, and heart to heart talks. Our podcast is exclusively available on Hubhopper and will soon launch its second season.
Our workshops are the second thing that we have curated with a lot of love and hard work. They are trying to nurture an offline engagement amongst people who want to learn how to express themselves better. Our workshops travel to various audiences, be it, students, corporates, institutions or artists.
14th September is celebrated as Hindi Diwas in the country. A lot of your poetry events, open mics are about Hindi poetry, stories. Was choosing Hindi a conscious decision, especially in an English obsessed nation like ours?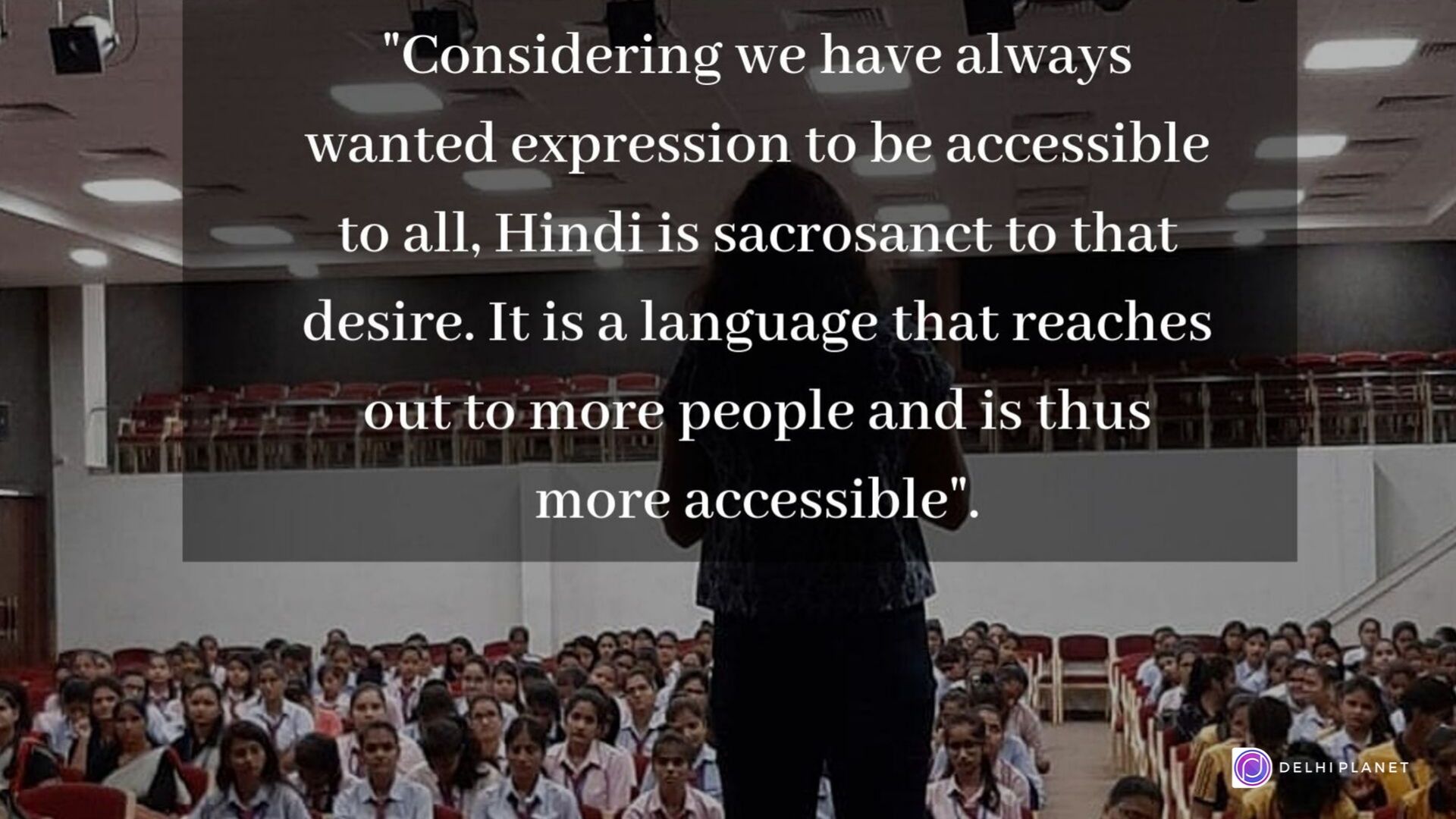 The only rule that we follow is that expression has no rule or language. So Hindi or English are just mediums of expression, similar to painting, dancing or any other medium. But yes, considering we have always wanted expression to be accessible to all, Hindi is sacrosanct to that desire. It is a language that reaches out to more people and is thus more accessible.
Any particular fascination you have with the language?
Hindi is my mother tongue so of course, I express most comfortably and freely in that language. Further, my dadu is a Hindi author and linguist. Hindi has always been his language of expression and our medium to connect with each other and for me a means to learn from him. An example would be how dadu and I used to write our own renditions of maa, gali, ghar and share them with each other.
Image Source: Facebook/baateinposts


Image Source: Facebook/baateinposts
What are your future plans with Baatein?
We wish to take our expressions workshop to each city in India and hopefully, one day open our own school. We further wish to build our podcast to a proper communication channel. And finally, make Baatein a household name.
(Featured Image Source: Instagram/baatein)