Delhiites, Bangalore's Sly Granny, loved for all her quirks and charms has now set up her vacation home in Delhi's Khan Market and we couldn't be more excited! Well, for the unaware, Sly Granny is a famous fine dining restaurant in Bangalore which has now opened in Delhi. Intimate and welcoming like a granny's home, there is an interesting invented backstory to this place. As per the story, the place belongs to a quirky grandma whose house hides a bunch of secrets–a cocktail cabinet full of rather alcoholic home remedies, a kitchen with recipes collected from her globetrotting adventures, and a haphazard collection of paintings and photographs! Intrigued already, aren't we?
The Interiors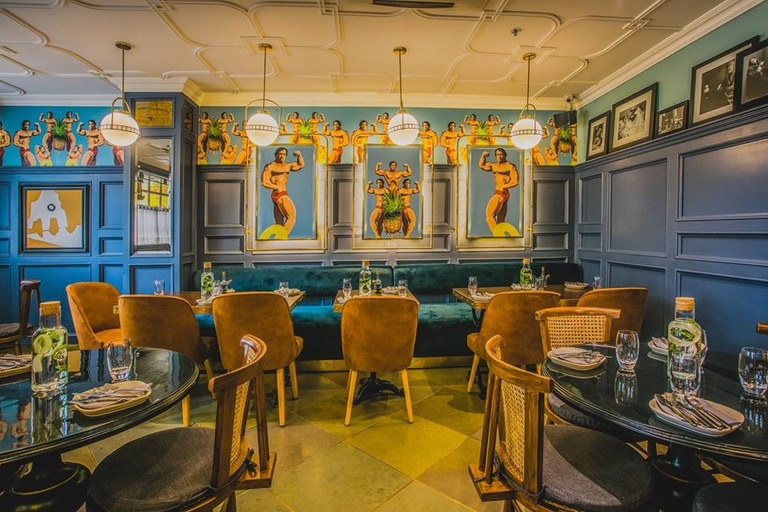 Walk into granny's house and you'll find yourself amidst mid-20th-century! You'll be able to spot that era's design influences and collections of eclectic art and artefacts, offset by crystal decanters, vivid exotica-inspired wallpaper. And, sure enough, Granny's favourite Arnold Schwarzenegger wallpaper which has also made its way to Delhi! If you think this is merely some quirky decor, you're mistaken. This is more of a sequence of styles, choices and changing aesthetics as she brings to Delhi experiences from a life well-lived.
The Menu
Coming to granny's menu, it is eclectic and whimsical with underlying European influences. They even have a separate high-tea section because granny can't do without her tea! Some of their most popular dishes include Deconstructed Cheese Toast and the Pulled Chicken Tacos served with tomato chutney and pickle. Known for her love for cocktails, Granny introduces some Prohibition Era drinks. This includes classics from the 1920s, with subtle yet refined flavours.
With so much to offer, we say you absolutely have to give granny a chance to entertain you super soon!
Featured Image Source: Dineout