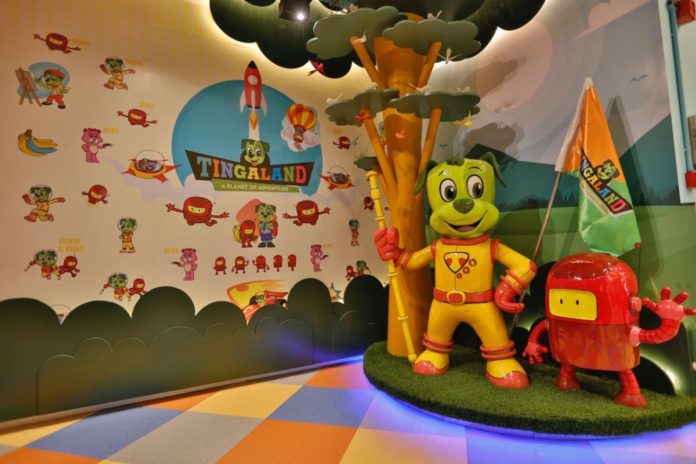 If you are parents or uncle/aunt to little munchkins, you'd know how they absolutely love their playtime! Thankfully, our city boasts of some really cool play arenas for young ones. But if they are bored of going to the same place, then you've got to check out this new, super fun indoor play arena in Noida, Tingaland. Read on to get more deets!
What is Tingaland?

Tingaland is the most buzzing play arena packed with fun, adventure and knowledge. It's a place that is designed for toddlers and kids from the age group 2 to 10 years. Tucked in The Starling Mall, Sector 104, Noida, It is equipped with a plethora of games and activities to keep the kid engaged and entertained.
We got in touch with the owner of Tingaland, Mrs. Vandhna Verma. She told us about how this idea came up.
"Being a parent, the biggest task is to keep my kids away from video games, mobiles and TV. We want to take them out of the virtual world give them the experience of the real, active play. Tingaland is the first unwired play zone which not only focuses on the fun part but also on the development of their mind and body".
What All Kids Can Do?

Being the first unwired place, a complete tech detox for kids, Tingaland ensures to be a magical land where fun never ends and keeps kids occupied. Equipped with a plethora of games and activities, it is the place where you should take your kids definitely.

Neatly divided into two sections- toddlers and grown-ups can enjoy activities and rides which are age-specific. For toddlers, they have LEGO towers, play foot piano, colourful sand-castles and more. However, for the older children they have the big drop slide, commando net, various tunnels, and zipline.

Here is what all you can do at the entertainment playing arena:

Tinga Activity Zone
Tinga Toddler Zone
Tinga Art and Craft Centre
Tinga Wall Climbing
Pajama Birthday Party Place
Tinga Night Camps
Let's Talk About Food

They have a Tinga Cafe that is powered by Kwality Caterers where kids and parents can munch on some healthy food and coffee. They serve sumptuous and healthy dishes, you don't have to worry about the quality and hygiene everything is well-taken care off. You should try out their Pizza, Mojito, Pasta, Sandwiches and yummy shakes. The best part is that everything is fresh and up to the mark.

With various fun activities, it's time to take your kids to this amazing playing arena.
Where: 3rd floor, The Starling Retail, Sector 104, Noida
Contact: 099900 44500
Check Out Their Website Here