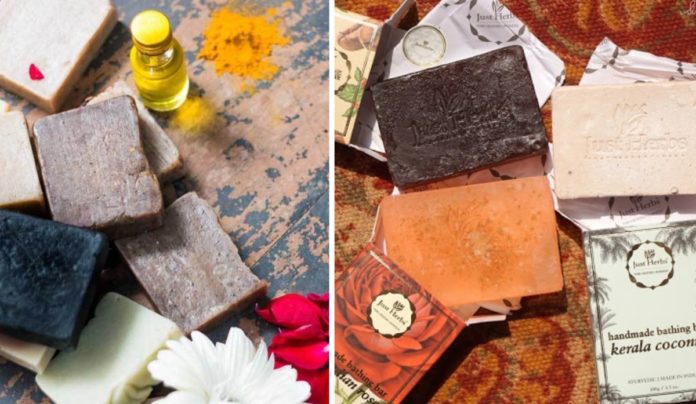 After a long tiring day at work and there are only a few things which can cheer us up- cuddling up with our favourite book, binge-watching Netflix or taking a long hot shower! Nothing can be better than a refreshing bath, no matter how sleepy or tired you are feeling. And it's time to pamper yourselves with natural and handmade soaps. After all, going chemical-free and all-natural seems to be the norm these days. So check out these 8 natural handmade soap brands that will melt your tension away, leaving your skin feeling soft & supple.
1. Rose & Co.

image Source: roseandcompany


image Source: roseandcompany
With a view to wiping out chemicals off your shelf, Rose & Co. have all-natural skin and body care products. They claim to be vegan-friendly and their soap collection is natural and 100% handmade. With merely 3-4 ingredients (natural) in each of the soap, you will get to know from their aroma itself that it's so pure.

2. Patisserie De Bain

Image: Eat.Travel

Image Source: bathitup
How about having a bath with a cupcake shaped soap? Patisserie De Bain soap contains natural ingredients like milk, vitamin E, cocoa butter and fruits which work together to provide the skin effective nourishment. These soaps like Sweet as Cherry Pie Cupcake Soap, Sugared Violet Cupcake Soap and more are best for dry skin and are a must-have from this brand.

3. La Flora Organics

Image Source: lafloraorganics


Image Source: lafloraorganics
Crafted with certified organic edible oils, essential oils, botanicals, and herbs, La Flora Organics soaps are pure and handmade. The soap bars are vegan, completely cruelty-free and certified by PETA, and with amazing variety such as Lavender, Country Rose, and Neem Tulsi. These soaps are great for everyday skincare routine.

4. Gulnar

Image Source: artyowl

Image Source: What'shot
It's a homegrown brand that offers handcrafted soaps that are PETA-certified. Made from organic, natural ingredients, soaps are infused with aromatherapy oils that are available in fruity and floral scents with plenty of options according to your taste. Gulnar even has special baby care soaps keeping in mind their skin.

5. Just Herbs

Image Source: sweetandbitterblog


Image Source: sweetandbitterblog
The aroma of the woods is what you will get in their soaps. Just Herbs packaging mentions each percentage of what herb and plant extract goes into each product. Do you know the best part? Thinking about the environment, their packaging is recyclable! It's a tailor-made soap brand to suit each skin type. Take a pick from their loofah soaps like rose, coconut, and coffee and pamper yourself!

6. Neemli Naturals

Image Source: Amazon

Image Source: Engrave
Offering handcrafted and natural soaps, Neemli Naturals deserves all your attention! Their soaps contain no artificial preservatives or chemicals and are made using 100% natural essential oils and other natural products. Natural products like Charcoal, Multani Clay, Avocado and Coconut Oil are added in the soaps which all skin type can use.

7. OmVed Therapies

Image Source: omved.com


Image Source: omved.com
This beauty brand believes in chemical-free skincare products. Free from all artificial colours and animal fat, OmVed handmade soaps are crafted from food grade oils and scented with essential oils. They have a special collection for all skin types be it dry, oily, acne for each type they have a soap. Choose from Neem & Tulsi, Sandalwood, Jasmine, Rose and more, they are great for everyday skincare regime.

8. Soap Square

Image Source: Facebook/SoapSquareIndia


Image Source: Facebook/SoapSquareIndia
Body, facial, butter, loofah and soaps for kids, Soap Square have handmade and natural soaps for every skin type. All soaps are natural & handmade which are made with skin-loving oils, fruits, flower petals, clay, essential oils, butter & glycerin for skin nourishment. Their activate charcoal and orange detox body soap is by far the best soap that we have come across!

(Featured Image Source: engrave)