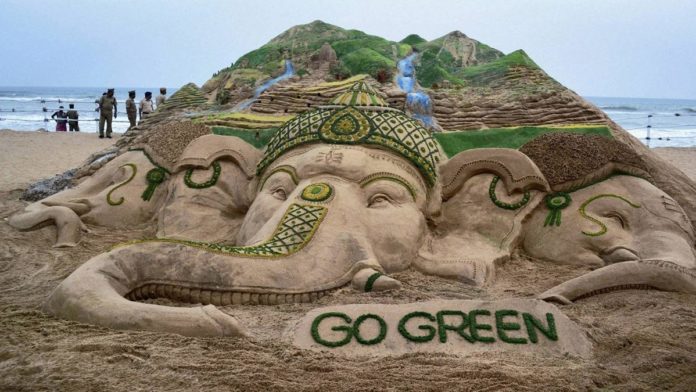 Our planet is soon approaching its tipping point and sustainability in any form is the need of the hour. Whether it is being eco-conscious when it comes to daily life or during festivals. We have to do whatever little bit we can in order to restore the condition of this planet. India, as we know, is a land of many festivals and with each festival comes a toon of environmental hazards. Since Ganesh Chaturthi is around the corner, we decided to round up a list of brands that are selling eco-friendly Ganesha idols for green and eco-conscious celebrations.
Meanwhile, Hidush Foundation, a not-for-profit organization founded in 2015 provides solutions in the areas of education, health, protection of environment and welfare of animals. They have started a social campaign to spread awareness for the cleaner and eco-friendly visarjans during the Indian festival of Ganesha Chaturthi. Have a look at the video below.
You too can take the pledge to celebrate Ganpati Visarjan eco-consciously with simplicity, love and devotion with eco-friendly idols from these brands.
1. Tree Ganesha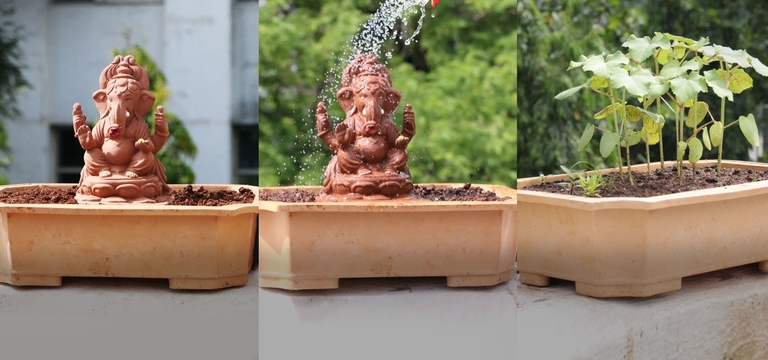 Created by Dattadri Kothur, an art director by profession and an artist and sculptor by passion, Tree Ganeshas are not just eco-friendly but also contribute to the environment. Made of red soil, organic fertilizer, natural colour and seeds, this unique idol is designed to grow into a tree after immersion making it the best Ganesha idol to opt for this Ganesh Chaturthi! Not to mention, it is also B-town approved!
Order yours here.
2. Green Practices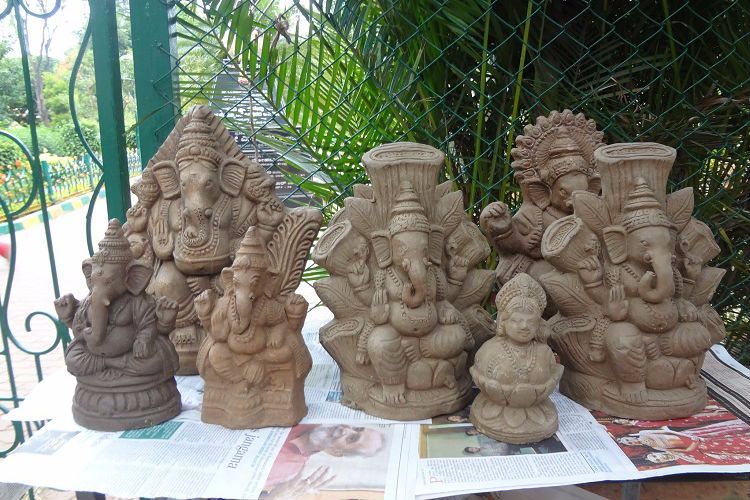 Created by Mana, a mother of two, Green Practices is a brand that aims to fight or atleast reduce the effects of climate change for future generations. Their Ganesha idols are made from natural clay and dissolve in 45 mins. The idols are painted with watercolours which are 100% safe for marine life and keep the water pure and healthy. What else do you want?
Get yours here.
3. Eco Shree Ganesha Arts
Eco Shree Ganesha idols are made from clay, paper mache and natural glue. The even use environment-friendly colours to paint them. The best thing about these eco-friendly Ganesha murtis is that they look just as attractive as the POP ones, yet don't harm the environment and are sensitive to the needs of Mother Earth and they have them in almost every size!
Get yours here.
4. Shree Omkar Arts – Paper Ganesha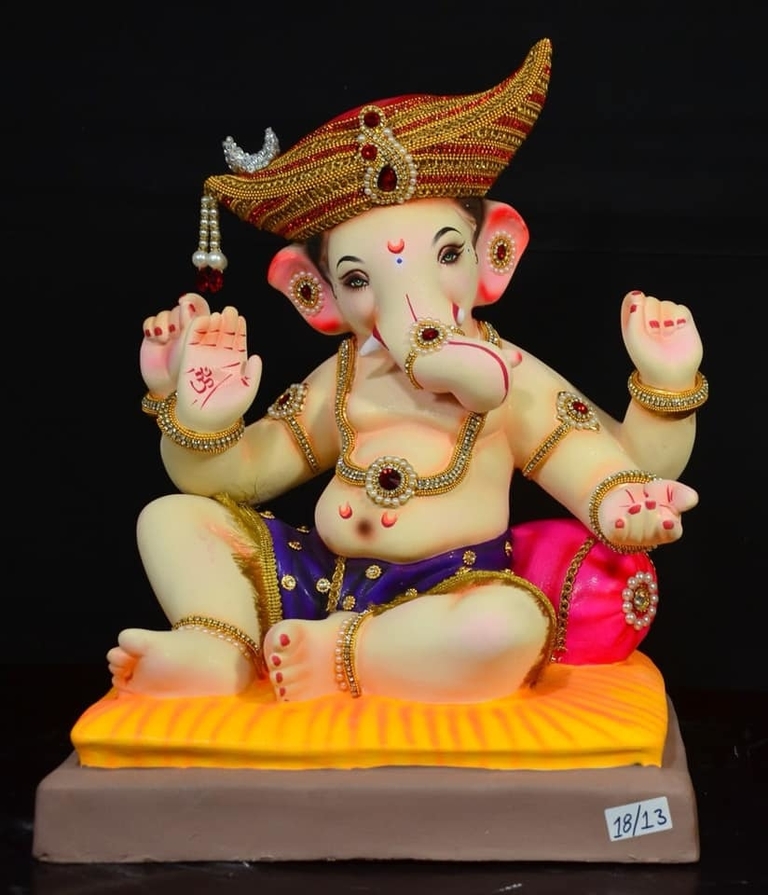 You can opt for Shree Omkar Arts' paper Ganesha idols which are made out of paper and clay. The Ganesha Idols by Paper Ganesha are lightweight and stronger than clay idols, making them a sought after choice. However, in spite of being stronger, they submerge in water in the same amount of time that other eco-friendly clay idols do.
Get yours here.
5. Puja N Pujari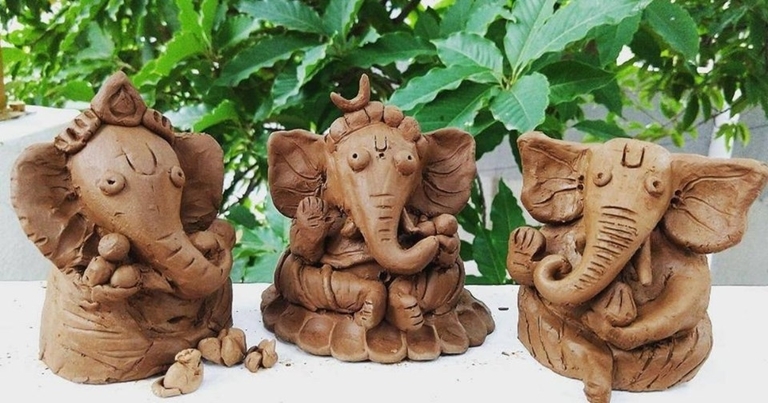 Their Ganesha idol is made of pure natural clay, Multani Mitti and painted with natural colours. One of the advantages of this idol is that it is free from toxic paint, so it can be dissolved in a few hours and while immersing it will not pose any harmful threat to the water body. This idol is beautifully made with natural clay and painting of dhoti, jewel, crown, and the seat.
Buy yours here.
6. My Eco Ganesh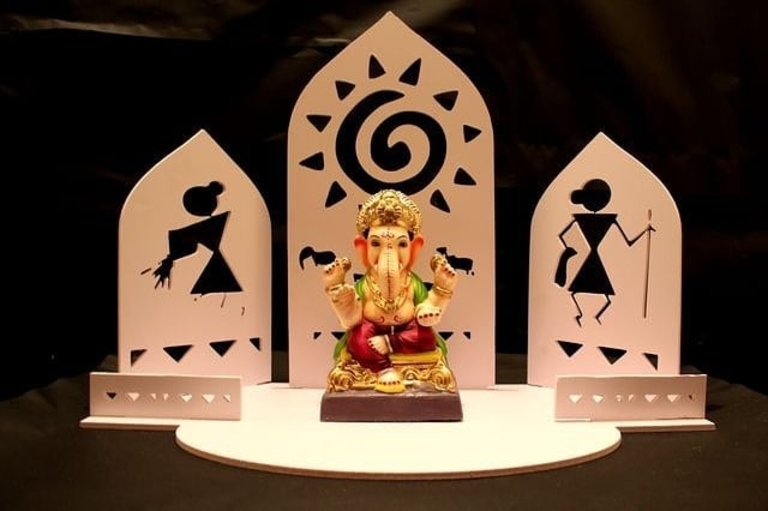 My Eco Ganesh is a brand that is committed to saving the environment, rivers and sea by providing artistically designed clay idols of Ganesh along with eco-friendly decoration. The colours used to paint their Ganesh idols are also natural with very minute chemicals used for sticking. Not only that they also have a range of eco-friendly paper mache Ganesha idols made out of clay and paper mache and of course the eco-friendly decorations.
Order yours here.
7. eCoexist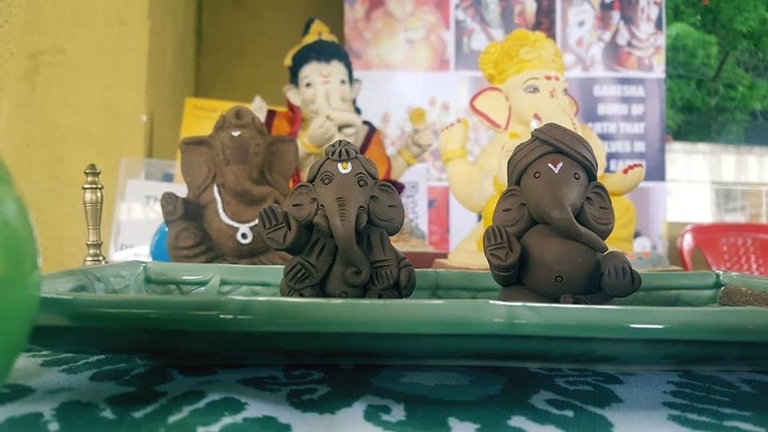 You have to check out eCoexist's stunning range of biodegradable Ganesh idols made of natural clay, paper mache, and cow dung. These idols are made by traditional artisans across the country. You can dissolve them in water without harming the water body or causing any threat to marine life.
Get yours here.
Featured Image Source: Impact Guru