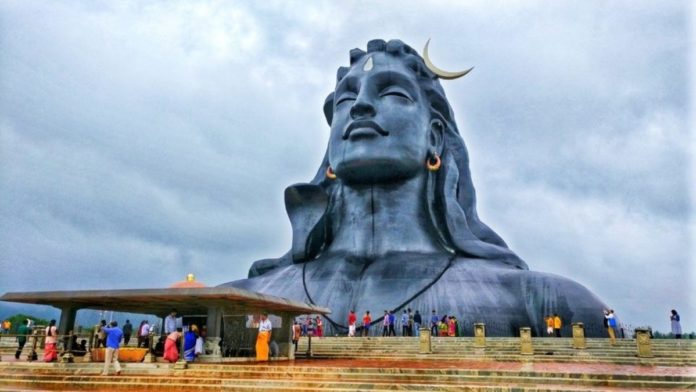 If you are travelling to Tamil Nadu soon, make sure you don't miss out on visiting the stunning Adiyogi Shiva statue. Standing tall at 112 feet and weighing a massive 500 tonnes, it is the largest bust sculpture in the entire world! Now, you wouldn't want to miss that, right? It was inaugurated recently in 2017 on the occasion of Maha Shivratri. So, if you want to take a quick trip to the city of Coimbatore just to witness this glory, we'd totally understand!

Image Source: Instagram/famousplacesinindia

Image Source: Instagram/travellersdiary_in
All About The Adiyogi Shiva Statue

Surrounded by verdant lush greenery at the foothills of Velliangrii mountains, in the Western Ghats, Adiyogi Shiva Statue dedicated to the Hindu deity Shiva. Located in the Isha Yoga Complex in Coimbatore, the sculpture stands tall at the height of 112 feet.

Do you one interesting fact about the statue? The height of symbolizes the 112 methods to obtain freedom—or moksha—which is a theme in yogic culture. It is said that the height represents the body's 112 chakras.

Image source: youtube
The statue has been recognized as the "the largest bust sculpture" by The Guinness World Book of Records which is 34.3-meter tall, 45 meters long and 7.62 meters wide. Isn't it amazing! The founder of Isha Foundation- Sadhguru Jaggi Vasudev is the man behind the design of this statue.

What All is There?

An 8 hours drive from Bangalore with scenic views of the green lush surroundings will leave you in awe! There's also a temple has which houses a shivaling and a meditation centre. But peeps, keep one thing in mind photography inside the temple is totally prohibited but you can take pictures of the statue! The night view of the statue is surreal guys, which you shouldn't miss at all!

Image Source: instagram/sadhguru

Image Source: BCM touring
Open for people from all religions, The Isha Foundation holds many cultural programs and other events in the statue complex. If you look closely in the picture, you can spot a quaint shrine at the bust of the statue where you can chant or meditate. Unlike the traditional Indian temples, here you are allowed to take selfies with Adiyogi. If you are tired and just want to grab a snack, there is a cafeteria which sells delicious south Indian food as well.

Apart from the Adiyogi Shiva Statue in Isha Foundation, there are plenty of attractions just behind the statue. Surya Kund, Chandra Kund, free yoga sessions and Dhyanlinga.
Where: Mahashivaratri Grounds, Ishana Vihar, Velliangiri Foothills, Coimbatore, Tamil Nadu
Timings: 6 AM To 8 PM
Check Out Their Website Here
(Featured Image Source: plugon)