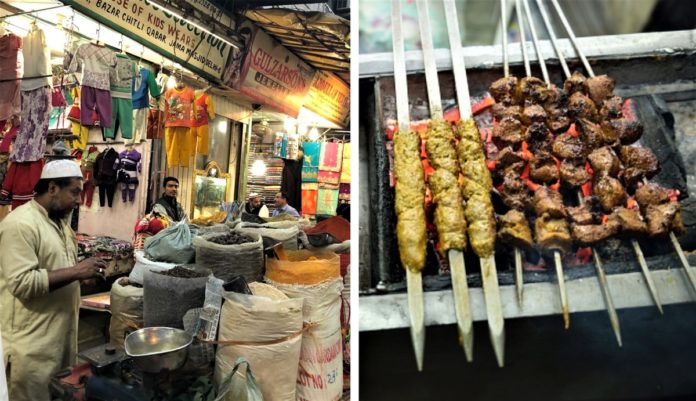 If you're a Delhiite, you've been to Chandni Chowk for sure. The food is awesome, the energy is crazy and the shopping deals a are beyond amazing! But there are other cool shopping hubs as well in old Delhi which you shouldn't miss out on. One of them is the famous Chitli Qabar Market. Even though it's not easy to navigate the narrow, crowded lanes of old Delhi markets, but if you are interested in exploring the city up, close and personal, then the best way is to take a stroll down the Chitli Qabar market. And here's all you need to know about it!
Image Source: Instagram/bazaar_dilli6

Image Source: interns.blogspot
What's There?
Located in Old Delhi, Chitli Qabar Market is one of those markets hidden inside the narrow alleys of the area. The name of the market is derived from a small qabar (grave) that is located in the midst of the bazaar. The qabar is protected by small houses which are covered with grills and is surrounded by various shops.
Image Source: Dayre

Image Source: wanderful
Narrow alleys, tightly packed shops, the congested area is what Chitli Qabar bazaar is all about. But if exploring Old Delhi is on your agenda and then you must stroll around these alleys and experience the historic culture of the city. The street is full of most authentic, famous and ancient food shops.
What To Shop Here?
From apparel to metal works to perfumes to flowers, Chitli Qabar Market has everything in store for each one of us. Traditional clothing, bangles, shoes and other items just add colour to the pallid streets of Old Delhi. Of course, there's no place for branded clothes or items but if you are looking to buy some traditional items like apparel, utensils, spices or artificial jewellery this place is a total yes for you!
Image Source: Instagram/dhruvsangarimusic

Image Source: Delhipedia

Image Source: The Delhi Walla

Image Source: Just Dial
For those who don't know, Chitli Qabar Market is also famous for the attar. You can visit the Attar House Perfumers near Jama Masjid to check out their collection ranging from pure attars to branded synthetic varieties. Essential oils such as lemongrass, peppermint, tea-tree rose, and jasmine is also found here.
Do Not Miss The Food Here!
Feeling famished and need some energy dose? You can always try out the Mughlai cuisine dished up in some of the traditional food stalls here. At every corner of the market, you will find some sweet shops on the roadside. You can also witness traditional bakers preparing large round-shaped bread which you can find in a Middle Eastern souk.
Image Source: delhipedia

Image Source: thedelhiwala

Image Source: Youtube
From roasted chickens to lambs, there's a lot you can explore here when it comes to food. Taufiq Ki Biryani, Matia Mahal, Karim's and Pehelwan Ka Gulab Jamun are some of the spots you should definitely go to once you are here.
Now that you know about this hidden gem in Old Delhi, when are you planning to go on a shopping spree?
(Featured Image Source: delhipedia)