We're sure you'd already know that Krishna Janmashtami, also known as Janmashtami or Gokulashtami, will be celebrated on 24th August i.e. this Saturday. And if you want to witness the celebrations in full glory, then ISKCON temple in Dwarka, Delhi, is one of the best temples to be at. Celebrations here are always grand, so read on to know what all is there in store at Dwarka ISKCON this year.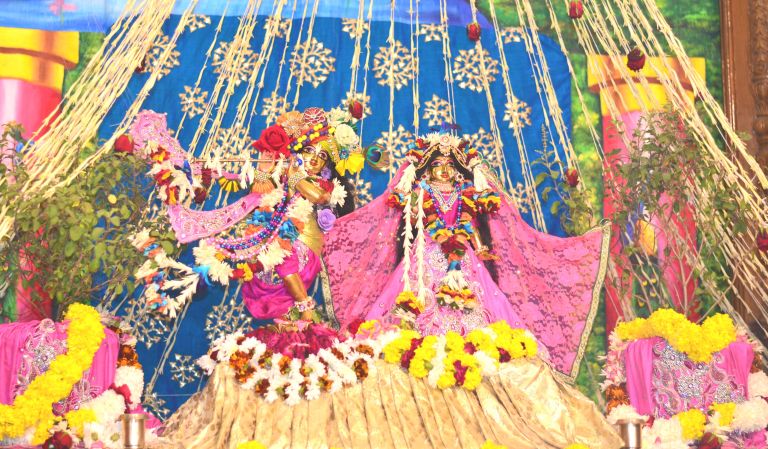 Be Prepared For Stunning Decorations

Image Source: Facebook/iskcon.dwarka
To promote this auspicious day, this month ISKCON is decorated with beautiful umbrella canopy which is held up by Lord Krishna idol to depict the erstwhile Govardhan Parbat. With multi-coloured decorations, a rainbow bridge is created.
Devotees can participate in the umbrella contest wherein they can send prayers to Lord Krishna with a paper boat. Celebrations and arrangements are made to welcome the monsoons and thank the Lord for his blessings in the form of rain.
All About The Grand Celebrations

It's going to be a three-day celebration, starting from 22nd- 24th August. You will get to witness special cultural evenings which are prepared by the school students in the area. The D-Day is going to be a total jam-packed event with spiritual kirtans.

Kids can take part in the ongoing rangoli, quiz competition (Kaun Banega Krishna Ka Devotee), fancy dress contest depicting various avatars of Lord Vishnu, painting the umbrella contest and many such interesting activities. You can also participate in the butter churning contest and make Lord Krishna's favourite food, Makhan-Mishri.

In the evening, you can catch live-on-stage, the Madhavas band, the runner up of India Got Talent in 2018. You can even become a part of the Maha Abhishek ceremony and sing for Lord Krishna's cake cutting ceremony on the day.

Image Source: YouTube

Image Source: YouTube
To celebrate this auspicious moment, the festivities will continue till midnight, when the Maha Arati is performed to conclude the day's celebrations.
When: 22nd to 24th August, Thursday to Saturday
Where: Plot No 4, Iskcon Temple Road, Sector 13, Dwarka, New Delhi
Contact: 088002 23226
Check Out Their Website Here
(Featured Image Source: ISKCON.org)