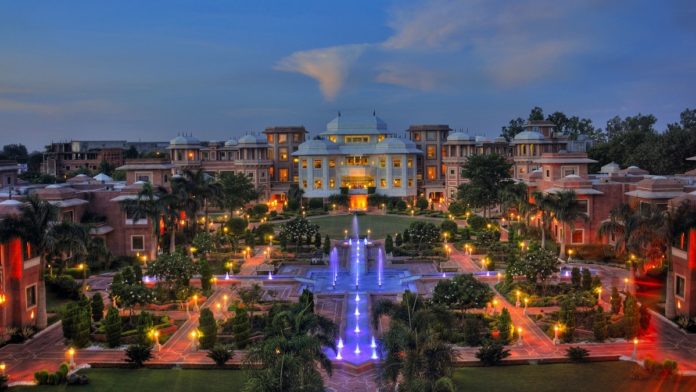 The 15th August weekend is here and if you can take the 16th off from work, then we can call it a long weekend, right! Which means it is time to pack up your bags and escape from the everyday madness of the city! And where better to head to than Agra, the former capital of the Mughal emperors? Less than 4 hours away (thanks to the Yamuna Expressway) and boasting of not one but three UNESCO World Heritage Sites, Agra happens to be the perfect short vacay destination. Of course, going to Agra is synonymous with seeing the Taj Mahal. But once you've experienced the historical beauty of the city, here are 8 luxurious hotels where you can blissfully enjoy the rest of the long weekend!
1. The Oberoi Amarvillas
Image Source: Make My Trip

Image Source: Booking.com
If you're looking to chill up close and personal with the Taj Mahal without having to step out in the heat, Oberoi Amarvillas is your place! Located just 600 metres from the Taj Mahal, The Oberoi Amarvilas is the perfect destination for a break against a backdrop of the Crown of Palaces. Their Mughal inspired architecture, terraced lawns and reflection pools are all you need for a memorable long weekend. Of course, utmost luxury comes at a (massive) price. (Don't tell us we didn't warn you!)
Check out their website for more details.
2. Wyndham Grand
Image Source: Wyndham Grand Agra

Image Source: Life is grand
Indulge in the richness and exquisiteness of the Mughal era at the Wyndham Grand hotel in the city of the Taj. Take a dip in Agra's largest swimming pool or get a relaxing massage at Al-Sehat Spa. You won't even mind hitting the gym if it looked like the one at Wyndham Grand! With 6 restaurants to choose from, each serving the finest of delicacies and a basketball and tennis court for your recreation, the Wyndham Grand spells luxury in big bold letters!
Check out their website for more details.
3. ITC Mughal
Image Source: Cleartrip

Image Source: Booking.com
Striking the perfect balance between world-class luxury and warm Indian hospitality, ITC Mughal is one of the most exquisite properties in Agra. The only Indian hotel to have won the prestigious Aga Khan Award for its excellent representation of Mughal architecture, you know this place is worth every penny! Explore culinary wonders at one of their five restaurants, revitalise your senses with an array of spa treatments and therapies and make the most of your long weekend!
Check out their website for more details.
4. Mansingh Palace
Image Source: India Tour Packages

Image Source: RedBus
With an enthralling view of the Taj Mahal, the Mansingh Palace is an epitome of luxurious extravagance. With a multi-cuisine restaurant, a bar, a health club and a swimming pool, this grand hotel caters to your every need! If you'd like to wake up to the view of Taj Mahal and are willing to spend a few thousand extra bucks, you can opt for their Taj View Room. A gorgeous sunrise view of the majestic monument will make it a trip to remember!
Check out their website for more details.
5. Clarks Shiraz
Image Source: Make My Trip

Image Source: Clear Trip
Located just 2 km from the Taj Mahal, the Clarks Shiraz hotel is your answer to a luxurious hotel with lots of recreational activities. With a swimming pool, multi-gym and a leisure club offering indoor games like Pool Tables, Table Tennis, Air Hockey, etc. there is no way you can be bored for even a second at this hotel. You can also avail their health club and spa services and take care of your beauty needs at their own personal beauty parlour. Need anything else? We don't think so!
Check out their website for more details.
6. Courtyard Agra
Image Source: Mariott

Image Source: TripAdvisor
Located on famous Fatehabad Road, Courtyard Agra is a luxury haven near the most celebrated jewels of India. Savour distinctive cuisine, creative cocktails and fine wines at their four unique restaurants, restore balance at their luxury hotel spa which features massage, beauty and wellness treatments that blend local and international techniques. With diverse dining, a sparkling pool and cutting-edge fitness centre, Courtyard Agra is the perfect place to spend your long weekend at!
Check out their website for more details.
7. Grand Imperial
Image Source: Travellite India

Image Source: TripAdvisor
The only heritage hotel in Agra, The Grand Imperial was built in the early 1900s as a Colonial Hotel for the British when the British Empire was at its peak. The hotel has a unique Colonial Victorian architecture blended with Mughlai style. Along with delving in its historical charm, you can also enjoy the spa and folk entertainment and not to mention the puppet show which we bet your kids will love! What more do you need?
Check out their website for more details.
Featured Image Source: Pinterest