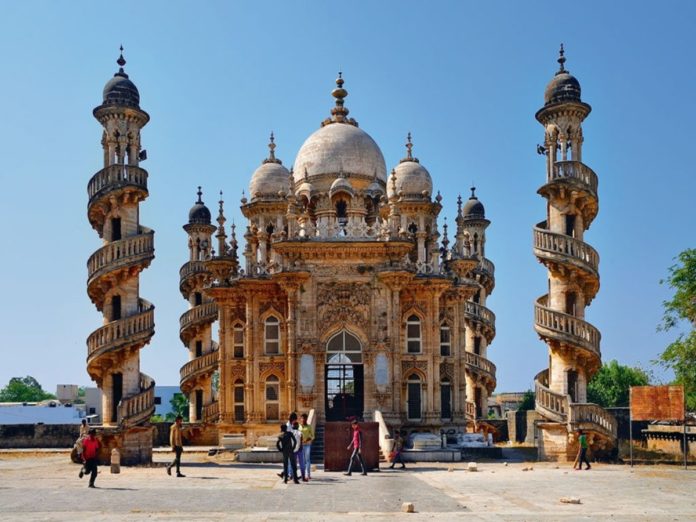 Whatever we say in the mighty Taj Mahal's honour is going to be an understatement. One of the seven wonders of the world, words are truly not enough to define its beauty and grandeur. It is considered as the symbol of true love and for centuries has been standing tall ever since the Mughal emperor, Shah Jahan, dedicated it to the loving memory of his beloved wife Mumtaz Mahal. No wonder tourists flock to Agra to see the Taj Mahal not only from India but from all over the world! But did you guys know apart from the Taj Mahal in Agra, there are 4 lookalike Taj Mahals located in various parts of the country?

1. Bibi Ka Maqbara, Aurangabad

Image Source: gosahin

Image source: aurangabadtourism
Referred to as the poor man's Taj Mahal, Bibi Ka Maqbara was commissioned by Aurangzeb for his wife Rabia Durrani. It is constructed out of white marble, like the original Taj Mahal, but this one is not studded with semi-precious stones. Standing amid broad pathways and landscaped gardens with fountains, Bibi Ka Maqbara is the closest to the original out of all the lookalikes. Built-in the 1650s by Aurangzeb's son, Azam Shah, the white marble was transported from Jaipur to construct this one. Looks almost, almost like the original Taj!

Where: Begumpura, Aurangabad, Maharashtra

2. Red Taj, Agra

Image Source: wikimedia

Image Source: Twitter
Did you know apart from the original Taj Mahal, Agra has a red Taj Mahal too? Also known as John Hessing Tomb, it was built in the early 19th century. The tomb was built by John Hessing's wife Alice after he died during a war between Marathas and the British. It's one-fifth of the size of Taj Mahal and has no mosaic works or fine inlay like the original Taj. And if you are bored of visiting the Taj Mahal again and again then Red Taj Mahal should be your next stop in Agra.

Where: Nehru Nagar, Civil Lines, Agra, Uttar Pradesh

3. Mahabat Maqbara, Junagadh


Image Source: gosahin

Image Source: indianplattee
The Mahabat Maqbara in Gujarat is one such monument which you should visit at least once in your lifetime. The structure is a blend of European, Islamic and Hindu styles of architecture. Once you reach there, you will witness Gothic columns, marble jails, French windows and doors with spiral stairways. Mahabat Maqbara has the tomb of Mahabat Khan II, a former Nawab of Junagadh.
Where: Mullawada, Junagadh, Gujarat

4. Mizo Taj, Aizawl

image Source: trip advisor

Image Source: Trell
Following the steps of Shah Jahan, K. Chhawnthuama is considered as the modern-day Shah Jahan of Mizoram. To immortalize his wife after her death, K. Chhawnthuama built a monument and named it K V Paradise. It is built like church rather than a Mughal monument, however, locals fondly call the structure as Mizo Taj. With amazing views of the surroundings, you can go inside and see the life-size painting of his wife along with her dresses, shoes and the clothes she was wearing when she died.

Where: Durtlang Rd, Mel-5, Zion Veng, Aizawl, Mizoram
(Featured Image Source: smithsonianmag)