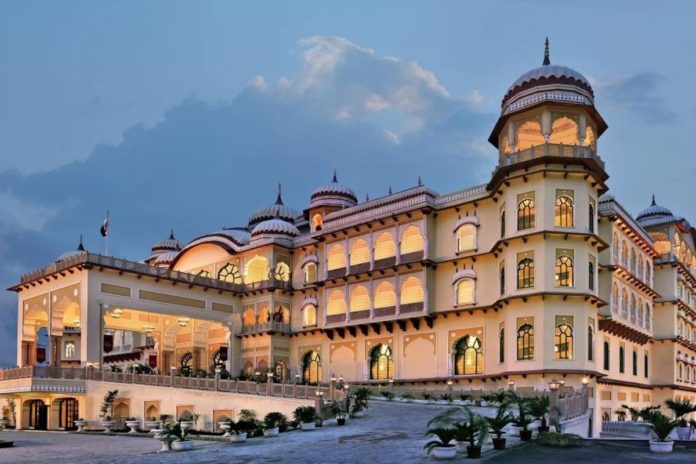 The much-awaited long festival weekend we have been eagerly looking forward to is around the corner! Well, if you just get to take the Friday, 16th August off, then it definitely can be a long weekend for you. But just in case you don't have any plans yet, you must check out The Noor Mahal luxury palace hotel which is just 3 hours' drive away from Delhi. Whether you want to take out your SO or the entire family, this hotel sounds like the best bet!
Image Source: Make my trip

Image Source: booking.com
One look at this place and you'd know why it's better known as the
'Jewel of Karnal'! The palace hotel has elements inspired by traditional Mughal and Rajputana schools of architecture which will definitely spellbound.
The Noor Mahal offers perfect hospitality, world-class services, and sheer luxury. With 125 elegant rooms and luxurious suites, it's a welcome treat for anybody who'd want to unwind in the lap of luxury. Offering an amalgamation of traditional royal feel and modern comforts, it sounds like an unforgettable affair.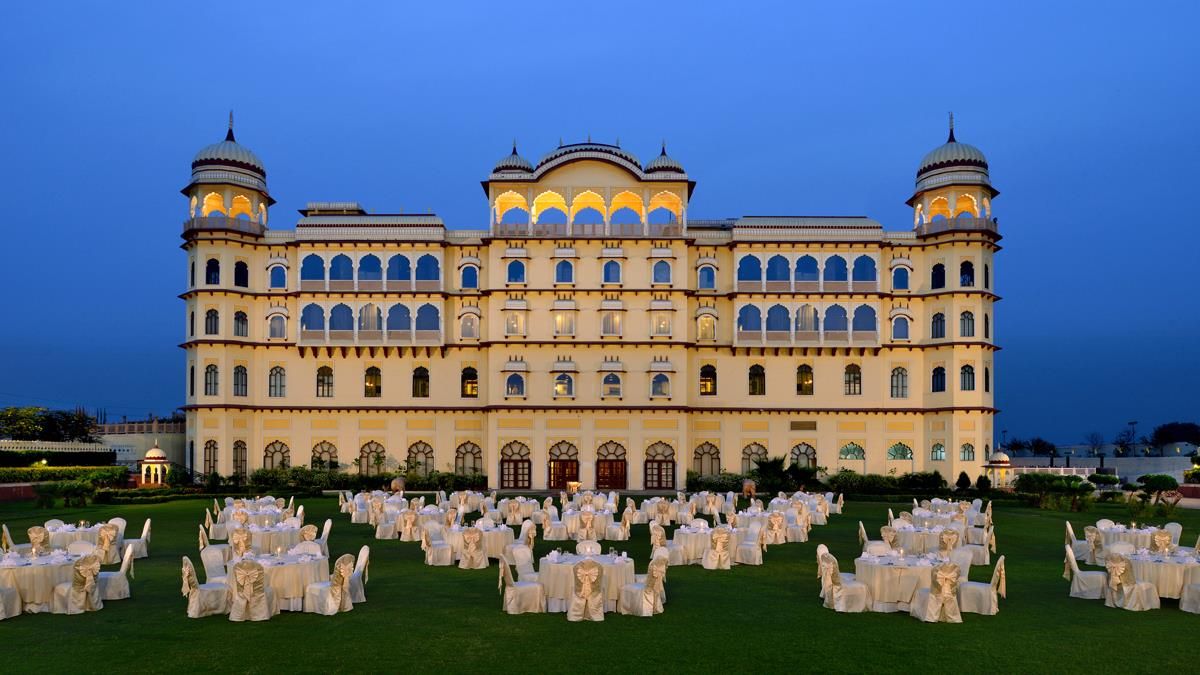 All About The Luxurious Accommodations
With 125 elegant rooms and suites is in traditional architecture combined with a contemporary feel, there are plenty of options from which you can choose. Each of the chambers has its own charm and uniqueness. There are 4 options from which you can choose.
If royalty is your thing then you should go for Khwabgah Chamber and Heritage Suite. With private terrace and bar, it's perfect for a romantic stay. Apart from that, they have Presidential Suite and Club Royal which offer magnanimous decor and modern facilities.

Image Source: noormahal.in


Image Source: noormahal.in


Image Source: noormahal.in
Care For Some Mindblowing Meals?
The hotel has numerous eating options, which means it's a perfect place to take your SO! Each of the restaurants here has an interesting tale and offers Indian and global cuisines. So, you can choose from the following options:

Image Source: noormahal.in

Image source: noormahal.in
The Frontier Mail: Offering a fine-dining facility with lip-smacking dishes, their vibrant place will leave you awestruck! It is inspired by the legendary Frontier Mail train that used to operate between Bombay and Peshawar during the pre-independence days. The menu comprises of cuisines from the regions through which the train made its initial journey.
The Brown Sugar: How about having coffee early morning while gazing the monsoon weather? The Brown Sugar is a round-the-clock coffee shop cum restaurant which will provide you with international dining experience along with amazing buffet breakfast.

Image source: noormahal.in


Image source: noormahal.in
The Polo Bar: This one's a Colonial style Indian bar which will offer you a diverse range of cigars, beers, wine, cognacs and more.
A Ton of Things to Explore Here!

Image Source: noormahal.in


Image Source: noormahal.in


Image Source: noormahal.in
And if you thought this is it, then you are mistaken! You can enjoy a playful splash at the pool. Or, simply get some pampering massages & therapies at their Spa & Wellness Center. And if you're a sports zealot, then you can play sports like Lawn Tennis, Basket Ball, Cricket, Commando Net, Wall Climbing, Hand Ball, Badminton and Volley Ball at their special corner. Last but not least, they have a special fitness centre where you can work out even while you are on vacation.
We have given you enough reasons to stay here! And the long weekend is upon us, pick up your phone and do the booking RN!
Where: Noormahal Crossing, National Highway 1, Sector 32, Karnal, Haryana
Check Out Their Website Here
(Featured Image Source: