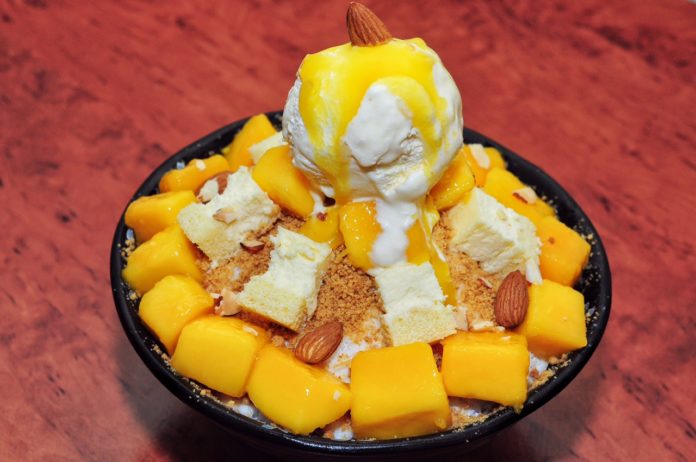 Whether you like to admit it or not, we all have a sweet tooth, to some degree at least. While some of us like to gorge on to Indian mithaais, others love their cakes, pastries, doughnuts and ice creams. Yes! Nothing beats ice creams when it comes to summers. But have you heard about the Korean version of ice cream, Patbingsu or Bingsu? It is a delish shaved ice dessert which is usually topped with red beans, fruit and condensed milk. Here's why you've absolutely got to try it out!
What is Bingsu?
Image Source: YouTube

Image Source: Visit Korea

Image Source: manilainsider
Hugely popular in Thailand and Korea, especially during the summer season, Bingsu is their favourite dessert to beat the heat. Patbingsu literally translates to 'red beans shaved ice'. The variation without red beans topping is called Bingsu. A Bingsu or Patbingsu is made of ice shavings (somewhat like out desi ice golas) and is usually topped with red beans, sweetened condensed milk, fruit syrups, and fresh fruits like strawberries, bananas, mangoes, and kiwis.
Image source: China Town London

Image Source: The Urban Wire
Keeping the balance between the sweet fruit syrup and ice shavings is a very important part of the dish. If the fruit syrup overpowers the dessert, it becomes too sweet. We suggest you to at least try this dish, once in your lifetime!
Where can you find it in India
Tempted yet? Don't worry, you don't need to Google or Zomato, we have got you sorted as we've found few restaurants and cafes that'll serve you the best Bingsu in India.
1. Snow'ora, Banglore
Image Source: Facebook/snoworabangalore


Image Source: Facebook/snoworabangalore
Hands down, Snow'ora's Bingsu is the best-shaved ice cream you'll find in India. Their fruity Bingsu and Chocolate are the ones to die for! Apart from fruity and chocolate flavours, they offer tons of options to choose from. So, if you're ever in Banglore, you must not miss Snow'ora at all!
Where: 65, MM Road, Near Ismail Sait Mosque, Frazer Town, Bangalore
Contact: +91 9739700066
2. Heng Bok, Mumbai
Image Source: Picky Diner

Image Source: sethlui
This restaurant specializes in Korean food rather than just desserts. But they've got Bingsu and some other Korean desserts on their menu. They basically serve two types of Bingsu- fruits flavour and green tea flavour. Exotic, right?
Where: 6th Floor, Above Shoppers Stop, Suburbia Mall, Linking Road, Bandra West
Contact: 022 61736062
3. Aim Cafe In Korean Cultural Center, New Delhi
Image Source: Life Gets Better

Image Source: Zomato
Located inside the Korean Cultural Center, Aim Cafe serves delectable Bingsu. You have a lot of options to choose from such as red bean, sweet potato, coffee, green tea, and mocha-flavoured. We suggest you go for their red bean and coffee, it's the best you will ever have! We are heading now, are you ready to join us?
Where: A25, Vikram Vihar, Lajpat Nagar IV, Lajpat Nagar, New Delhi
Contact: 011 43345000
Bingsu is all our minds RN, what about you?
(Featured Image Source: lancescape)