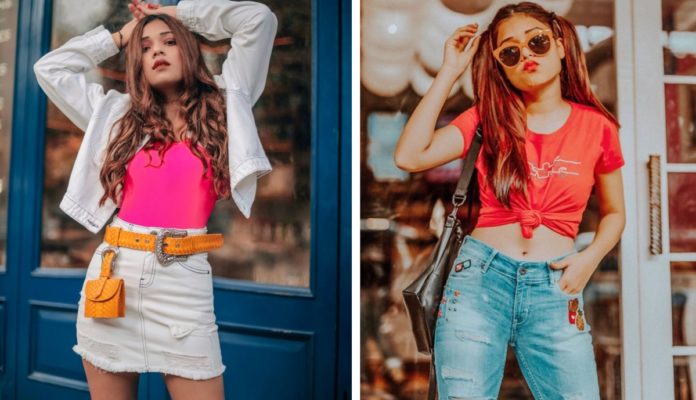 With colleges all over the country starting their new session soon, there'd be thousands of kids who'd be going to college for the first time ever. And with that, comes, of course, shopping time! College is the first time ever when you are out from the school uniform and you get to develop your individual style. So, we got in touch in touch with Mumbai's super famous fashion blogger, Riya Jain, to give us some amazing gyaan on college style. From casual kurtis to t-shirt dresses, Riya told us all about styling wardrobe basics for perfect college wear!
1. A White Shirt
Never underestimate a white shirt, because you can create so many looks with it! You can tie a knot or you can make it off the shoulder and wear it with shorts or skirts. The possibilities are endless! Just add a cute little backpack or sling and you are ready to slay the look.
2. A Graphic Tee
A graphic tee can't go wrong, especially for college kids. Just keep it really basic to wearing them with ripped shorts. If you are not in a mood to wear shorts, just opt for ripped jeans, white shoes, a sling, and a high ponytail.
3. A Good Pair of Jeans
Denim is your BAE! Each of us has our personal favourite denim which we just can't get over. You all have to do is just wear a graphic tee or a cutesy top, put on your sunnies, wear sneakers and put on a cool cap for a basic casual look.
4. A Casual Kurti
Every college girl should have a basic casual kurti in their wardrobe which can style differently. You can gove it an edgy look by layering up a lot of silver accessories. You can even pair your kurti with a palzoo or jeans to give it a different look.
5. A pair of Trousers
There are plenty of ways to style pants to get a variety of chic and modish look each time. The best and the easiest way is just to layer it with a blazer for a complete formal look. Would totally come in handy for those viva or class presentation days!
6. Different Types of Skirts
My personal favourite is the asymmetrical skirts that just gives an amazing shape to your figure. You can easily team them with a loose tee. Or add a top with a denim jacket to give it a fashionable look. Perfect for oncoming autumn!
7. A Casual Maxi Dress
A casual maxi dress is so in these days! Maxi dresses are easy and super comfy to wear, even while commuting in public transport. To make it look more classy and elegant, just add a belt around it a casual look. Just add silver jewellery and you are ready to rock the complete look!
8. A Denim Jacket
Layering a denim jacket with everything just looks fab. A perfect option is to style your jacket over dresses and skirts. If you want an uber-cool look, go for a short/crop denim jacket style. Or you can just grab a pair of baggy high-waisted jeans or denim skirt and pair it with a blue denim jacket for a stylish vibe. Over-sized denim jackets are also super in these days.
9. Simple Spaghetti Top
Whether you are going for a more dressed up or a casual plain look, spaghetti top can bring that touch of simplicity to your attire. Wear a fitted pant and accessorize it with minimal delicates around your neck & wrist to accentuate your basic street-style look. It's definitely a staple for every college-going girl.
10. A Knee-Length Shirt-Dress
Shirt dresses are equal parts fun and stylish! To ace the look, grab a belt, put it near the waist and pull the upper part which creates a creasy look around the waist area making it a cute short dress.
11. A T-Shirt Dress
Running late for college? A T-shirt dress is your rescue partner when you are running late for your 9:00 AM lecture. Just throw on the dress, put on some sneakers and you are good to go! All you have to do is just complete your look with a cool backpack.
Just try to experiment by trying new things and working on trends but stick to being comfortable and easy-going. Hope, now you are all set to pick your first-day college outfit.