India never ceases to amaze us with its scenic beauty. Be it the mountains or the beaches, we have the best of them! But looks like we also have the best of flower valleys. Yes! We're sure you already know about the one in North India, Valley of Flowers National Park in Uttarakhand. But did you know there's a valley of flowers even in Maharashtra? That too mind-boggling more than 850 different species of flowers and endemic butterflies?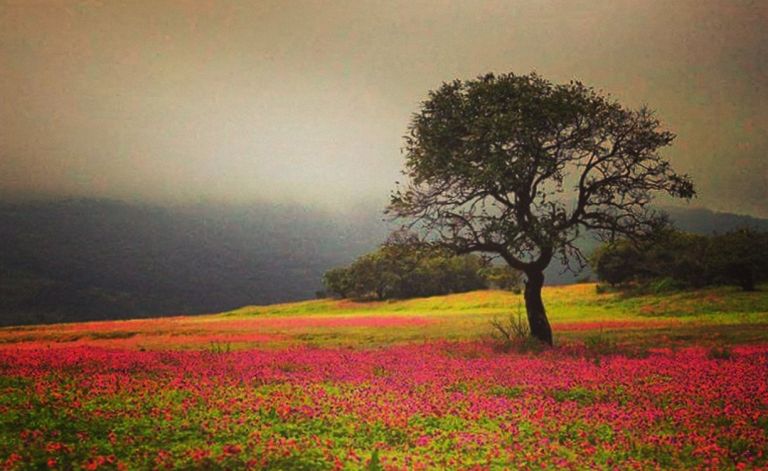 Yes! As unreal as it may sound, it's absolutely true! We are talking about 'Kaas Plateau' in Maharashtra, which is also known as Kaas Pathar or simply Valley of Flowers. In fact, now (monsoon) is the right time to visit this place, since most of the flowers bloom during August-September. Read on to know all about this amazing marvel of nature!
Image Source: saevus

Image Source: Events High
All About Kaas Plateau
Situated 25 kilometres west from Satara city in Maharashtra and a 3-hour drive from Pune, Kaas Plateau is a huge stretch of flowers in all directions. Draped in various shades of colours like pink, white, purple, yellow, etc, you'll find a bed of wildflowers painting the lush green monsoon scapes.
Image Source: alifetimetrip

Image Source: travelandleisureindia
It is commonly called as 'Maharashtra's Valley of Flowers' which is approximately 10 square kilometres in area. It is a UNESCO World Heritage Site since 2012. And like we said, monsoon season, particularly from August to early October, is the right time to visit the plateau because this is the time when maximum flowers bloom.
Why is it Called Kaas?
Image Source: thrillophilia

Image Source: Light Baggage
The same question popped our mind as soon as we heard the name. It's pretty unique, right? The Kaasa tree, also called Elaeocarpus Glandulosus, is found abundantly in the forests here. So, it is said that the plateau is believed to have been named after that. Some even say that it was named after the Kaas lake in the area which is about 100 years old!
What Makes it Awesome?
Well, if an insanely gorgeous monsoon trip is what you're looking for, then this qualifies as the best bet. It is located at an altitude of 1200 meters, hence, the temperature during monsoon season make it a perfect spot! It houses more than 850 species of flowering plants and you will get to see so many colourful buds and flowers here. It's almost like a dream! In September, some of the most common flowering plants are Eriocaulon, Utricularia, Pogostemon Deccanensis, Senecio Grahamii, Impatiens Lawii, and Dipcadi Montanum.

Image Source: holidayiq


Image Source: holidayiq


Image Source: holidayiq


Image Source: holidayiq
Known to change colour almost every year, owing to the changing life cycles of the wildflowers, you'll feel like you have entered a painting once you step in here! How about getting clicked against the backdrop of white and purple flowers? For that, visit at the time of the Waytura blooms, since they are dark purple in clour. Toothbrush orchids also called the White Habenaria, are perfect white flowers you can get beautiful pictures against.
Don't forget to check out these major attractions near the Kaas Plateau once you are there.
Image Source: gauravpardeshi96

Image Source: treksandtrails
This lake was constructed about 100 years ago to supply drinking water for citizens of Satara. Dense forest surrounds this gorgeous lake, which is a must-visit! It's like a walk in the clouds, where you can chill and enjoy a rainy day.
Image Source: Travelwell

Image Source: YouTube
Just a 1-hour drive from the Valley of Flowers lies this amazing waterfall. Vajrai waterfalls are one of India's highest waterfalls. Situated at a height 260 meter, this is a beautiful waterfall fall at Bhambawai village and south of Kaas Plateau. Spend quality time with family here. It's a great short weekend break for much-needed rejuvenation session!
Best Time to Visit
Monsoon season is the perfect time to visit! August to October is the time, but it varies with the local monsoon conditions. Before heading here, do check the monsoon season of the western ghats.
(Featured Image Source: seavus magazine)