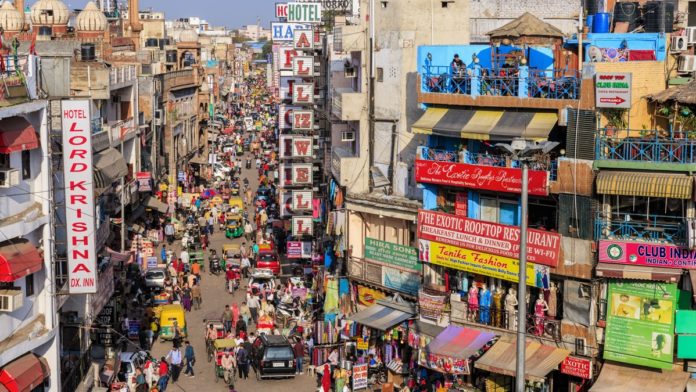 Paharganj. If you haven't heard of this place in Old Delhi, well, then you're definitely living under a rock! This has got to be one of the most historic & iconic shopping spots in town. Funky t-shirts, junk jewellery stalls, the aroma of that yummy chole bhature– you'll be welcomed with all this and more once you enter this iconic spot in Old Delhi. The main bazaar stretches for approx 1.5 km, and here's why it's a must-visit, whether you are a Delhiite or not.

(Image Source: ourncr)

(Image Source: Treebo)
1. Leather Bags

(Image Source: India times)

(Image Source: Vaga Bomb)
As you enter the market, you will see a bunch of shops selling leather bags and satchels. These shops have a wide range of bags in different colours and sizes. And trust us on this, it's not easy to find good leather bags at affordable price. Don't forget to bargain! M Leather Bags is a famous shop and houses an inclusive range of leather bags, ladies bags, school bags, leather backpacks, ladies wallets, leather clutches and more. Everything 'leather' is what you get here!
2. Junk Jewelry

(Image Source: mapsmyindia)

(Image Source: thoughtfulshoe)

(Image Source: Happy Amoeba)
For all the girls out there, you can get some amae junk jewellery here, that too at dirt cheap rates. Shops here are stocked with a variety of handmade beaded necklaces and bangles in every size and colour that you want. You should check out these best shops- Jewel Junction, Neha Export House, and Barkati Handicrafts. We are personally in love with their wooden rings on display. Cool, right! And if you are someone who is fond of gemstones and stone jewelry then there is no better place than Paharganj!
3. Footwear

(Image Source: Just Dial)

(Image Source: Trip Savy)
Paharganj's footwear is quite popular amongst the college kids! Ashu Fashion hands down have the best selection of leather boots and bags that you will ever see in Delhi. There's really no way to give this store a miss. Also famous for their jootis and embroidered gladiators, this shop is an essential pit stop if you are looking to add to your shoe closet. This place is shoe heaven for sure!
4. Books, Books And Only Books

(Image Source: eclecticaparna)

(Image Source: YouTube)

(Image Source: The Citizen)
Are books your only partner? And if you are looking for a good book to read and can't find anywhere, Jacksons Bookstore is the place to hit right now. Located in the main bazaar, cramped between a mosque and a dank alley. Along with books, you can find literature on a multitude of subjects, ranging from philosophy to tarot. Golden opportunity, you will find a palm reader who will do your bhavishyavani for a change.

5. Home Decor Items

(Image Source: Magicpin)

(Image Source: Trip Savvy)
Have been looking for those shiny lamps for ages? You will get the cheapest yet quirkiest home decor accessories here. Check out stores like Kitschy Cushions for their Rajasthani and mirror-work cushion covers; Tick Tock for their collection of vintage watches and Candle in the Wind for their tea lights and candle holders. We know for sure that you will love each of the pieces available here!
6. How Can We Miss Out on Food!

(Image Source: The Loony Bard)


(Image Source: english.jagran)

(Image Source: english.jagran)

(Image Source: A girl with a fork)
Apart from some cafes in Paharganj, you must definitely try out the lip-smacking street food here. Rajasthan Kachori Wala needs to be on your must-visit list for those crispy Kachoris that they serve with Aloo Sabzi. Apart from this, you'll find plenty of super yum street food here like chaat, Indian mithaai and much more!

Now we have enthralled you with the hidden gems of Paharganj, let us know which of these spots you liked the most.
(Featured Image Source: Trip Savvy)