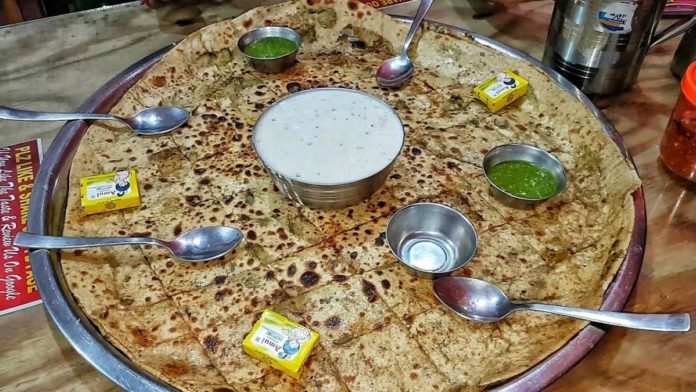 Our love for those butter dripping paranthas is never-ending! No matter the stuffing- aloo, paneer, gobhi, we love all kinds of them. And that dollop (or two) of butter on it does it for us. In fact, they are no longer a breakfast meal. We can practically have them any time of the day, right! But there are certain places out there which are really upping the game when it comes to paranthas. Seriously, we're not kidding. These big paranthas go up to 12-24 inches! So, it's time you check out these coolest places which whip up gigantic AF yummy paranthas in different cities. Drool much?
1. Prisha Paratha Junction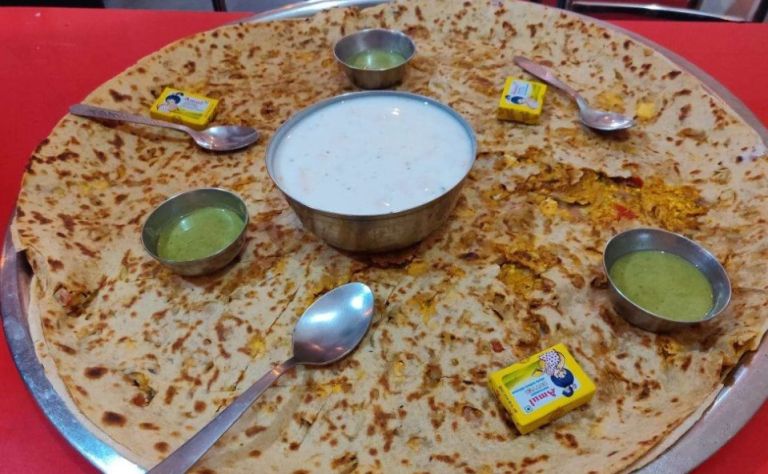 Are you a parantha shaukeen like us? Then you should visit Prisha Paratha Junction in West Delhi. If you have the capacity of devouring 3 major paranthas, you can win Rs 11,000! Oh yes! You must be thinking in your head that it's easy, but trust us, it's not all. Each of the paratha is made out of 600 gm of flour, filled with veggies along with chunks of butter, raita, and pickle. Simply come here on an empty stomach and try these delicious and massive paranthas!
Where: 274 A, Opposite Metro Pillar 715, Near Uttam Nagar West Metro Station, Uttam Nagar, New Delhi
Contact: +91 8375092909

2. Jaipur Parantha Junction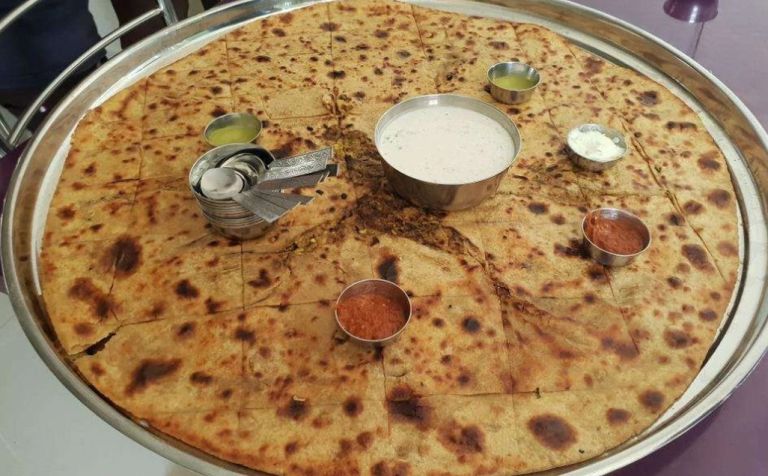 This one is for all the parantha lovers out there! If you are travelling to Jaipur anytime soon, then you should bookmark Jaipur Parantha Junction for all those buttery Indian food cravings. Once you land here you will be spoilt by some many choices. Even if you want to have a basic aloo parantha then also you will be given choices like Aloo pyaaz, Aloo matar, Aloo Paneer and much more. What more can you ask for!
Where: 120/1, Vijay Path, New Sanganer Road, Mansarovar, Jaipur
Contact: +91 8005570886
3. Royal Murthal Dhaba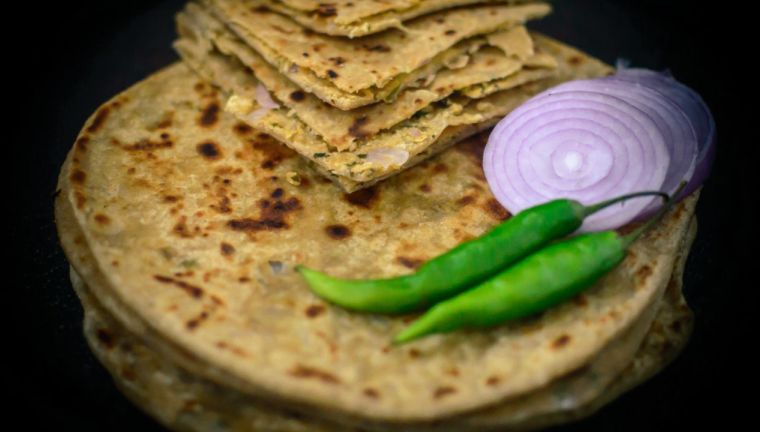 Going by the name, Royal Murthal Dhaba is a dhaba-cum-hotel located near Sonipat. Serving one of the biggest paranthas, which is about 24 inches in size! Their paranthas weigh about 4kgs and come in multiple variants. So, what are you waiting for, head over with your gang and take up this foodie challenge!
Where: NH 1, Near Flyover, Sonepat, Murthal, Haryana
Contact: 099911 77576

4. House Of Paratha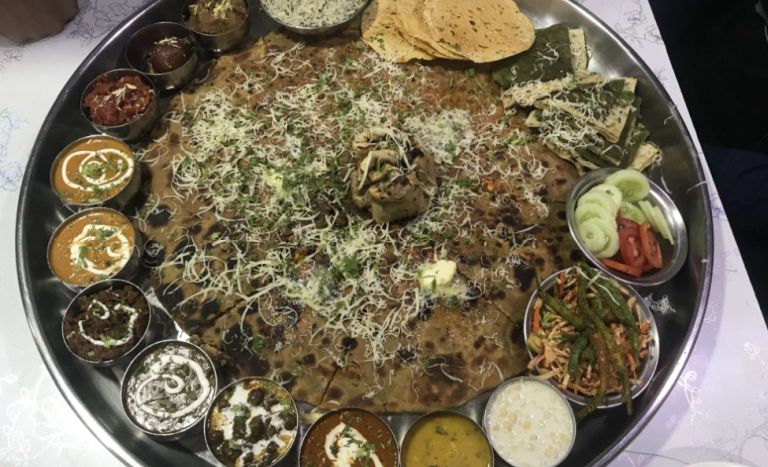 House of Paratha in Pune is famous for their Baahubali thali which serves a gigantic parantha. It consists of Devasena Paratha, Kattapa Biryani, Sivagami Shaahi Pakwan, Bhallaldeva Patiala Lassi and the giant Baahubali Paratha which just tops the list. Served in giant steel thali with 5 types of fried snacks, sweet dishes, a drink, salad, pickles, chutney and topped with 3 types of ice creams! We bet for sure that you and your BAE can't finish this gigantic parantha thali for sure. We challenge you to take this up! 

Where: B-19, CIFCO, Opposite Sambhaji Garden, JM Road, Pune
Contact: +91 7775977757

5. Tapasya Paratha Junction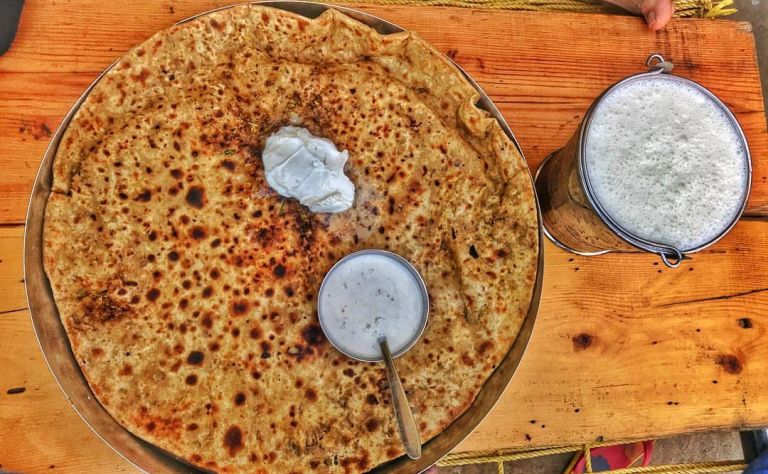 Tucked in Rohtak near Delhi bypass, Tapasya Paratha Junction has an interesting menu which has a huge range of stuffed paranthas like Matar Pyaaz, Aloo Gobhi Pyaaz, Hindustan Special Paratha. Brownie points, their special Hindustan Special Paratha has stuffing of which is made up of a special dry fruit mix! The gigantic parantha is 18 inches size and weighs 1kg. Head to Tapasya Paratha Bhandar and take on the challenge!

Where: Delhi Bye Pass Bus Stand Wala Road, Rajiv chowk, Haryana
Contact: 099965 24647

6. Mooch Marod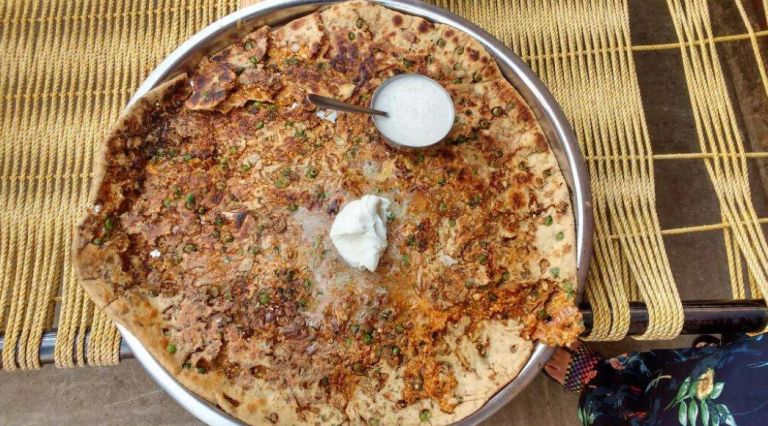 Known for their Parathas, Lassi & their sizes, Mooch Marod is the place to go for all those parantha cravings. Their parathas are about 24 inches and 2kgs heavy! Touted to be one of the biggest in Bangalore, the vibe and ambience will make you feel as if you seating in Punjab. Topped off with their in-house white butter, raita, chutneys, pickles, their stuffed paranthas are just marvellous. With the classics like Aloo to unique ones like baby corn-onion, they have everything in store for each one of us. Come over and try them yourself!

Where: 466, 1st Floor, 17th G Main, 6th Block, 80 Feet Road, Opposite BMTC Bus Depot, Koramangala 6th Block, Bangalore
Contact: 00 6363391019?

7. Kake Di Hatti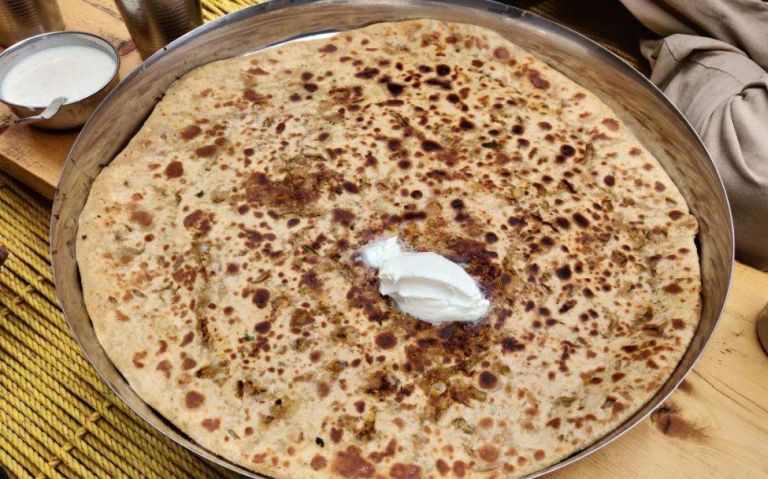 Yes don't be surprised, our very own Kake Di Hatti serves the massive size of the delicious hot Tandoori Parantha. The gigantic parantha even peeps out of their king size thali. Their aloo pyaaz is totally a treat for sure! And if you want to see the amount of butter they put then you should visit yourself to check. Get going guys!
Where: 654-666, Church Mission Road, Fatehpuri, Chandni Chowk, New Delhi
Contact: 011 43552754
(Featured Image Source: Life Love Lemons)