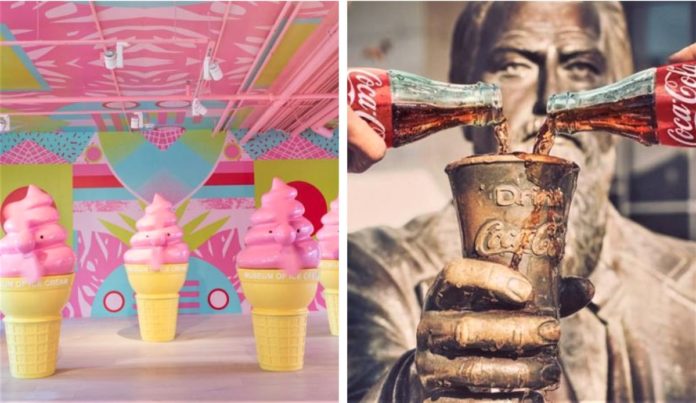 If there's anything which makes the world go round, after love, has got to be food! No matter which part of the world you are from, no matter what are your customs & traditions, food remains a big part of everybody's personality and their community. So, it's only natural that there are some really amazing & unique food museums across the globe. From literally disgusting food (oh, yes!), ice cream, to Belgian Fries, these food museums are a must-visit at least once in your lifetime!
1. The Frietmuseum, Belgium
(Image Source: Facebook/Frietmuseum)


(Image Source: Facebook/Frietmuseum)


(Image Source: Facebook/Frietmuseum)


(Image Source: Facebook/Frietmuseum)
All the fries lovers this one's for you! Frietmuseum in Belgium is dedicated to all the fries freaks. Opened in 2008, this museum is devoted to the history of potatoes and the production of Belgian fries. With three floors full of history, photographs showcasing the journey, a video on how to make that perfect fry. On the ground floor, you can learn about the history of the potato which originated in Peru more than 10,000 years ago. And on the first floor, you can discover the history of the fries and then in the basement, there is a possibility that you might your hands on some of the samples. The magnificent building of the museum dates from the 14th century and we must suggest you to at least visit it once you are here! We are actually now craving for those crisp, yellow, salted and yummy fries!

Where: Vlamingstraat 33, 8000 Brugge, Belgium

2. World of Coca-Cola, Atlanta, USA

(Image Source: Facebook/
World of Coca-Cola )



?(Image Source: Facebook/
World of Coca-Cola )


?(Image Source: Facebook/
World of Coca-Cola )
Coca Cola is something which is our favorite drink to have. It's time to immerse yourself in World of Coca-Cola, the one and only place where you can explore the story of your favorite beverage brand. Opened for public in 2007, you can go for a sneak peek about the packaging process to a visiting the tasting room where you can go sip over 100 international Coke products, this sounds like a perfect plan. Plans of visiting Atlanta anytime soon? If not then give it a call.

Where: 121 Baker St NW, Atlanta, GA 30313, USA
3. Museum of Ice Cream, San Francisco, USA

(Image Source: Easter CF)

(Image Source: Global Trender)

(Image Source: Bacon Ratan Magazine)
How about jumping into a pool of sprinkles and reliving your childhood again? Well, this was the same thing the founder and creative director Maryellis Bunn of the Museum of Ice Cream thought so. This museum opened its doors in the summer of 2016 and it's a haven for all things ice-cream and candy. You'll find a rock-candy cave, a gorgeous unicorn, which will make you scream for ice-cream!

Where: 1 Grant Ave, San Francisco, CA 94108, USA

4. The Big Mac Museum, Irwin, USA

(image Source: Laurel Highlands)

(Image Source: Atlas Obsucura)

(Image Source: deskgram)
Have you ever wondered who invented those big giant Mac burgers of Mcdonalds and from where did that idea come from? The Big Mac was created by a man from Pennsylvania was first served in 1967. The Big Mac Museum cum restaurant in Pittsburgh is all things legendary. From being the spot where the very first ever legendary Big Mac was invented to the homage to a replica of the original Big Mac, trust us you will just love this place.

Where: 9061 US-30, Irwin, PA 15642, USA

5. Yokohama Cup Noodles Museum, Japan
(Image Source: Wowsabi)

(Image Source: One Tiny Leap)

(Image Source: Asia Trend)
We all love the cup noodles, right? Have you ever thought about where it came from? For that, you need to head to Japan and visit their fun and interactive museum known as Yokohama Cup Noodles Museum. You can be a part of several activities here including the popular My Cupnoodles Factory workshop where you will get a chance to create your own original cup noodles by mixing and matching the variety of soup flavors and toppings available. Sounds fun right? You can also try your hand at the My Chicken Ramen workshop. In this one, you can make your own instant ramen noodles from scratch, package them, and can eat them there and then only. This is super exciting, what do you think?

Where: 2 Chome-3-? Shinko, Naka Ward, Yokohama, Kanagawa 231-0001, Japan

6. The Dessert Museum, Philippines

(Image Source: Out of Town Blog)

(image Source: Tripadvisor)

(Image Source: Phillipines Primer)

(Image Source: Hungry Travel Duo)

(Image Source: artsyfartsyava)
It's time to travel to the Philippines to enjoy and learn about our favorite meal-Dessert! Enjoy the visit to the Dessert Museum which has 8 mouthwatering rooms- Donut Room, Marshmallow Room, Candy Cane Room, Ice Cream Room, Bubble Gum Room, Gummy Bear Room, Cotton Candy Room, Cake Pop Room which are totally sugar-filled happiness. With bright and colorful pink surroundings, you'll ever slide into the museum for sure in one go. You can slide, swim in sprinkles, and run through a candy forest to grab some Cotton Candy Picking. You will get a chance to try samples of donuts, cupcakes, candies, and more! Go here and make some memories!

Where: Seaside Boulevard, Coral Way, Pasay, 1300, Philippines

7. Cologne Chocolate Museum, Germany
(Image Source: Erin at large)

(Image Source: Airport connection)

(Image Source: Get Your Guide)

(Image Source: Unusual Hotels of the world)
Showcasing the 5,000-year long culture of chocolate around the world, the Cologne Chocolate Museum is one of the best and most visited museums in the world. Founded in 1993, here you can learn about the history of chocolate and can check out over 100,000 objects on display. The major highlight for everyone is the massive 10-foot tall chocolate fountain. Yes yes, we are not kidding at all! You will get a wafer freshly dipped from the waterfall of delicious chocolate, tempting right? So, what are you waiting for get going now only!

Where: Am Schokoladenmuseum 1A, 50678 Köln, Germany
8. Disgusting Food Museum, Sweden
(Image Source: Facebook/DisgustingFoodMuseum)


(Image Source: Facebook/DisgustingFoodMuseum)


(Image Source: Facebook/DisgustingFoodMuseum)
Disgusting Food Museum in Sweden is for all those people who have a strong stomach and are an open-minded person. You will find the most bizarre and most dusting looking and smelling food ever here. It features 80 foods from around the world, including frog smoothies from Peru, Fruit-bat soup, Iceland's shark meat and more. You can even smell or taste some of the delicacies which are on the display. If you are a cold-hearted person then only visit as some of the food displayed smell worse than they taste.
Where: Carlsgatan 12, 211 20 Malmö, Sweden