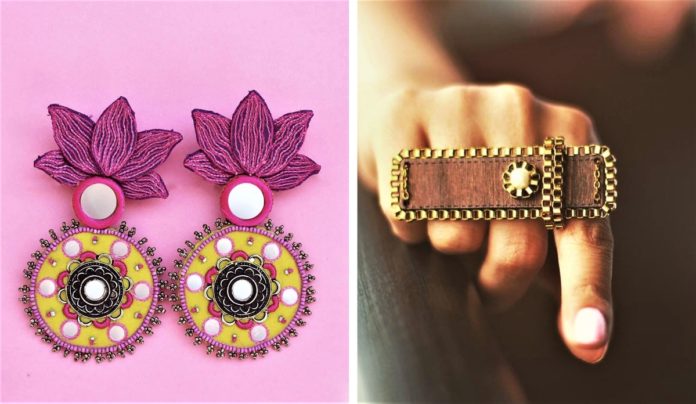 Jewellery can make or break your look. Come on ladies, you know that it's true! And as Delhi girls, we absolutely adore anything that is even the slightest bit OTT (over the top). Making heads turn is our personal favourite hobby and if you feel the same way, you're exactly where you should be! Whether you're a silver, gold or rose gold person we found brands that have something super edgy and excessively dramatic to offer to you all! For the love of all things extra, check out these 7 homegrown brands with their OTT accessories that are surely going to get you a couple of envious glances if not a "Where did you get that from?"
1. NakhreWaali
Image Source: Facebook/NakhreWaali


Image Source: Facebook/NakhreWaali


Image Source: Facebook/NakhreWaali


Image Source: Facebook/NakhreWaali
We've seen a bunch of our favourite fashion ladies like Sonam Kapoor flaunt their nakhras with the super quirky and extra af NakhreWaali earrings! With names like Banno, Jalpari, Bass Rani, Rim Jhim and more, who wouldn't be fascinated by these beautiful earrings handmade by their skilled kaarigars! We know we dig them. So take your daily ootd a notch higher with a pair of NakhreWaali earrings! Click here to shop their collection.
2. Bellofox
Image Source: Facebook/Bellofox


Image Source: Facebook/Bellofox


Image Source: Facebook/Bellofox


Image Source: Facebook/Bellofox
Bellofox with their collection of the cutest, most OTT accessories we could imagine definitely had to make it to this list. They've got in store for you super cute head bands to give you that Blair Waldorf vibe and we all know hair accessories are having a major moment this season! Not to mention their earrings and necklaces which are everything from sequence, glitter, tassel and fringe and spell OTT in big bold letters! So hurry up and check out their collection here.
3. Nimai
This stylish jewelry boutique, while may not be easy on the pocket but certainly offers some unique and timeless pieces that are worth every penny you spend on them. Their superb collection of extra af earring, bracelets and cuffs, and necklaces have got us drooling all over them. But what's going to leave us broke for sure is their collection of dramatic earrings and necklaces. You'd have to check them out to know what we're talking about! Click here to view their collection.
4. The Cat's Pajama
Image Source: Facebook/thecatspajama


Image Source: Facebook/thecatspajama


Image Source: Facebook/thecatspajama


Image Source: Facebook/thecatspajama
Their collection is just as funky as their name is! They have a great collection of dainty jewellery as well but what really caught our eyes are their extravagant earrings and neck pieces! From tassles to baubles, they've got everything that's OTT! Make sure to check out their collection of funky brooches featuring fruits and birds and even bad girl Riri (which is obviously our favourite!). Check out their collection here to amp up your look!
5. Bauble Love
With handmade items sourced from independent makers, artisans and entrepreneur Bauble Love has a great collection of extra jewellery which is made to last. Their accessories essentially have a Boho vibe and are super affordable so you don't have to worry about going broke. From necklaces, earrings, bracelets and rings to hair accessories and nose pins, they have OTT everything! Our favourite is their fringe circular earrings. Check out their collection here.
6. Outhouse
While it's not the easiest on the pocket, but their dramatic yet sophisticated pieces are worth investing in. With hand harnesses, headpieces, brooches and statement rings, there is nothing not to love about their accessories. Seen on some of our favourite Bollywood and Hollywood celebs like Kareena Kapoor Khan, Anushka Sharma, Deepika Padukone and even Kim K West and Sophia Bush. Outhouse accessories can take any look from a 0 to 100 real quick. Don't believe us, check out their collection here for yourselves!
7. Dhora
A unique signature style that is bold, contemporary and inspired by the province of Rajasthan. That's what Dhora accessories are all about! Minimal yet indie and definitely every bit over the top, there is nothing you won't like in their collection. While we cannot pick one but we certainly have quite a few favourites. Their D-Hook and Geo Wing earrings and absolutely everything in their necklace collection definitely makes it to the list. Contemporary and edgy, we dare you to leave their website empty-handed. Click here to check it out for yourselves.
Let us know which of these brands you loved in the comments below.