What is your definition of a perfect summer vacay getaway? For us, it means eloping miles away from the summer heat and spending time with BAE and soaking in picturesque views. We have found an ideal place for you in Himachal Pradesh. The Lodge at Wah in Palampur is your hilly escape from the ever-growing heat. Scroll on to now more deets!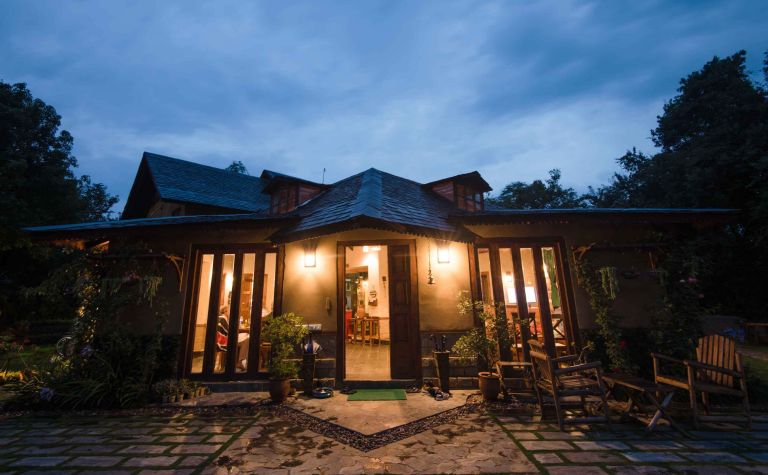 All About The Wah Tea Estate
Established in 1857, is looked after by the third and fourth generation of the
Chaiwala family, Deepak and Surya Prakash. It is the largest tea plantation in Palampur and the Kangra region which is spread across 526 acres. All the teas that are completely pesticide free, and carefully hand-plucked. You will find every tea from Chamomile Green, Kangra Black, Rose Tea, Masala Tea and many more.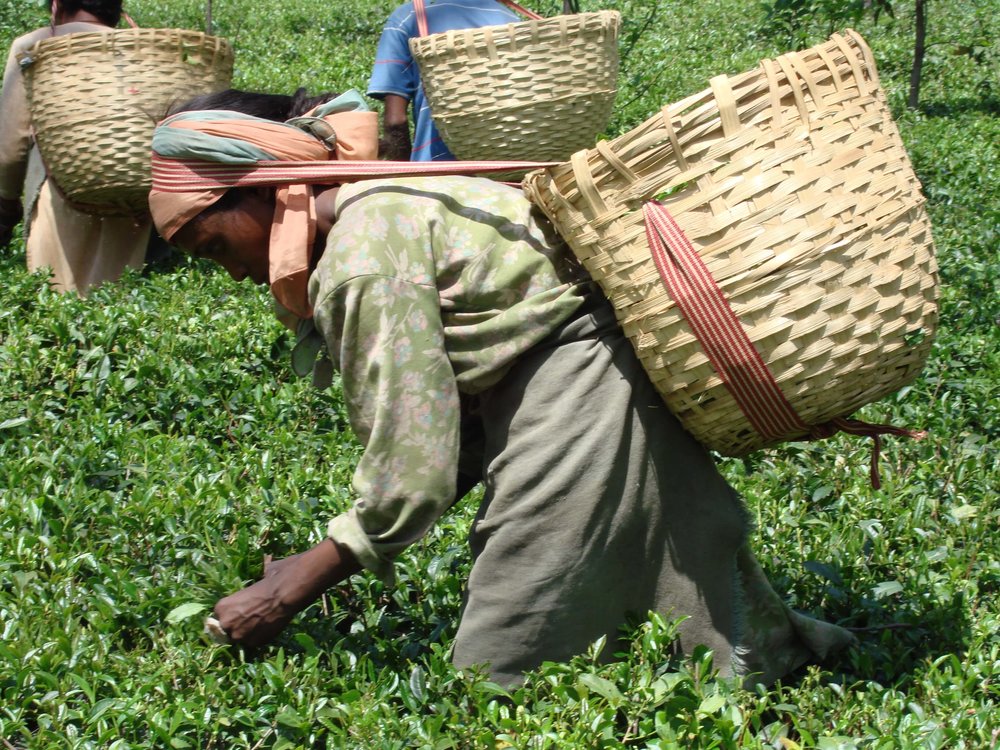 You can also do a tea tour which basically begins with an overview on the tea manufacturing process and then you can taste the tea. You can also try your hand at plucking the tea yourself.
Where to Stay

(Image Source: thelodgeatwah)


(Image Source: thelodgeatwah)


(Image Source: thelodgeatwah)
The Lodge at Wah has 8 ensuite rooms which are spread across 3 cottages. All the cottages are made of eco-friendly materials like wood, slate, and mud. And you know what, each of the cottages (Oolong room, Courtroom,
Cedar room, Pine room) has its own charm and uniqueness.
And now the main question arises, where to go and eat?

(Image Source: thelodgeatwah)


(Image Source: thelodgeatwah)


(Image Source: thelodgeatwah)
Don't worry you guys, here at The Lodge at Wah you will be served food which are made using their own set of vegetables and herbs which have been grown in the kitchen garden. And the coolest thing is that meals are served in a family-style setting in the garden will you are enjoying the picturesque views.
Activities to Indulge in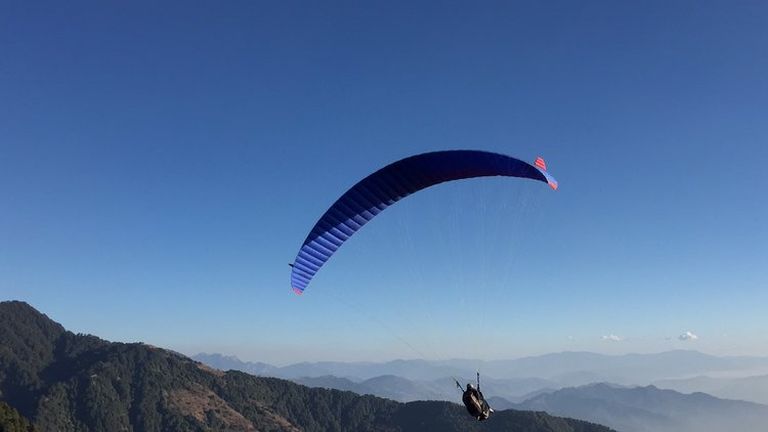 As you know that Himachal Pradesh is home to many adventure activities. Here at The Lodge at Wah, you can try your hands at Paragliding, Trekking, Jeep Safari, Visit Kangra Fort, Cycling, Play Board Games, have a bonfire night and much more.
Spiritual Places Nearby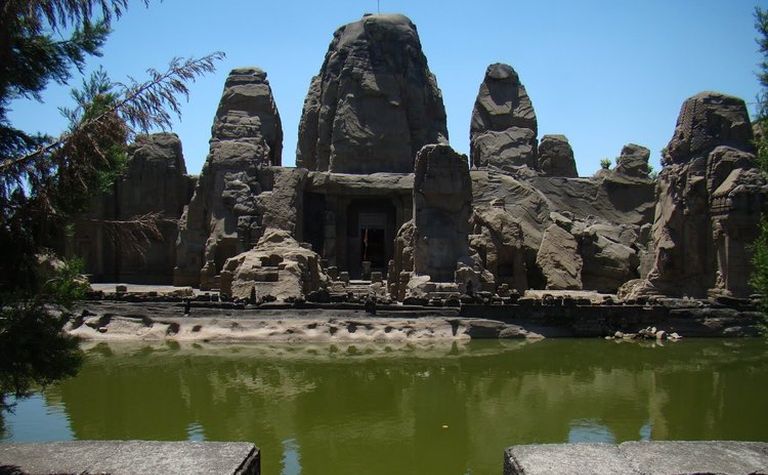 Himachal Pradesh is known as the Land of Gods. And there are plenty of spiritual places where you can go and look for peace. Two most popular monastery where you can indulge in Buddhism is- Namgyal Monastery and the Norbulingka Institute. On the other, the place houses some world-famous temples which include Baijnath, Bajreshwari Devi Temple, Chamunda Devi Temple, Masroor Rock Temple, Chinmaya Tapovan, Kathgarh Temple and Trilokpur Temple.
And to know more about the place, we got in touch with Upasana Prakash, co-owner of The Lodge. She, along with her husband Surya, run the place together. In fact, they both have given up city life and have settled here. Barring a few months, they both spend most of their year in Palampur. Now, isn't that the best of both worlds! She shared deets with us about the place and about the future plans of Lodge.

(Image Source: thelodgeatwah)


(Image Source: thelodgeatwah)
Hi Upasana. First of all, tell us all about yourself and how you met your husband Surya.
Before The Lodge, I was working with tech-based startups in Bombay and Kolkata. Surya and I grew up together and we are from the same school and same batch and dated for a long time before we got married.
Aww, that's sweet! So, how did Wah Lodge happen?
(Image Source: thelodgeatwah)
Surya's father is the one who envisioned and built The Lodge at Wah. It was only when it was nearing completion, that Surya decided he wanted to move to Palampur to enable him to get a better handle on the tea estate. While he has been visiting and handling the tea estate for a long time, he had never spent more than at most a couple of weeks at a time at the estate. Since we were planning to spend a lot of time here, keeping the stint up in Calcutta would have been difficult, and so we decided to start the homestay simultaneously.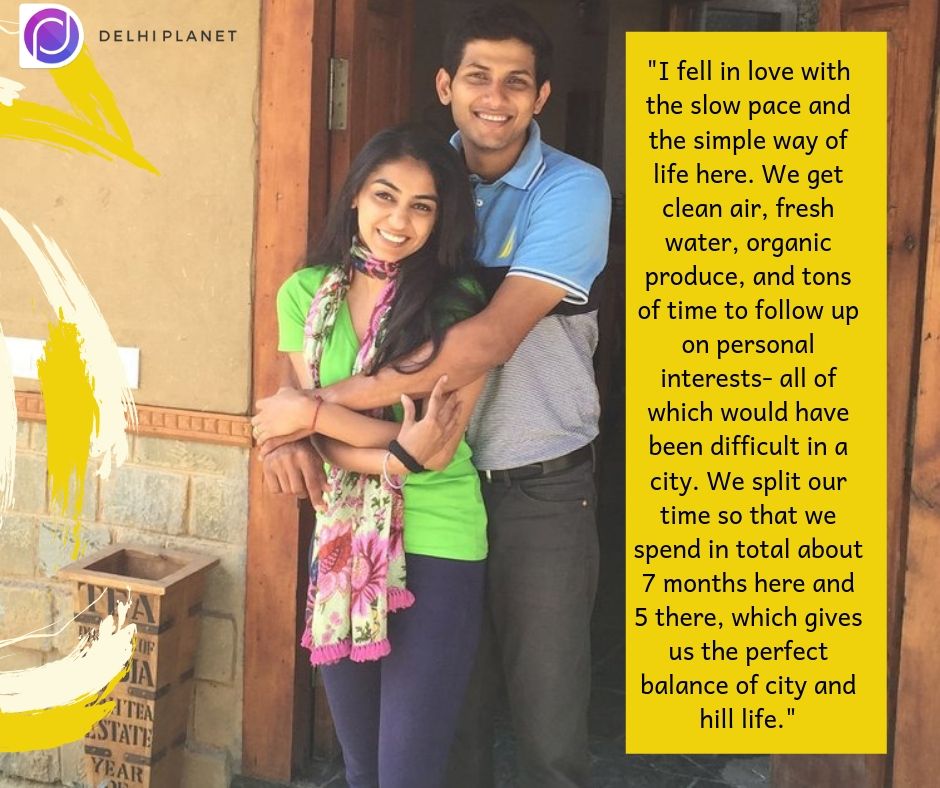 I sort of fell in love with the slow pace and the simple way of life here – it keeps me grounded. We get clean air, fresh water, organic produce, and tons of time to follow up on personal interests- all of which would have been difficult in a city. We split our time so that we spend in total (broken up through the year) about 7 months here and 5 there, which gives us the perfect balance of city and hill life.
(Image Source: Facebook/thelodgeatwah)
Did you have any apprehensions before settling at Palampur for good?
Of course, I was worried about how I would spend my time in Palampur. I've always been a city girl, and while I won't call myself very social, I do enjoy meeting all my friends and heading out every once in a while. But setting up the homestay from scratch- down to even buffing and polishing furniture ourselves – kept me busy enough that I didn't have much time to focus on anything else initially.
And after a short while, it quickly became part of the sort of people we have become. Now, after a month in the city, we both crave the quiet contentment of being here. But as I said, we are lucky to have the best of both worlds. We can't get bored of either, and we can't get enough of the other!
That's great! What would you say is the best thing about staying at Wah lodge?

(Image Source: thelodgeatwah)


(Image Source: thelodgeatwah)
Staying at The Lodge at Wah has so many pros. We meet amazing and interesting people from all around the world. We lead healthy lifestyles. We learn to be content and happy with the small things. We are closer to the environment and care about how our choices may affect it. We get time to ourselves, to learn and practice personal interests. We can focus much more closely on work. Honestly, the only downside is that all our friends and family are based in other cities, but because we get to meet them intermittently, it works out very well.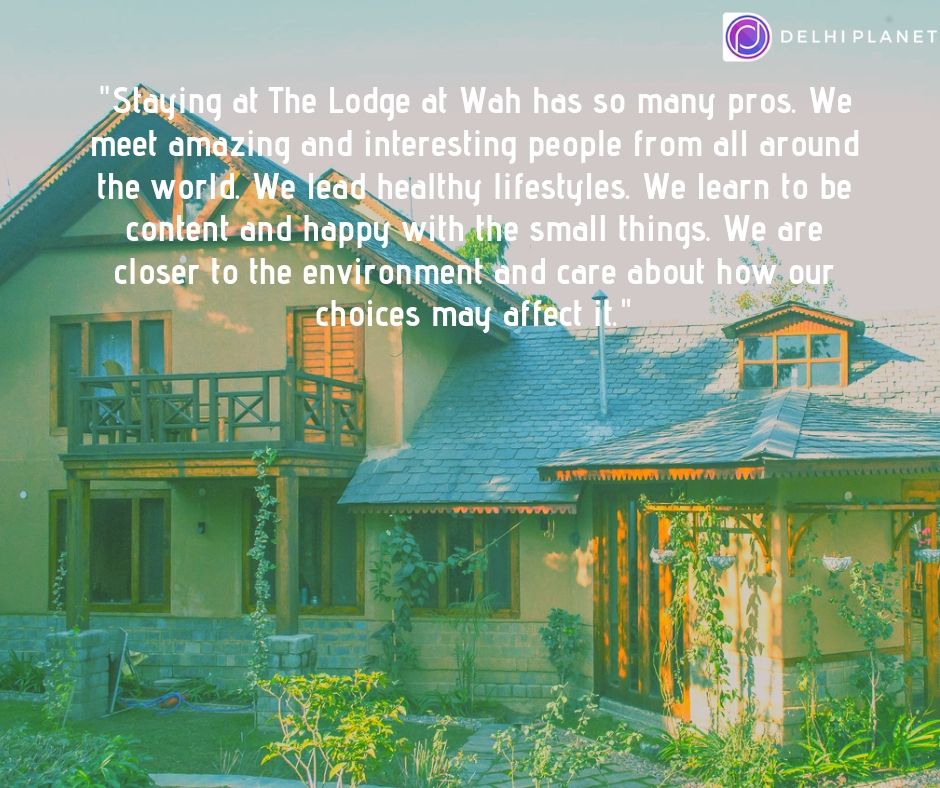 Which experience would you say is totally unmissable when you visit the tea estate?
The guided tour with Surya or his father Deepak for sure. They have years of experience and knowledge that only comes with passion and passage of time. They take guests on a walk around the estate, tell them about the history of tea and of Wah, show them the entire manufacturing process, demonstrate plucking tea leaves and take them through a full tea tasting session showing guests how to taste tea like sommeliers.
(Image Source: Facebook/thelodgeatwah)
That's awesome Upasana! Any future plans about the lodge?
We want to continue to make it more and more eco-friendly and green, grow even more organic produce and involve more of the local community to the same end. We want to add some more local experiences and take the luxury up a few notches while maintaining our green and local policies.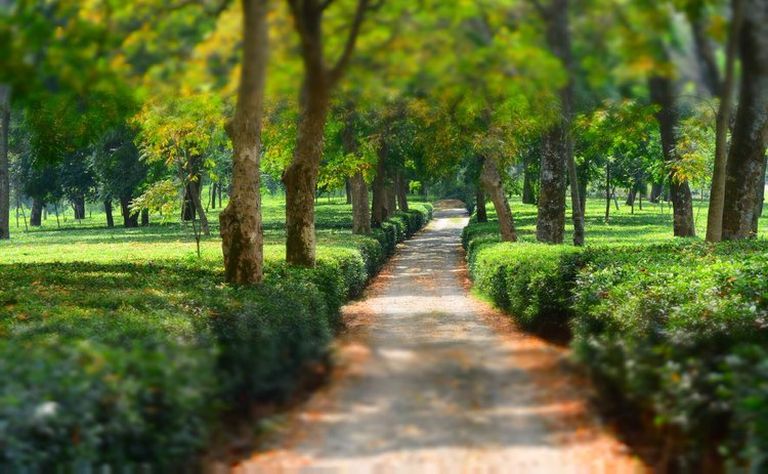 Best Time to Visit The Place
Summer (From April to June)
Monsoon (July to September)
Winter (November to February)
So peeps pack your bags and leave for a short trip RN!
Where: Panchrukhi Road, Patti, Palampur, Himachal Pradesh
Contact: +91 9831443282
Check Out Their Website Here