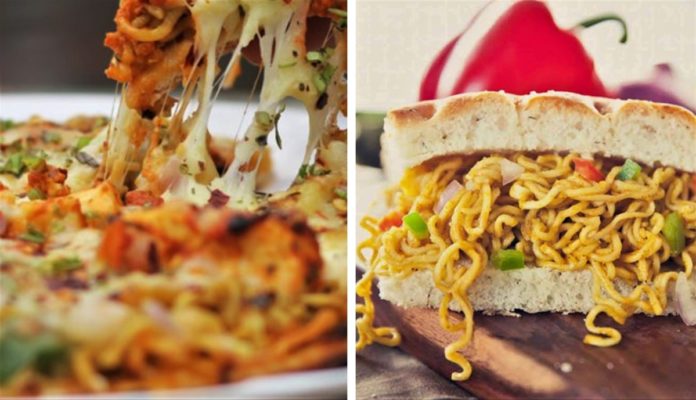 When we talk of our childhood memories, Maggi's name comes up every single time! Be it with controversies or not, Maggi remains a national obsession in our country. And whether you are a 10-year-old or 40, admit it, we all love the occasional indulgence. But things don't have to be boring anymore. There are really cool, new Maggi dishes out there which would make you drool, quite literally! Check out where you can find them in your city.
1. Maggi Sandwich at Box Office Cafe & Bar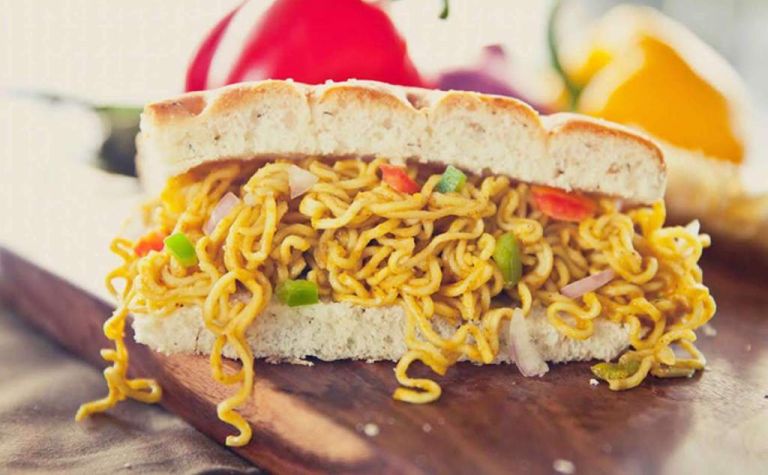 Enjoy your yummy masaledar Maggi with cheese, between two pieces of bread! Box Office Cafe & Bar serves a range of Maggi sandwiches. Their quirky variety includes options like Cheesy Maggi Sandwich, Italian Mushroom Maggi Sandwich and BBQ Chicken Maggi Sandwich.
Where: F-16 B, Opposite NDPL Office, Vijay Nagar, New Delhi
Contact: 011 66992499
2. Chat Makhani Maggi at Kev's Cafe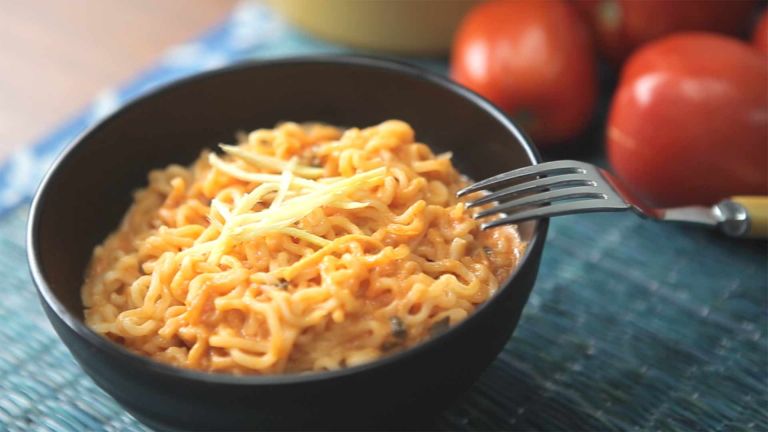 With more than 25 Maggi dishes, Kev's Cafe is for all the Maggi lovers for sure! You will get customizable combinations of toppings, according to your taste and preferences, which is super amazing, right? From Chat Makhani, Mughlai and Hyderabadi Maggi to Barbeque, Spanish, Russian and Mexican Maggi, name it you'll get it here.
Where: Satyaniketan, DLF Phase 3, Rohini & Faridabad
Contact: +91 8800331722
3. Maggi Pizza at Woodbox Cafe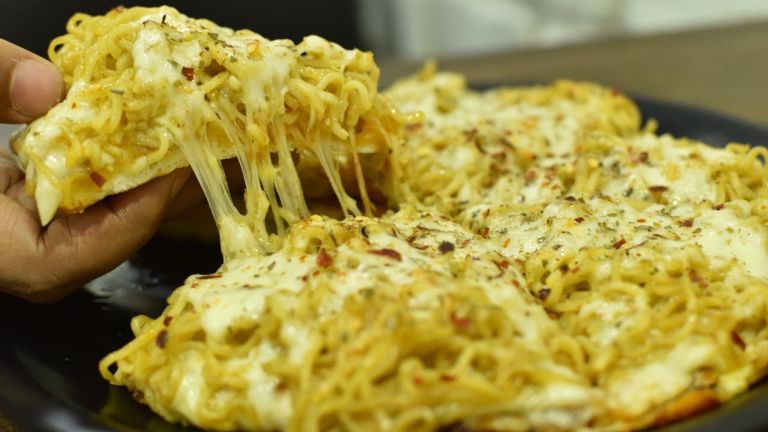 Have you ever thought of eating Maggi with pizza? Well, then we dare you to try Woodbox Cafe's Maggi Pizza! Go and take a bite and you'll know what a scrumptious pizza combined with masala Maggi tastes like! And if you further wanna explore go. you should try their Maggi Nachos which is another must-try dish here.
Where: SatyaNiketan, Kalkaji & GTB Nagar
Contact: 011 66104077
4. Maggi Pasta at Billu's Hut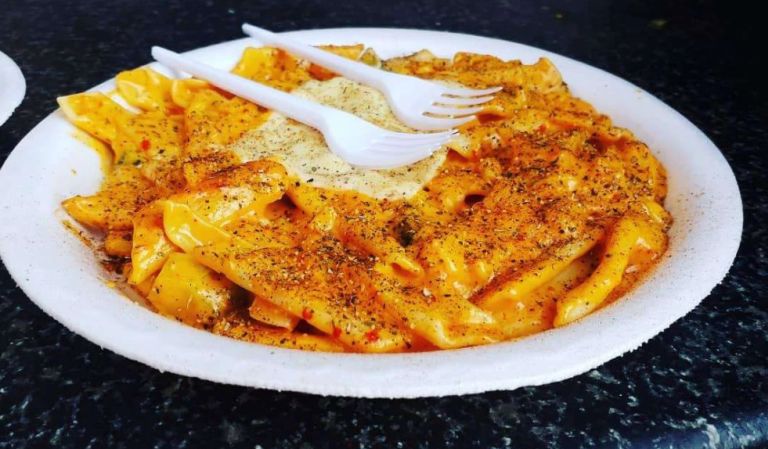 Can't choose between pasta and Maggi, then why not have both together? Yes, at Billu's Hut you can actually get the best of both worlds on your plate. These peeps are famous for their pasta and Maggi. Their Maggi Pasta is cooked in a rich, thick, creamy sauce and comes topped with a slice of cheese. Ah! Can't get better than this! Head over RN and enjoy this yummy combination.
Where: NSP, GTB Nagar, Jail Road & Paschim Vihar
Contact: +91 7982505854
5. Keema Maggi at The Potbelly Rooftop Café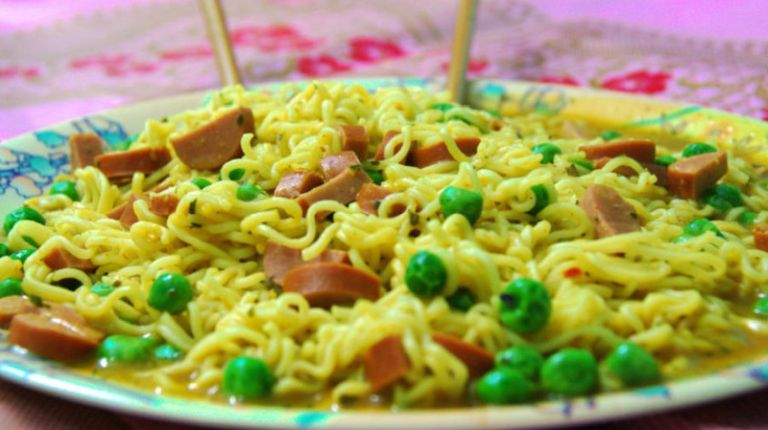 This awesome eatery has a crazy Maggi menu and we are totally loving it! From Maggi Mirchi Masala to Maggi Mushroom, Dhamaka Maggi, these guys serve Maggi in literally every flavor possible. But guys, you cannot miss out their Keema Maggi – Maggi with minced mutton and cheese, the perfect combination we could have ever asked for! Hop over to pick up your share!
Where: Chanakyapuri, Shahpur Jat & Gurgaon
Contact: 011 41612048
6. Corn Masala Cheese Butter Maggi at Tom Uncle's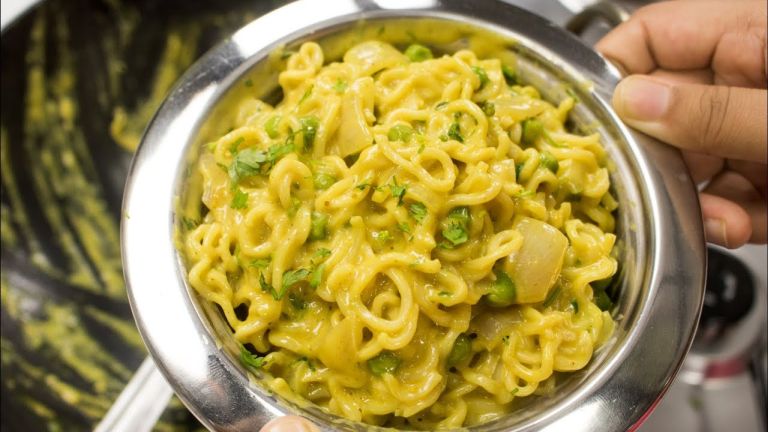 The variety of Maggi Tom Uncle's Maggi Point serves is known city-wide. Corn Masala Cheese Butter Maggi has cheese and corn kernels, which are cooked in butter and then are added in spicy masala mixture, yummy. The soft corns burst inside our mouths with every chew, which makes our taste buds happy. Trust us guys, this one is a must-have whenever you pop by this place!
Where: 2262, Hudson lane, Behind S.G.T.B Khalsa College, Delhi University-GTB Nagar, New Delhi
Contact: +91 7982980880
7. Spicy Maggi Kebab at The Circle Cafe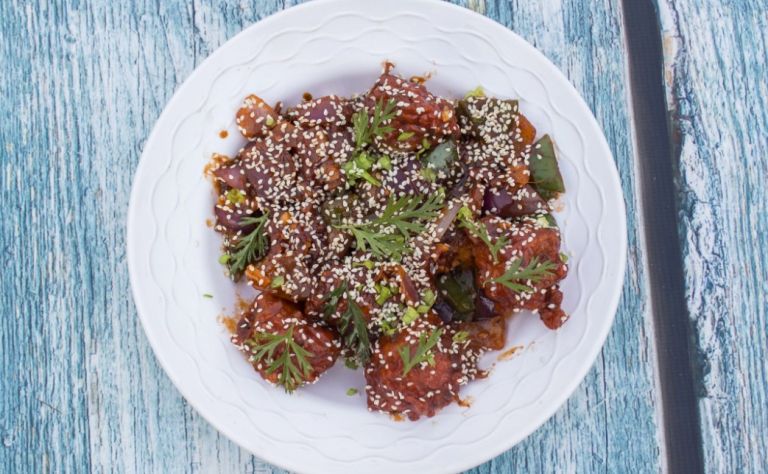 How about some kebabs stuffed with delicious spicy Maggi? The Circle Cafe in Greater Noida serves Spicy Maggi Kebabs which are generously stuffed with noodles and are crispy, soft & absolutely scrumptious! Wait up, you can even try out their Egg Maggi, Maggi Sandwiches and Maggi Wraps also.
Where: Vibha Farm (Near RCI Vidya Vihar), Knowledge Park 3, Knowledge Park, Greater Noida
Contact: +91 8279571402
8. Maggi Dosa at The Great Indian Dosa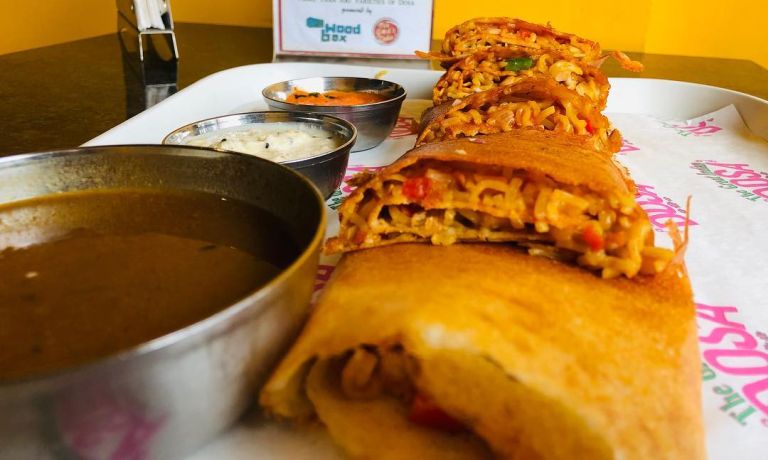 If you think you have seen it all then you couldn't be more wrong! The Great Indian Dosa is known for serving over 30 different and quirky dosa dishes which will definitely blow your minds. How about trying Maggi with dosa? Just as the name suggests, this dosa has Maggi stuffing instead of aloo, which is simply WOW! It's absolutely worth trying once.
Where: 58, Edward Lane, Delhi University-GTB Nagar, New Delhi
Contact: 011 66103845
(Featured Image Source: Dineout)