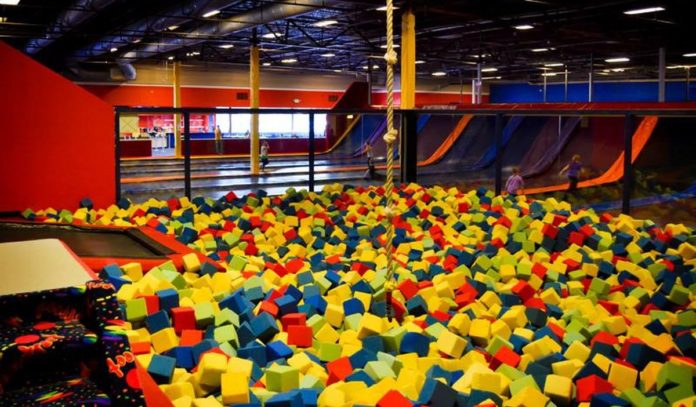 What is your fondest childhood memory? Well, for us, it is literally just bouncing around like a crazy little kid. And now you have a chance to relive it all, right here in Gurgaon! How? Well, did you know the city has India's biggest trampoline park? Yes! And here's why you should totally visit here with your little munchkins!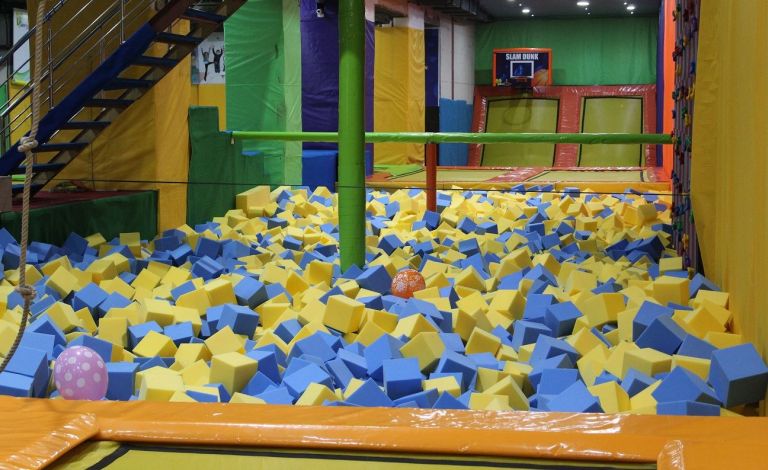 What is it All About?

SkyJumper Trampoline Park is the largest indoor trampoline in India. From 40 inches to 16 feet in diameter for various categories like 'Kids', 'Recreational' or 'Exercise & Professional' purposes, they have every kind of trampoline. Imagine yourself jumping off the walls, flying through the air having fun with your family and friends in a playground of over 100 interconnected trampolines!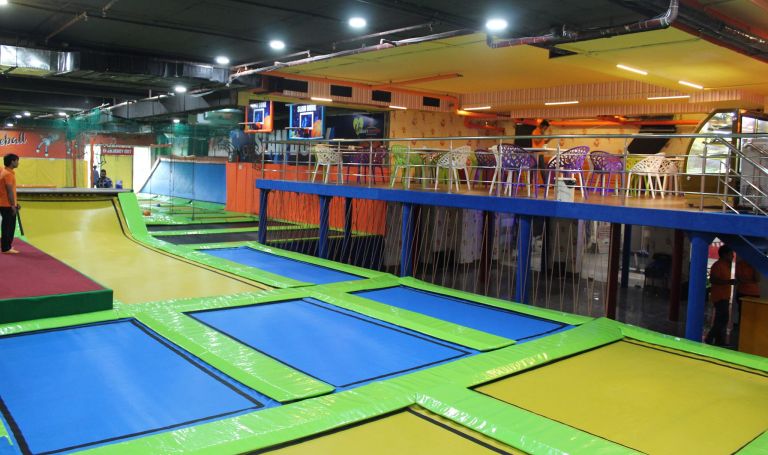 And if you thought your enjoyment ends here, then you are mistaken. You can even buy trampolines from here! They have got it all- mini trampolines, exercises ones, indoor, rebounder, outdoor, round, rectangular and square, every possible trampoline which you are looking for.

Major Attractions to Check Out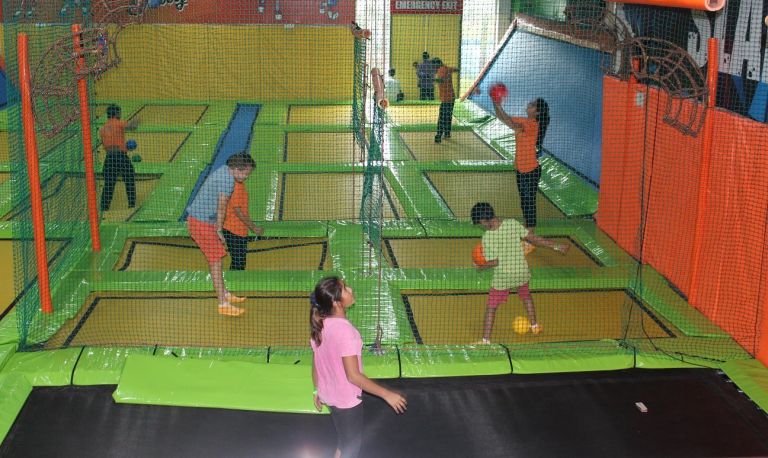 It houses one of the biggest trampolines in the city! Isn't that unbelievable? This place promises one helluva adrenaline-rush activity and we are for sure itching to try it out each of the activities. They have Volleyball, Basketball, DodgeBall, Table Tennis and other activities. But if you wanna try something different and exciting then you should scroll down to explore the activities.

1. Trampoline Free Jump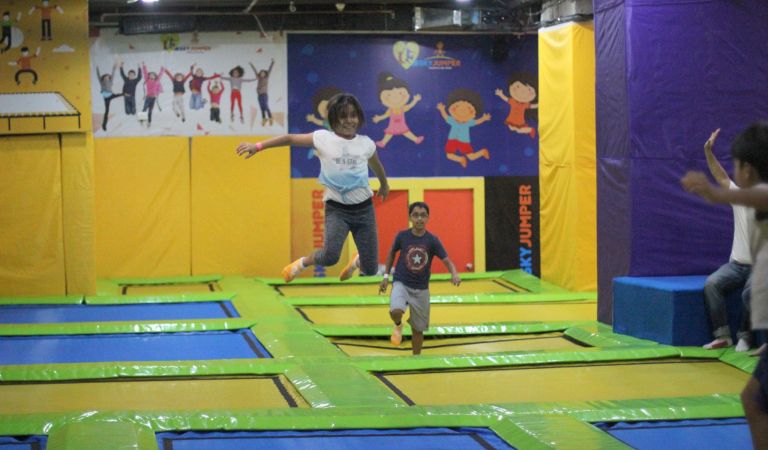 While you are here, show off your skills at bouncing with your friends! Stumble, fall, and stand up again, because it is all about having a good time! So, head on over for a fun evening for a complete #FAMJAM time or an outing with your gang.

2. Foam Pit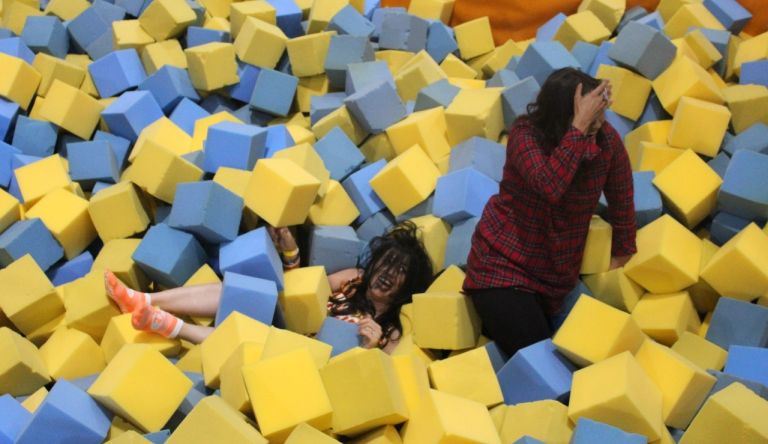 Fly high and land into a soft foam pit, sounds fun? This is what Jump Arena Foam Pit promises you. All you have to do is just fly high and then fall on those soft foam which is like super amazing to do with your friends. Are you up for trying it, because we are?

3. Wall Climb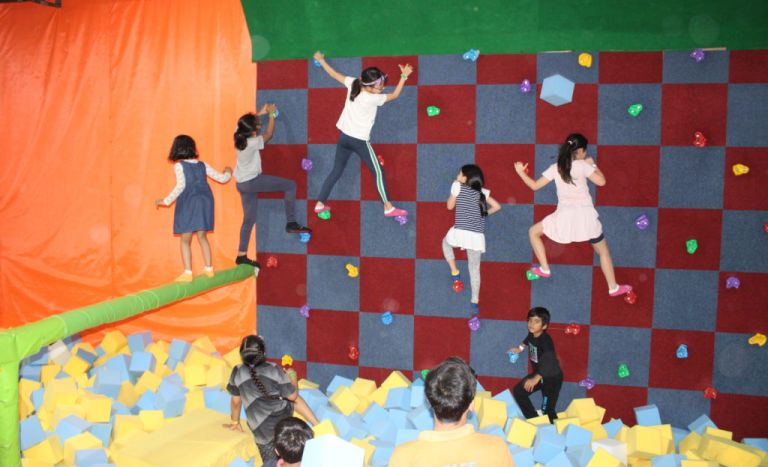 All you adrenaline junkies in the town, right in the center, there is a colorful wall where you can do most of monkeying around. It provides a great combination of fun and fitness at the same time. So, come and experience this activity with your loved ones.

4. Battle Beam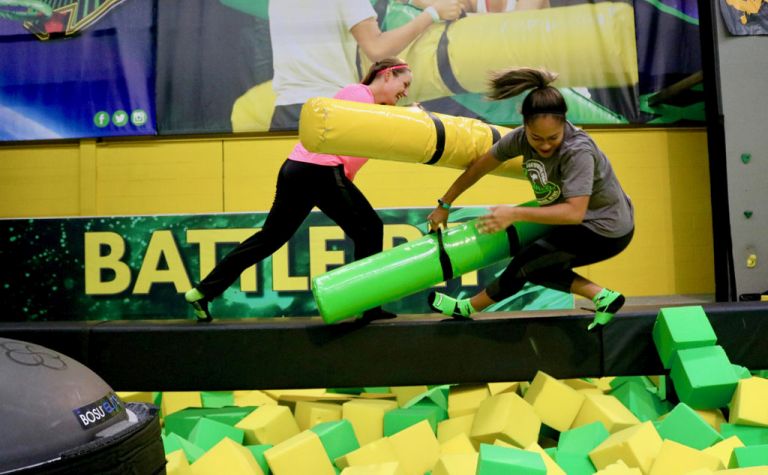 How about battling with your friend? Play a friendly game for fun with your friends and the first one to be pushed off of the beam loses! It's a test of balance, strength with soft weapons for the battle. We bet you will love it for sure!
Wait, wait, There's More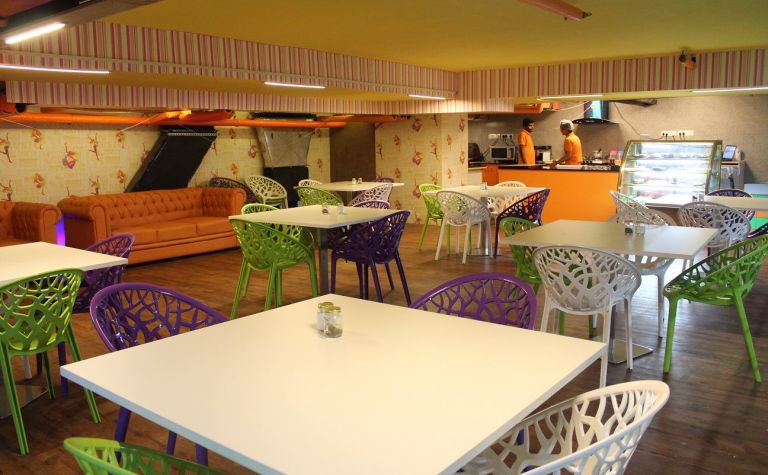 This ultimate destination promises some high energy activities and makes it ideal to go ahead. You are looking to host a Birthday Party, this time ditch a cafe visit and head here. Apart from this, they even host Kitty Part (Active Kitty Party), School Trips and Corporate events for team building workshops. Wait, feeling hungry? They have a lavish Sky Lounge Cafe which gives you plenty of options to grab a bite to bring back the energy.

Ticket Price And Operational Hours

The price starts at Rs. 450 for 30 mins and it's open at 11:30 AM To 9 PM (weekdays), 10 AM To 11 PM (weekends). On the weekends, the place is totally packed, so you don't get much space to fly around. So book your tickets and select the slot accordingly.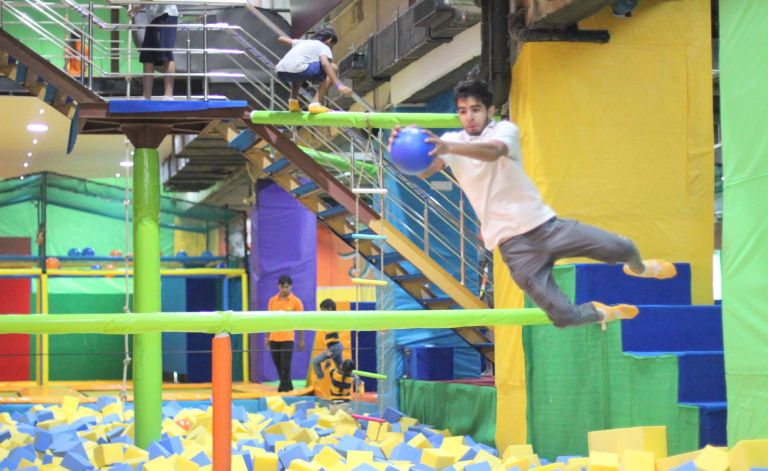 Go make plans with your adventure loving buddies and we will see you there for sure!

Where: Ground Floor, ILD Trade Center, Sohna Road, Sector-47, Gurugram
Facebook
Contact: +91 888 2288 001
Check Out Their Website Here

(Featured Image Source: Facebook/SkyJumperGurugram)