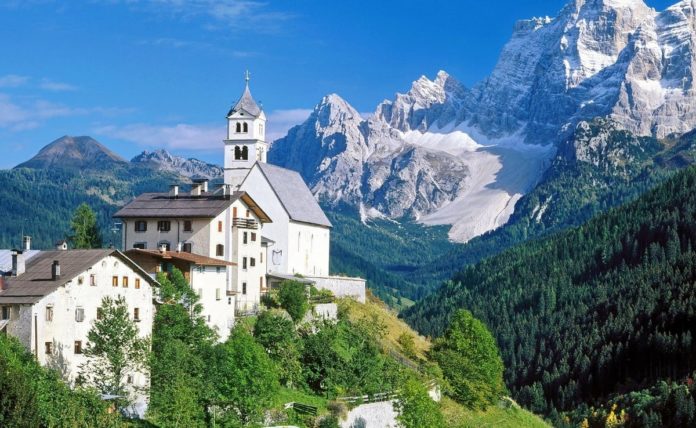 If you are looking to escape the city's blazing heat and yet cannot make up your mind where to head to, then we think we have solved your problem. With some breathtakingly scenic views, historical monasteries, beautiful treks, waterfalls and more, seems like escaping to Dharamshala makes perfect sense! Located in Himachal Pradesh, it is one of the finest places which can make up for a much-needed getaway from the city. The hills and the valleys of Dharamshala will leave you encapsulated, but most importantly you will love the calmness and peace here. Here's what all you can explore at the gorgeous town of Dharamshala!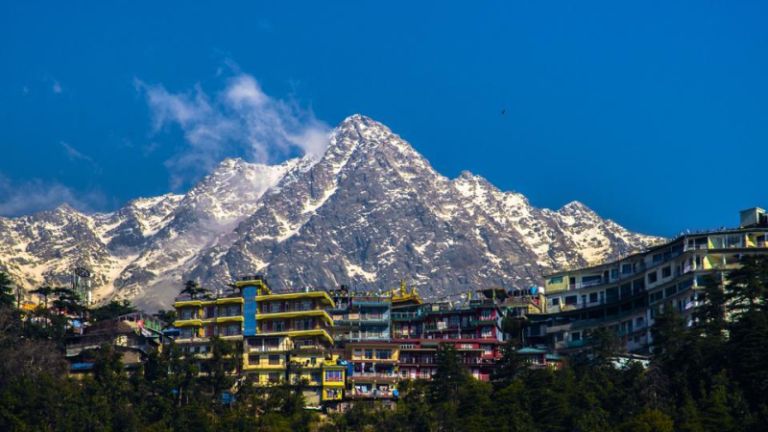 Major attractions to Explore:

If you are in Dharamshala and looking for some spectacular places for sightseeing, then we have listed a few spots which will leave you in awe!

1. Dharamshala Cricket Stadium
Located in the lap of the majestic Himalayan mountain region, Dharamshala Cricket Stadium is some view! The lush green ground, set against the backdrop of snowclad mountains- it really looks like a painting! The place should definitely be on your bucket list if you are visiting Dharamshala this summer.
2. Kareri Dal Lake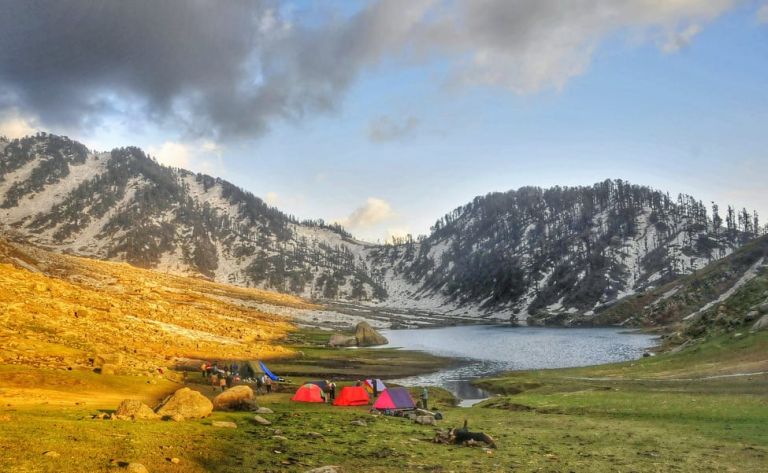 Situated 9 km from Dharamshala, Kareri Dal Lake is so clear that you can even see the bed of the lake. seriously, we're not kidding! The beautiful surroundings and mesmerizing views make this lake a must visit for all the travellers.

3. Bhagsunag Waterfalls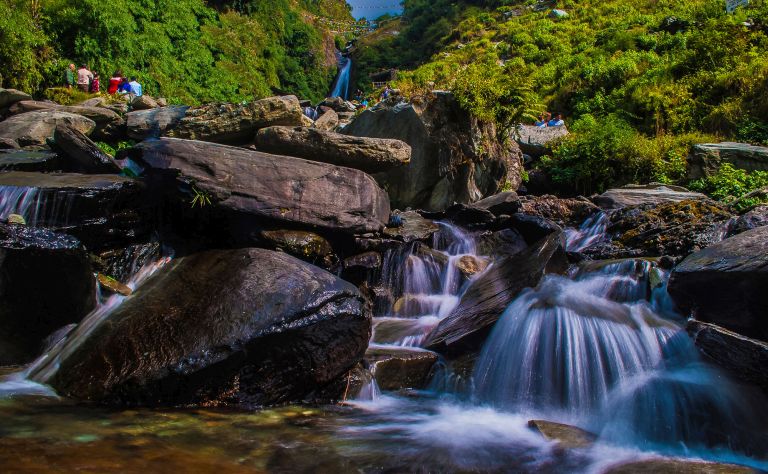 How can we miss out the famous Bhagsunag waterfalls in Dharamshala? The water is crystal clear here as well. Even though it's a tiny waterfall, you should check it out simply for the scenic view and to relax sitting at one of the rocks surrounding it.
4. Triund Hill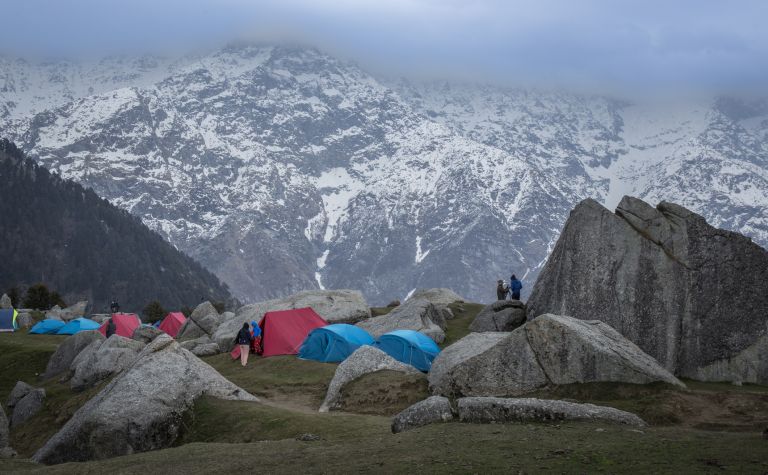 We're sure you'd have heard of Triund trek before. Triund is the reigning gem of Dharamshala, with the Dhauladhar mountains on one side and the Kangra Valley on the other. And once you make it to the top, you should spend a few hours admiring the beauty of the hilltop! You can even spend a beautiful night camping there and gazing at the stars.
Beautiful Monasteries:

Apart from the adventure places, Dharamshala houses stunning monasteries. The magnificent architecture, historical importance, and the spiritual connection is what you will get to witness here.

1. Gyuto Monastery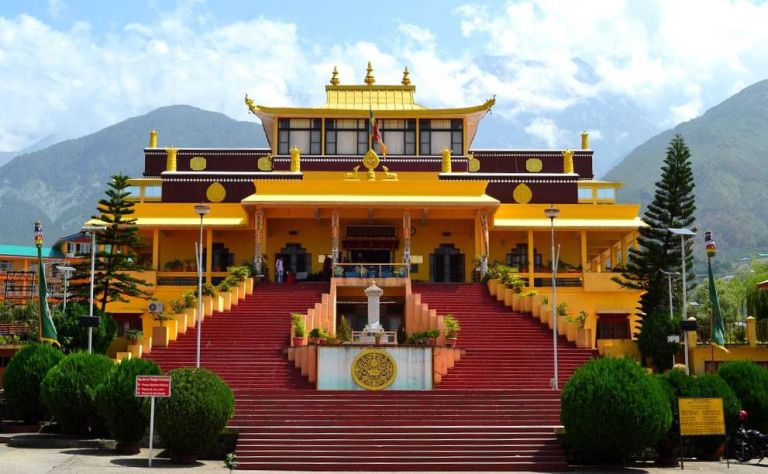 One of the most famous monasteries here, Gyuto Monastery specializes in the study of Tantric meditation and Buddhist philosophy. You will love the vibe of the place as soon as you enter the place.

2. Tsuglagkhang Complex Dalai Lama Temple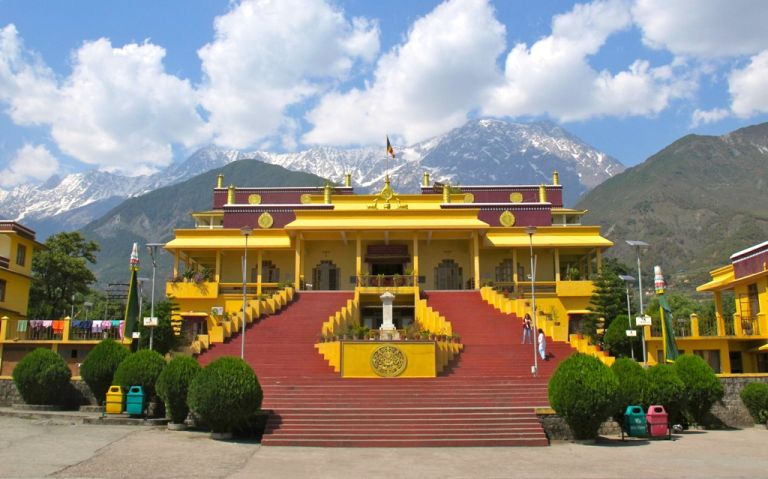 This place has everything from the Dalai Lama Temple to various stupas, library, museum and even a cafe. You have to walk up the hill to enter the temple. The place is very simplistic from the outside but the beauty of the paintings and pictures inside make it a must visit site.

3. Nechung Monastery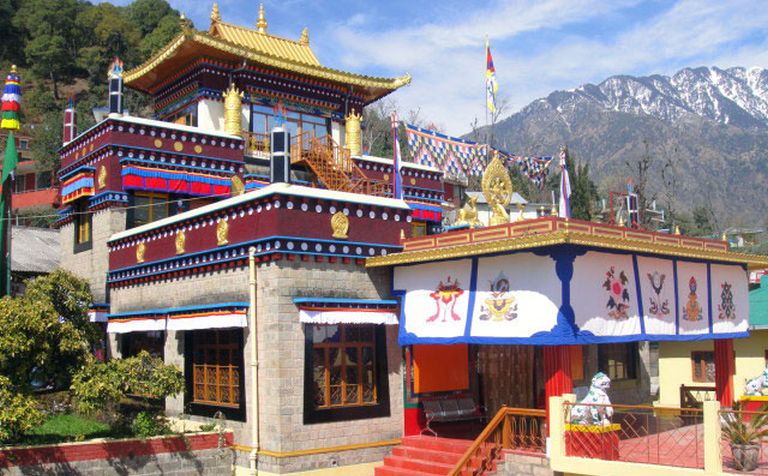 Located just below the Library of Tibetan Works And Archives, Nechung Monastery has a stunning view of the snow-covered mountains in the winters. But don't worry, in summers the place equally offers stunning views of the hills.
Spots to Chill & Eat:

There's no better way to start the day than with some sunny side up eggs, pancakes & coffee. And what's better than that? Devouring all this while enjoying the scenic views of the mountains. So, if you are in Dharamshala or planning to go, then you need to visit these spots for amazing views and food.

1. Illiterati Cafe
Illiterati is a beautiful cafe with a good collection of books and of course food! The food here is absolutely amazing, especially pasta and burgers. Try a sip of freshly brewed coffee with an interesting book, while sitting in the balcony enjoying the view. There can't be a better way to start your day. If reading is not your cup of tea then you can play scrabble too.

Where: Anubhav Apartments, Jogibara Road, Jogibara Village, Mcleodganj, Dharamshala
Contact: +91 8588046101
2. Shiva Cafe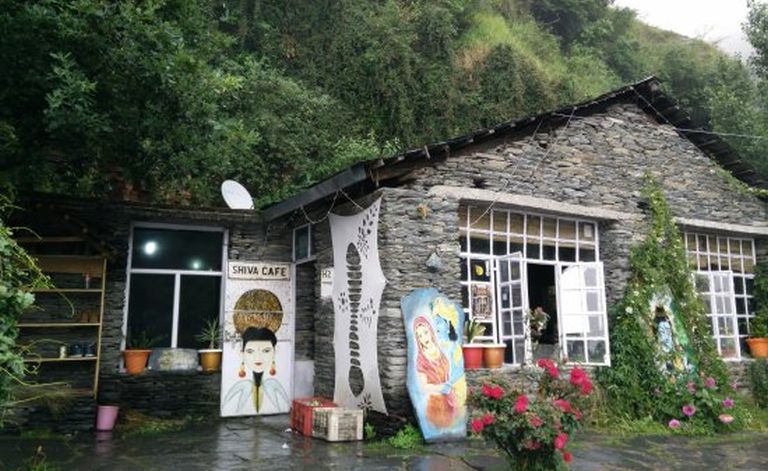 A little gem near Bhagsunag waterfalls, Shiva Cafe is a must visit for all the travellers. The view from the cafe is breathtaking and you can literally hear the sound of the waterfall nearby. This place has beautiful art on display and offers food and beverages which are easy on the pocket. If you are here then don't miss out their Nutella Pancake.

Where: Near Bhagsu Naag Temple, Bhagsu Naag, Mcleodganj, Dharamshala
Contact: +91 9736216430

3. Moonpeak Espresso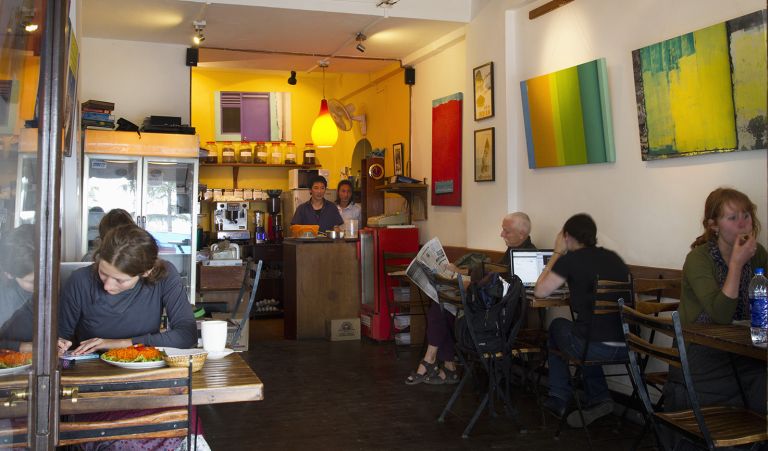 If you'd want to enjoy authentic Himachali cuisine once you are there, then you should head to Moonpeak Espresso. Their food is cooked by local experts which makes it all the more special! The Moonpeak Thali, Apricot Chicken, and the Chicken Sesame are a must have when you visit there.

Where: Surya Shopping Complex, Temple Road, Mcleodganj, Dharamshala
Contact: +91 9805359809

4. Namgyal Cafe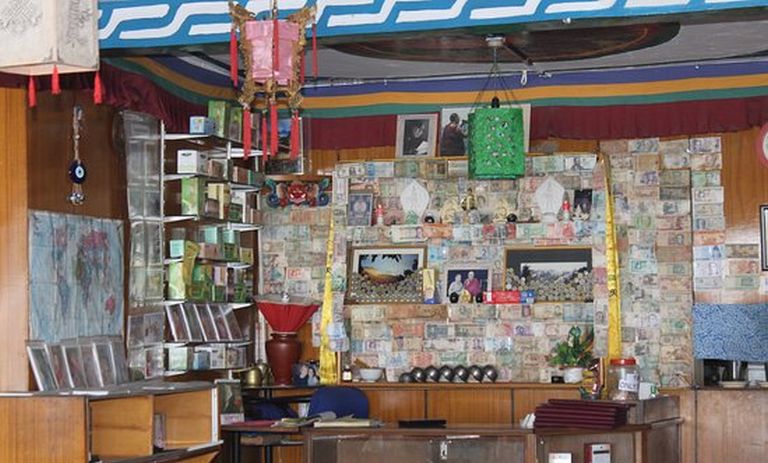 Located near the Dalai Lama's Temple complex, Namgyal Cafe is known for its authentic wood-fired thin crust pizzas. There are plenty of books stores here as well. So, you can enjoy your food and the views while reading a book. If you are here, don't miss the sunset sipping on to their coffee!
Where: Second Floor, Opp. Municipal Parking, Temple Rd, McLeod Ganj, Dharamshala, Himachal Pradesh
Contact: 070189 19310
Hotels & Hostels to Stay:

Are you looking for the perfect place to check into amongst the beauty of the hills and all the serenity in Dharamshala? Then head to these amazing hostels and hotels.

1. HosteLaVie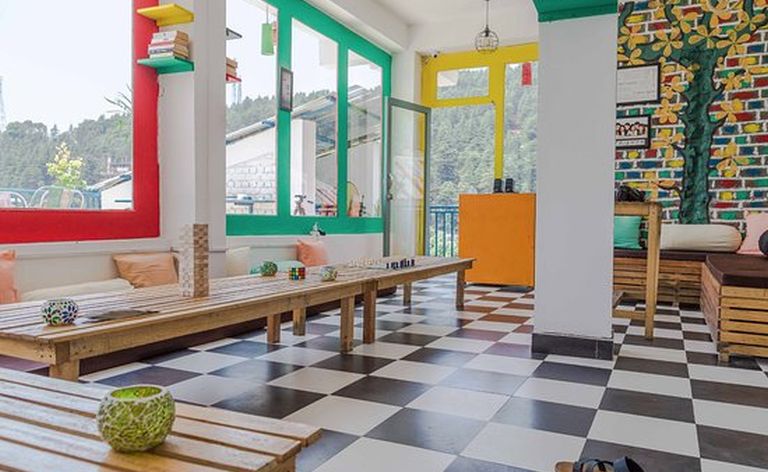 This one is located in upper Bhagsu surrounded by the Dhauladhar range with amenities like free wifi, breakfast and comfy rooms. The balcony views of the mountains and delicious breakfast options make it really comfortable and beautiful at the same time!

Where: Upper Bhagsu Nag, Dharamshala, Himachal Pradesh

2. Fortune Park Moksha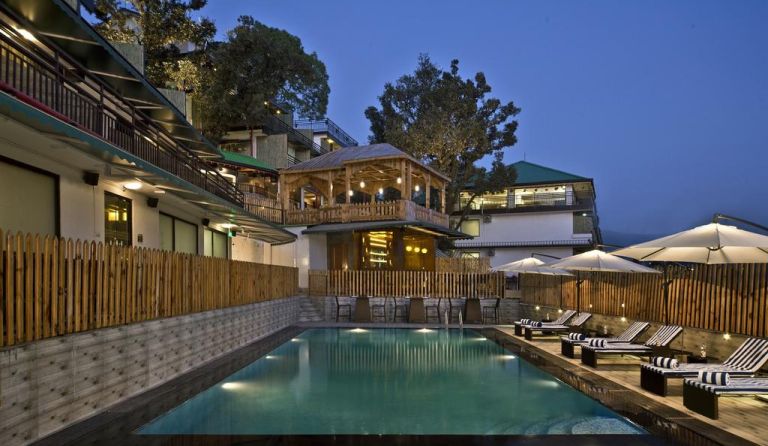 If you want a more luxurious stay, then you can opt for Fortune Park Moksha. Nestled in the picturesque hills, this hotel offers breathtaking views of the surrounding mountains and the valley. Their buffet breakfast, swimming pool and recreation area will make your vacation even better! Not just that, each of the rooms have their own private balcony to witness the scenic views first hand.
Where: Strawberry Hills, Satobari, Near Dal Lake, McLeod Ganj, Dharamshala, Himachal Pradesh

3. The Bunker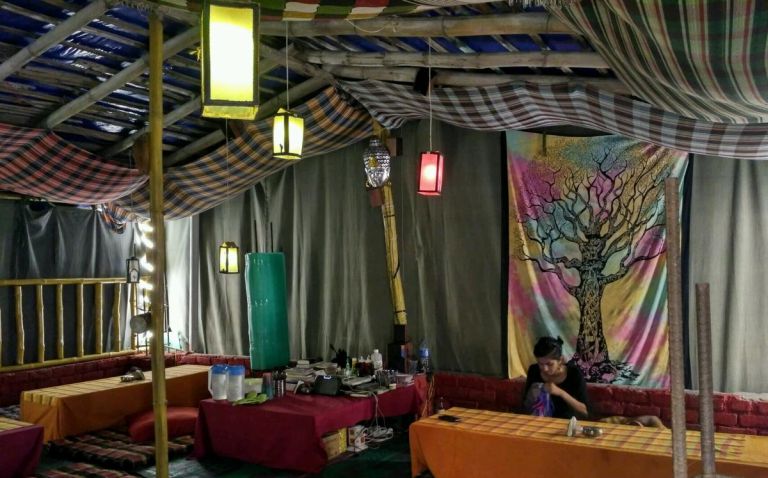 From scenic views of the mountains to free wifi, laundry service and luggage storage space, The Bunker is for all the backpackers. Needless to say, the place is safe to stay and is a good option when looking for cheap accommodation. They even have a common room where you can go and chat with other travellers.
Where: Bhagsu to Gallu Devi Temple Road, (Near Heena Cafe), village Dharamkot, Dharamshala, Himachal Pradesh

4. Rakkh Resort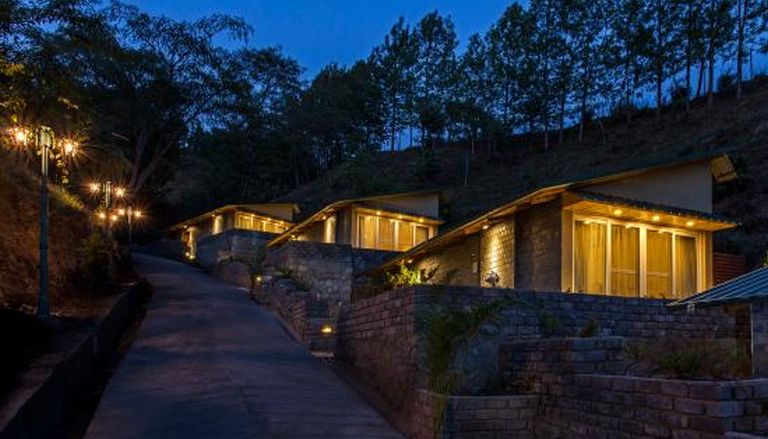 Looking for space for a full #FamJam time? Rakkh Resort is perfect for a family holiday in the hills with cottages, and interconnecting rooms! With activities like mountain biking, rock climbing and camp skills workshop for teenagers, trust us, you will never get bored here!

Where: Ghamrota Village Post Office Ballah, Tehsil Palampur, District Kangra, Jiun, Himachal Pradesh
Scenic spots to visit:

1. Naddi Village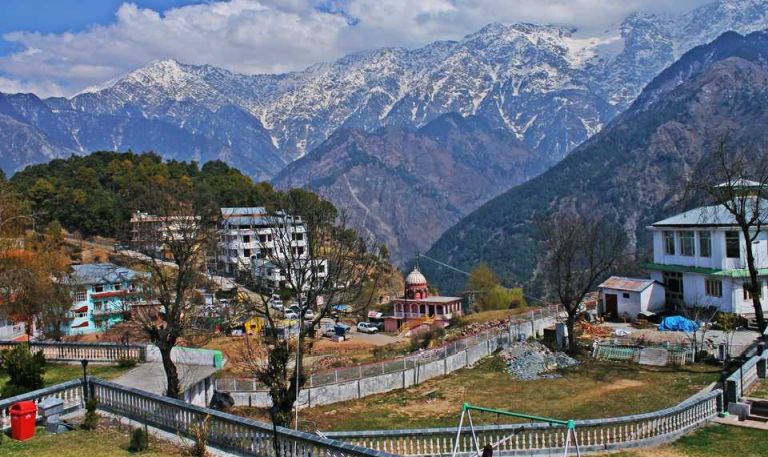 Naddi Village is the perfect place to get away from the city and enjoy some alone time. It houses tourist spots like Sunset Point, View Point, and Eco Point. Tourists flock here to enjoy the starry nights and have a stroll around the area.
Distance from Dharamshala: 8 kms

2. Kangra Valley
Situated on a hilltop at the confluence of two rivers, Kangra Valley is a stunning place to be at. Kangra is one of the Himachal's most beautiful valleys, which is covered with lush green forests of pine, orchards, tea gardens, and terraced fields. During the day time, you can also visit the Kangra Fort which is also a masterpiece to be at!

Distance from Dharamshala: 24 kms

3. Bhagsu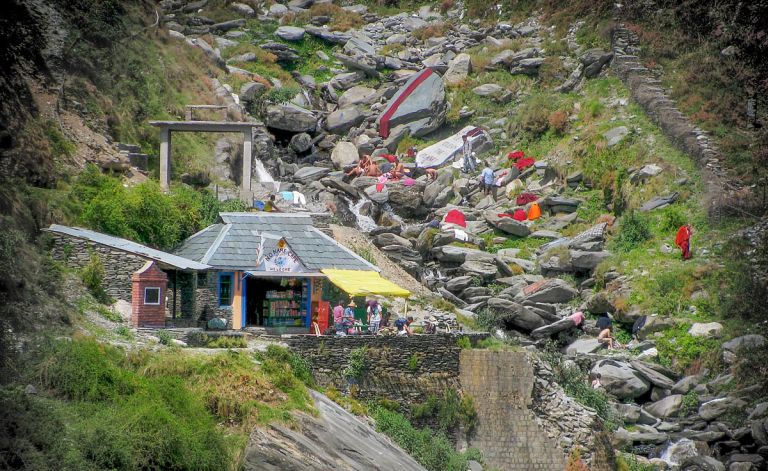 Unwind in the peaceful Bhagsu Valley underneath a blanket of stars. You can even just sit on a rock and gaze at the constellations. You will fall in love with nature, the hills, the waterfall, the food, and the people are so humble. Camping at Bhagsu is something you need to experience a once in a lifetime.

Distance from Dharamshala: 5 kms
How to Reach

Air: The Nearest airport is at Gaggal, which is about 13 kilometres away from Dharamshala.
Road: The driving distance between New Delhi and Dharamsala is 488 km.
Railway: Pathankot railway station is the nearest, 85 kilometers away.
(Featured Image Source: thrillophilia)