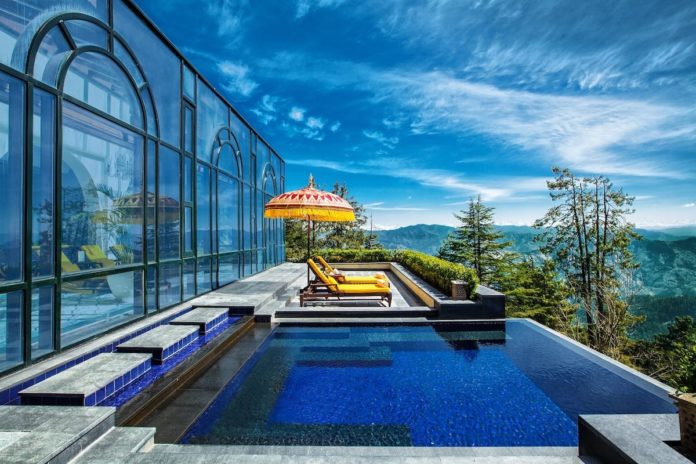 If all you've done this summer is sit inside your four-walled room or work cabin then we think you deserve a mini-vacay. And what's better than a luxurious stay in the hills this time of the year? We get it, the hills have plenty of beauty. But once you are done exploring the stunning views, what do you need at the end of a tiring day? A gorgeous, relaxing resort to chill at with your gang and family. So, we've rounded up a list of the best hill station resorts that you should be making your way to right now! After all, all work and no play makes *insert your name here* a dull boy or girl!
1. WildFlower Hall, Shimla
Image Source: Booking.com

Image Source: toocamp

Image Source: makemytrip

Image Source: Travelmango.in
Shimla is easily the most popular tourist destination for a quick weekend getaway. Book yourself at the Wildflower Hall, in Shimla where you can enjoy the comfort and luxury amidst the lush green surroundings and fresh air! With beautiful and impressive views of snow peaks, mountains and cedar forests, the resort offer state of the art amenities and facilities for your relaxation and enjoyment. It includes Ayurveda, Asian and Western Spa, a fully furnished gym, a swimming pool, steam bath and the major attraction – the outdoor jacuzzi. Sounds like a Perfect set up for a romantic stay with bae with a panoramic view of the surrounding hills and its lush greenery! There is also an open-air terrace restaurant and an option to have a five-course meal at their hillside gazebo offering lip-smacking and appetizing dishes! Already tempted?
Click here for more information.
2. Shakti 360 degrees Leti, Uttrakhand
Image Source: International Traveler

Image Source: Uniqhotels.com

Image Source: TripAdvisor

Image Source: Telegraph.co.uk
This is a beautiful futuristic pavilion built of glass through which you can see the magnificent view of the surrounding oak forests, the Ramganga river and the Nanda Devi peak at all times! We had you at that, didn't we? But that's not all, the resort offers a magnificent blend of traditional building style and contemporary architecture. There's only a total of 4 bedrooms/pavilions so you can be rest assured this is going to be the most peaceful getaway you could ever ask for.
The pavilions boast of all the modern amenities and facilities to ensure you have the most comfortable stay in the lap of nature and luxury! There are opportunities for mountain walks, forest treks and camping, picnic, hike, yoga and meditation sessions. You can also enjoy the gourmet cooking and exquisite beverages and cosy up by the fireplace wrapped in the pashmina blankets and soft snug duvets provided by them. Literally, what more can one ask for?
Click here for more information.
3. Ri Kynjai, Shillong
Image Source: redBus

Image Source: TripAdvisor

Image Source: Travel Trunk

Image Source: Gites.fr
Ri Kynjai means serenity by the lake and as the name suggest this resort is set against the backdrop of the enchanting Khasi Hills, overlooking the serene Umiam Lake. This gorgeous resort spells luxurious serenity like no other! The resort is inspired from the original Khasi thatch huts and is made from bamboo and red pine local stones. This place is excellent for families with older kids and sports enthusiasts because there is going to be a fair amount of trekking involved on this vacay! Each room and cottage comes with a private balcony overlooking the lake also making it super romantic for couples. Their Khem Janai spa is also the best place for couples to indulge in traditional Khasi treatments. So pack your bags and gather friends or fam or just your partner for a secluded luxurious stay at the Ri Kynjai resort!
Click here for more information.
4. The Oberoi Cecil, Shimla
Image Source: MakeMy Trip

Image Source: No New No Shoes

Image Source: Oberoi Hotels

Image Source:
Zeiler & Lim Design
As we said before, Shimla is the most popular tourist spot for a short getaway which is why it has a number of luxurious properties to offer. Among them is The Oberoi Cecil, a property dating back to nearly 100 years! It is a beautiful heritage hotel that combines the British grandeur with the majestic view of the surrounding Himalayan ranges and the cedar forest and is ideal for a family vacation. They organise activities such as a colonial heritage tour of the property and a walk in the nearby woods. Packed with facilities such as a well-renowned spa and wellness centre, indoor pool and a fitness centre along with two fine dining restaurants serving scrumptious food and there is also a beautiful tea room and bar! If you're in the mood for luxury, heritage and comfort all under one roof, this is just the place for you!
Click here for more details.
5. Ananda Spa Resort, Rishikesh
Image Source: traveltourguru.in

Image Source: Booking.com

Image Source: Holiday mine

Image Source: harridwarrishikeshtourism.com
In the midst of unexplored green stretches at the Himalayan foothills, the Ananda Spa Resort is a leading centre for yoga and meditation tours besides being a famous spa destination. What's more relaxing than yoga, meditation and spa all at once? Located on a 100-acre Maharaja's Palace Estate, Ananda is surrounded by graceful Sal forests and overlooks the spiritual town of Rishikesh and the Ganges river valley. It is undoubtedly one of the best wellness retreats in India.
A wide choice of residential accommodations such as the Palace view Rooms, valley view room, garden suites etc. and a quiet and peaceful ambience make the resort one of the best places to go to for some downtime. The enchanting surroundings combined with the traditional Indian Ayurvedic health regimes will help you rediscover yourself. You can also participate in outdoor activities such as nature walks, mountain treks, river rafting etc. Need we say more?
Click here for more details.
6. Khyber Himalayan Resort and Spa, Gulmarg
Image Source: RedBus

Image Source: RedBus

Image Source: RedBus

Image Source: Khyberhotels.com
Surrounded by the beauty of Gulmarg, with all its luscious greenery, Khyber Himalayan Resort and Spa seems straight out of a fairytale! Due to its location, it's often covered in snow during the winter months which simply adds to its beauty. You can enjoy a luxurious stay gazing out at the beautiful mountains and serene views. You can either opt for a premier room or a cottage for stay. Also, dine at one of their four world-class restaurants, all known for their incredible dining experience! The combination of Kashmiri architecture fused with contemporary designs create a splendid wooden paradise. There is also a spa, fitness centre, swimming pool along with a bunch of other activities such as golf, skiing, trekking etc. to keep you engaged. You won't feel the need to step out of this beautiful property the entire length of your stay here!
Click here for more information.
7. Jilling Terraces, Bhimtal
Image Source: jillingterraces.com

Image Source: Jillingterraces.com

Image Source: IndianHoliday.com

Image Source: Me.n.ideas blogspot
Constructed in 1933 by a Sanskrit Scholar for his Polish wife, The Jilling Terraces in Bhimtal has now been converted into a boutique hotel and luxurious resort. While a boutique hotel may not always be your first choice, this one with some of the most exotic view of the mountains and lush greenery and equally beautiful interiors has got to be on your list of properties to stay at! It is in comfortable vicinity to popular tourist spots such as the Nainital lake and snow viewpoint. To reach the hotel you'll experience unbound wilderness in the form of a 1 hour 30 minutes moderate trek from Matial to the hotel. Featuring a garden and a sun terrace, this property will make you fall in love with itself! Also, it will make you look forward to coming back over and over again!
Click here for more information.
Let us know in the comments below which of these resorts you'd love to stay at!
Featured Image Source: Booking.com