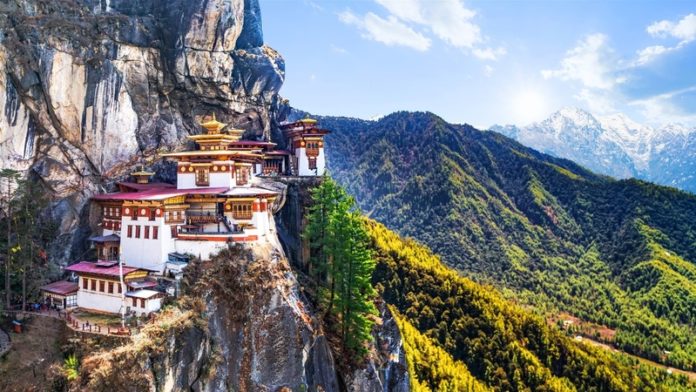 We can't even begin to describe just about how beautiful our Asian subcontinent is. Sure, everyone has that Europe backpacking trip in their bucket lists. But sometimes you don't need to look far to find beauty. And Bhutan definitely proves so! Located near the extreme eastern parts of the mighty Himalayan Range, Bhutan is geographically placed between the two giants – India and China. This 'Kingdom of Happiness', as it's popularly known, is nature's lap of peace and joy. Trust us when we say it's got beauty like no other! It boasts of the best nature has to offer combined with an eventful history, cultural treasures, well-preserved heritage and good-hearted people. Bhutan, in all its glory, is a country that you must experience at least once in your lifetime. And here's why!
1. A Rich History, Unlike Anywhere Else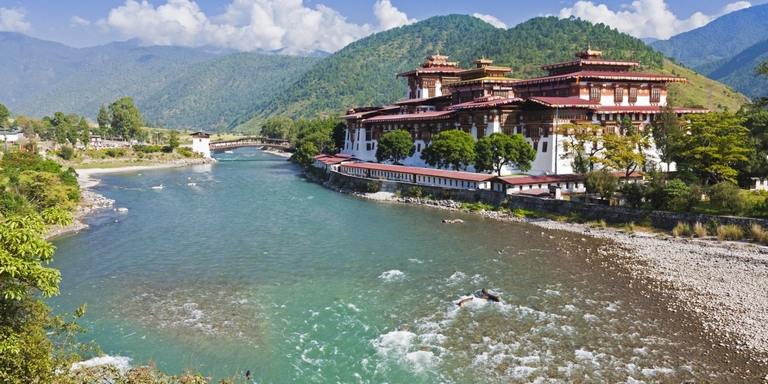 Bhutan is the land where fable and illusion are a part of fact and reality. It is a Buddhist country and the religion was spread to the nation from Tibet several centuries ago. However, there are tales about Buddhism's introduction here. Even generally, the history of the country is nothing short of fascinating. For example the Tiger's Nest Monastery. The temple complex is said to have been built after Tibetan Buddhist Master Guru Rinpoche flew to the location on a magical tigress and fought off evil spirits. Also, did you know, Bhutan's most famous monk is known as the "divine madman"? He is rumoured to have fought off evil spirits with a thunderbolt from his magical genitalia. That sure sounds very captivating to us!
2. Preservation and Promotion of Culture and History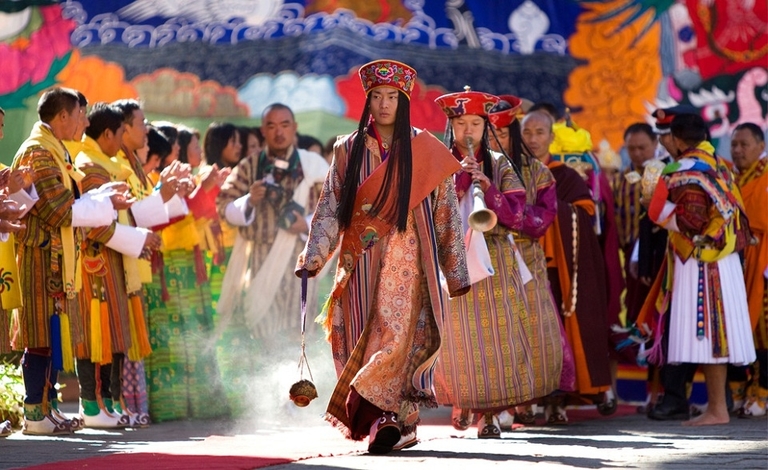 Bhutan's deliberate isolation from the rest of the world has led to the progression of a unique culture and tradition. Even the Bhutanese culture is a result of the practice of Buddhism. It gave birth to social behaviours which were passed on for generations. Therefore Bhutan's culture remains connected to its religion and hence regarded with respect by its people. For instance, men and women wear their traditional attire to work, school and other important Government Institutions and religious sites. Even the members of the Parliament discuss and debate the national agendas at the Parliamentary session in the national language of Bhutan which is Dzongkha.
3. The Kingdom of Happiness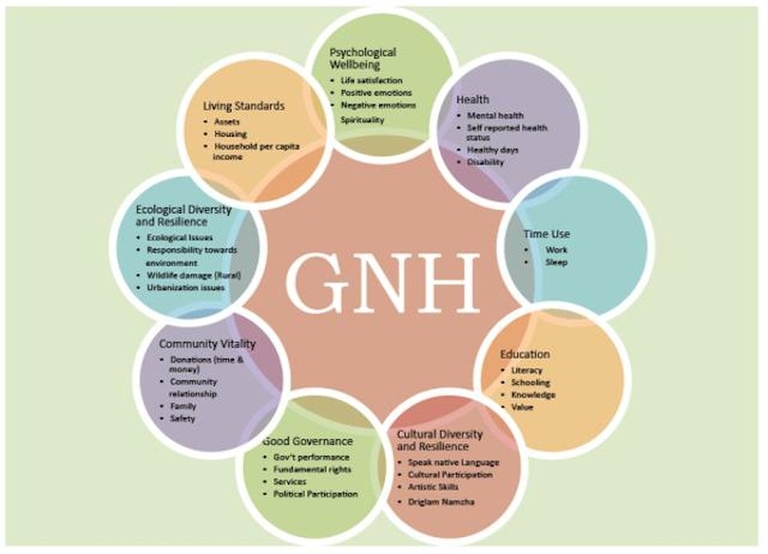 Bhutan's development philosophy is very unique, one you may have never heard of! Bhutan is the only country to measure GNH – Gross National Happiness as an indicator of prosperity. While it may not be the richest country in the world but it certainly has the happiest people! Under Bhutanese policy, education and healthcare are free. Now, who wouldn't be happy with that! The Bhutanese people have different values and priorities to those of the people from the western world. Money is not at all a motivator for them. And that, we believe, solves all the issues.
4. Home to some of the best Himalayan Hiking Trails
If you're a nature lover and enjoy breathtaking views, then trust us, Bhutan is the place to be for you! Bhutan's landscapes are filled with villages, hills, farmland, cliffside monasteries, forests, and mountains. And for those who admire nature and its creations, hiking in Bhutan will be a gleeful experience. Here are some of the most majestic treks in Bhutan:
Taktsang Goenba Hike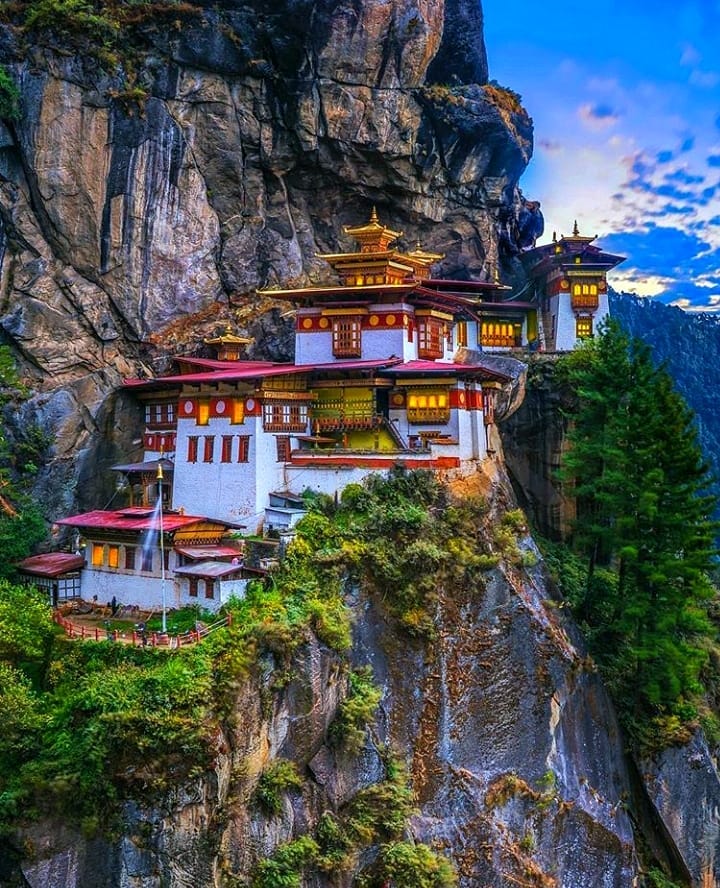 Popularly known as the Tiger's Nest Monastery, Paro Taktsang Goemba is a charming Buddhist monastery and the hike up to the monastery is a wide trail that starts at the foot of the mountain from the parking lot. You can even take a break in between at the renowned Takstang Cafeteria which is a cool spot for the hikers. The complete round trip trek takes around 5 to 6 hours. The contentment of reaching above will leave you dazzled.
Dochula To Lungchutse Lhakhang Hike
Image Source: Drunk Tales

Image Source: Flickr
This one is for the perfectionists and novices alike as it is an easy trek. Starting from the Buddhist shrine at Dochula pass and up to the Lungchutse monastery, it takes around 3 hours to complete the hike. The view from above is mesmerizing and worth every second of the 3 hours you spend on completing this trail.
Khamsum Chorten Hike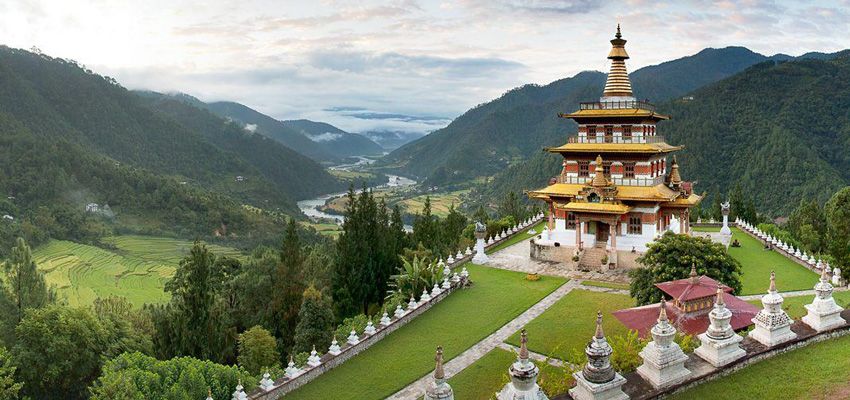 Hike up to the best spot for hiking in Bhutan and appreciate the fine architecture of the historical monument. Khamsum Chorten was built in 1990 and is one of the old monuments of Bhutan. The hike starts from the Punakha town parking lot and on the hike, you will cross through fascinating valleys and farmlands. It's short, steep and will leave you breathless for sure.
5. High Value, Low Impact Tourism
Image Source: Tour My India

Image Source: Tour My India
One of the reasons that you will see far fewer tourists in Bhutan as compared to its neighbouring countries is because Bhutan practices a policy of "high value, low impact" tourism. This is to protect the country's unique cultural heritage and minimize the negative effects of mass tourism. Tourists must pay a minimum daily tariff while visiting Bhutan, which is what puts them off. However, people largely misunderstand this tariff. Though it ranges between $200-$250 per day and does sound expensive, this is all-inclusive of the use of a private guide and driver, three meals per day, accommodation at 3 and 4-star hotels, and most admissions fees. The quality of meals and services are very good and the travellers are treated like VIP guests in Bhutan. But, fun fact, this tariff does not apply to tourists from India, making it the perfect offbeat vacation spot for us!
6. Unique and Scrumptious Food
The most distinctive characteristic of Bhutanese cuisine is its spiciness. Chillies are an essential part of nearly every dish and are considered very important. It is the only country in the world where chilli is not used as a seasoning but a vegetable! So be careful before you put something in your mouth!
Bhukhari at Uma by Como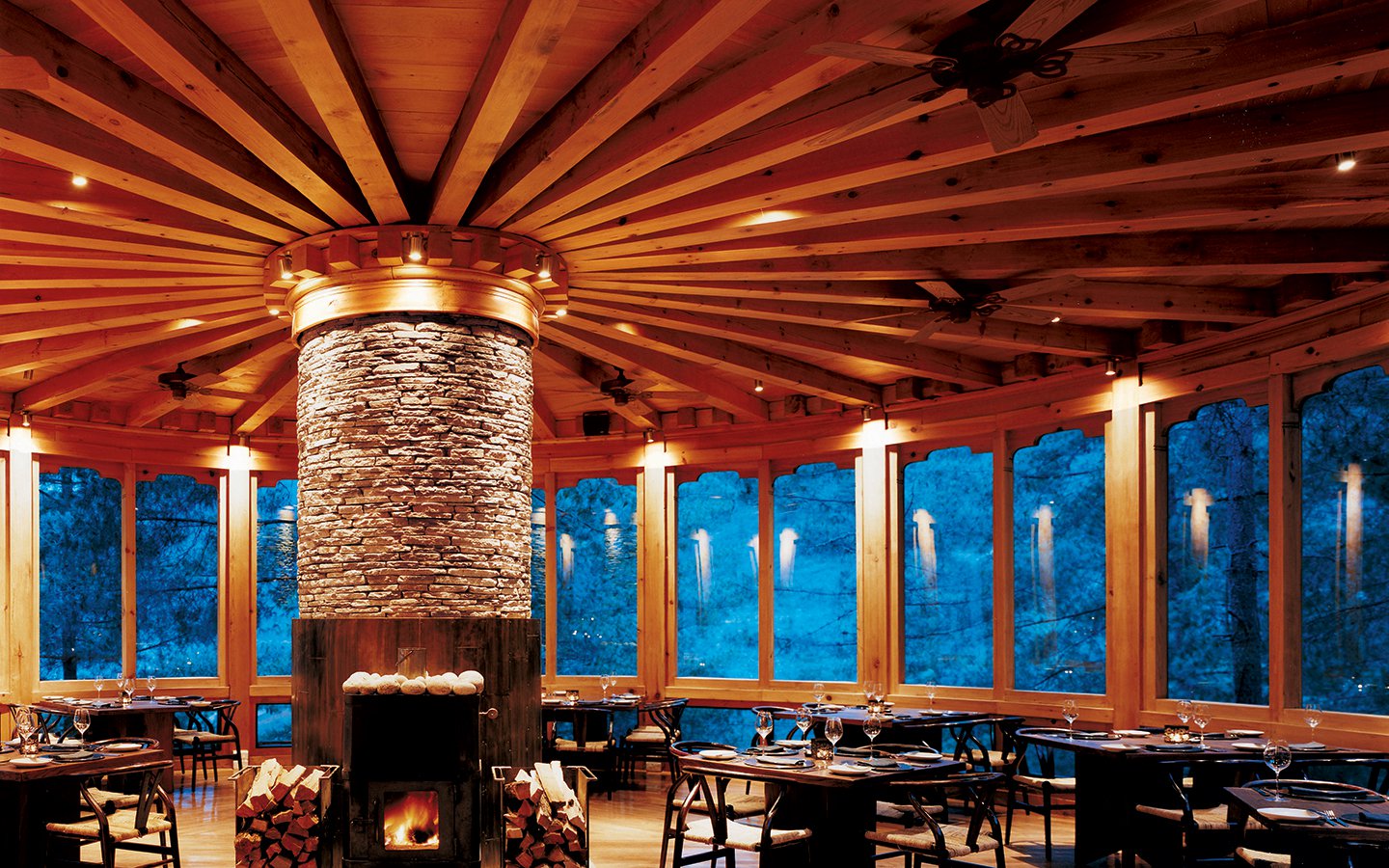 One of the most acclaimed places to have a Bhutanese meal, Bukhari is one of the best restaurants in Bhutan. It is located inside the Hotel Uma, making it easily accessible. They have the best Ema Datshi in Bhutan!
Ema Datshi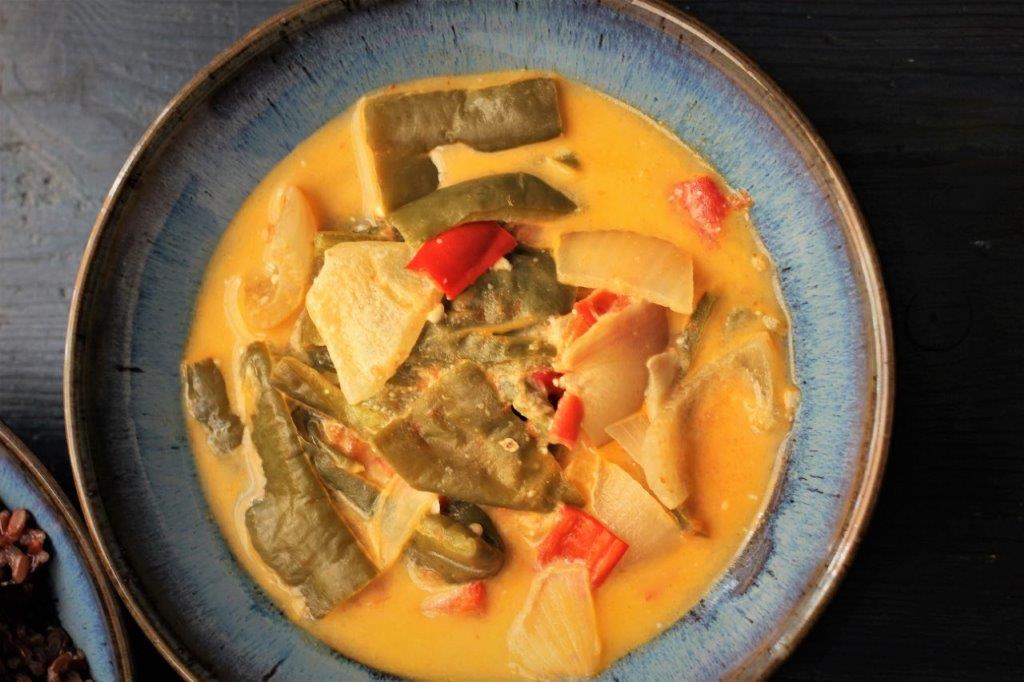 Datshi in the Bhutanese language of Dzongkha means 'cheese', which is what they use in a number of dishes and Ema is Chilly. A stew made from chillies and cheese, Ema Dashti is the most popular dishes in Bhutan. This actually might prove to be too spicy for some!
Red Rice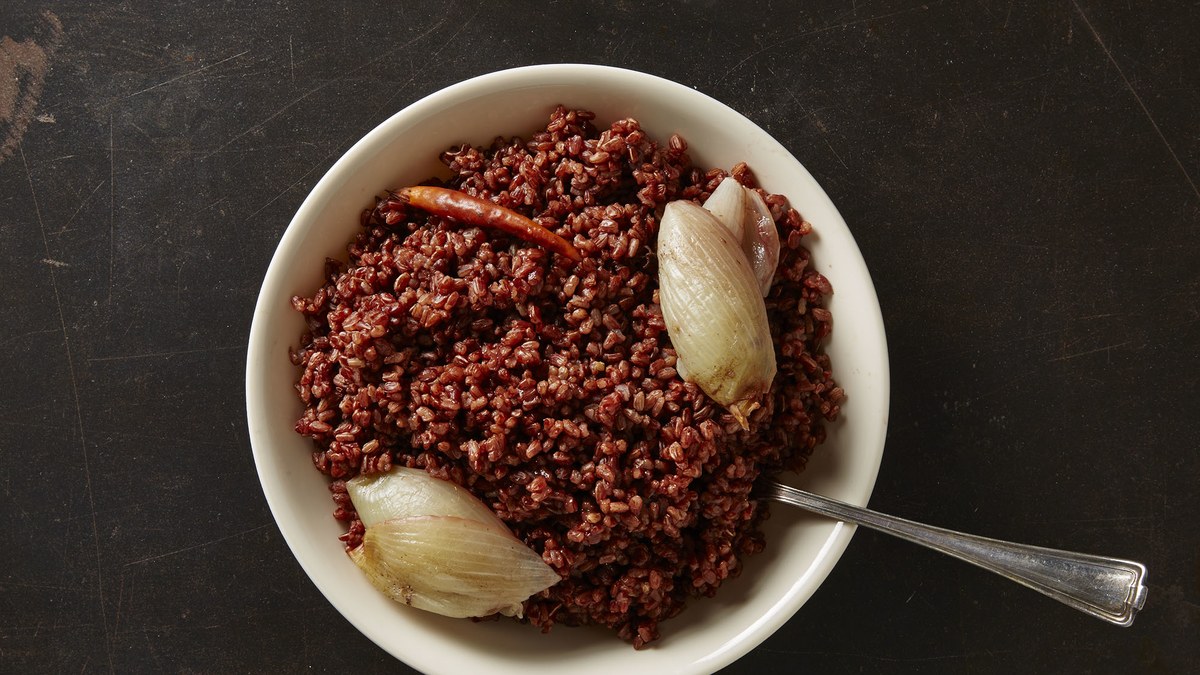 Red rice is one of the staple foods of the Bhutanese people. It is a medium-grain variety of rice that is grown in the Kingdom in the Eastern Himalayas. Being gluten and wheat-free and rich in minerals, it is highly nutritious as well.
Suja
Just like the locals, you too must indulge in the butter tea, also known as Suja or Po Cha or Goor Goor. Usually served after meals you will find it to be quite comforting the cold weather.
7. Pleasant Climate All Year Round
Image Source: Bhutan Tours
Bhutan can be visited at any time of the year. The climate here is temperate making it suitable for visitors all year long! The summer months in Bhutan are technically monsoon season. But monsoon in Bhutan is not the same as in India. A little light rainfall means that after a short drizzle, you can continue on your way. The months of spring and autumn are the most popular times to travel to Bhutan owing to their warm, sunny climate. In the winter, though temperatures can dip into the early minus at night, they rarely drop below 10 degrees Celsius in the day, meaning that even the coldest time of year is more pleasant than many countries. So you can pick the time of the year you like the most and be on your way!
8. Attractions
Bhutan, while majorly unexplored, boasts of a long list of forts, monasteries, and other Buddhist relics, trekking spots, and shopping areas which are definitely worth exploring. Known as the Last Shangri-La, the entire country comprises of panoramic valleys, majestic Himalayas, an abundance of rare flora and fauna. Here are some of Bhutan's most popular tourist attractions:
Tiger's Nest or Taktsang Monastery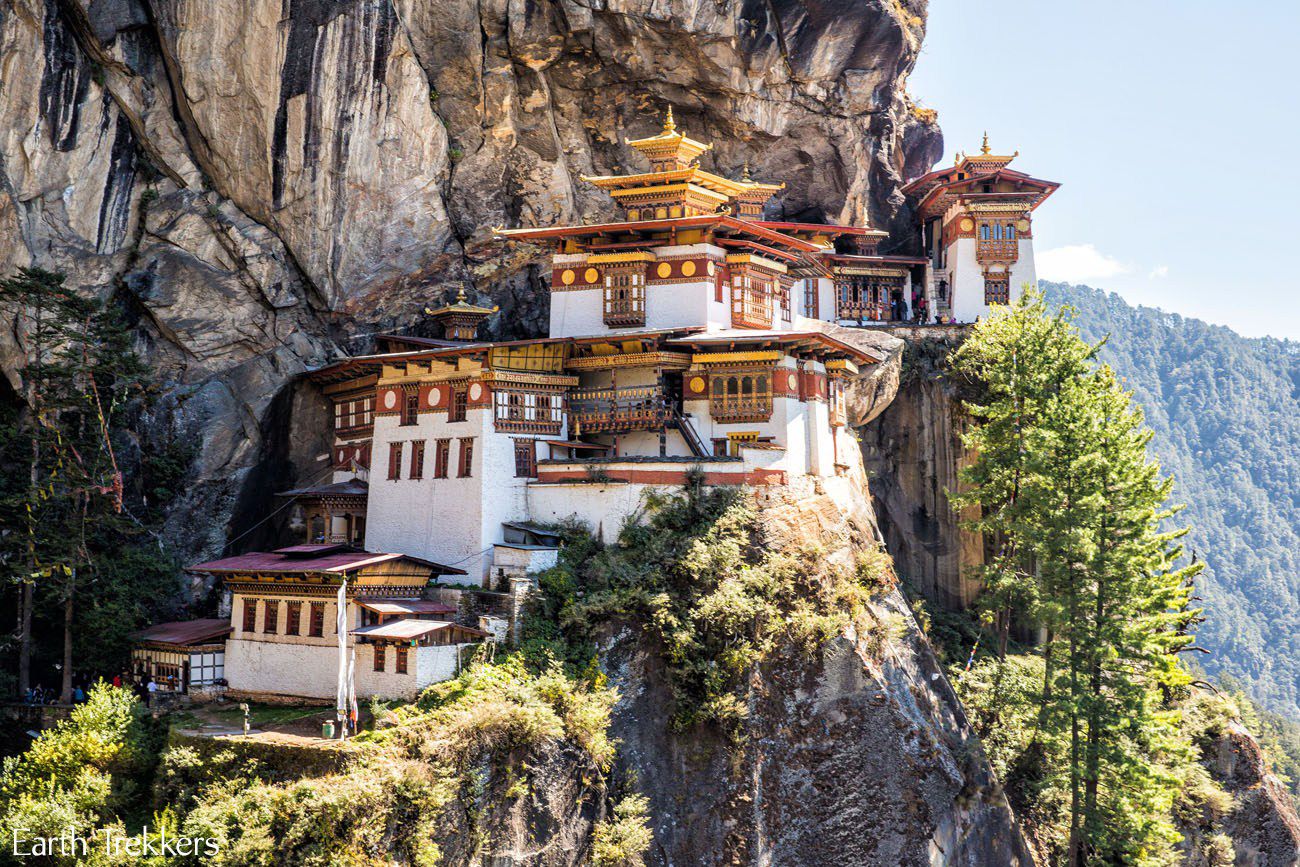 Hanging on a cliff standing above the lush forest of thousands of species of rhododendrons and blue pine, this is one of the most popular Bhutan tourist places in Paro. You must visit the sacred monastery of Guru Rinpoche, considered as a place of pilgrimage. According to the legends, Guru Rinpoche also considered as the second Buddha rode to this place on a tigress's back to suppress a local demon and thus he meditated here for 3 months.
Rinpung Dzong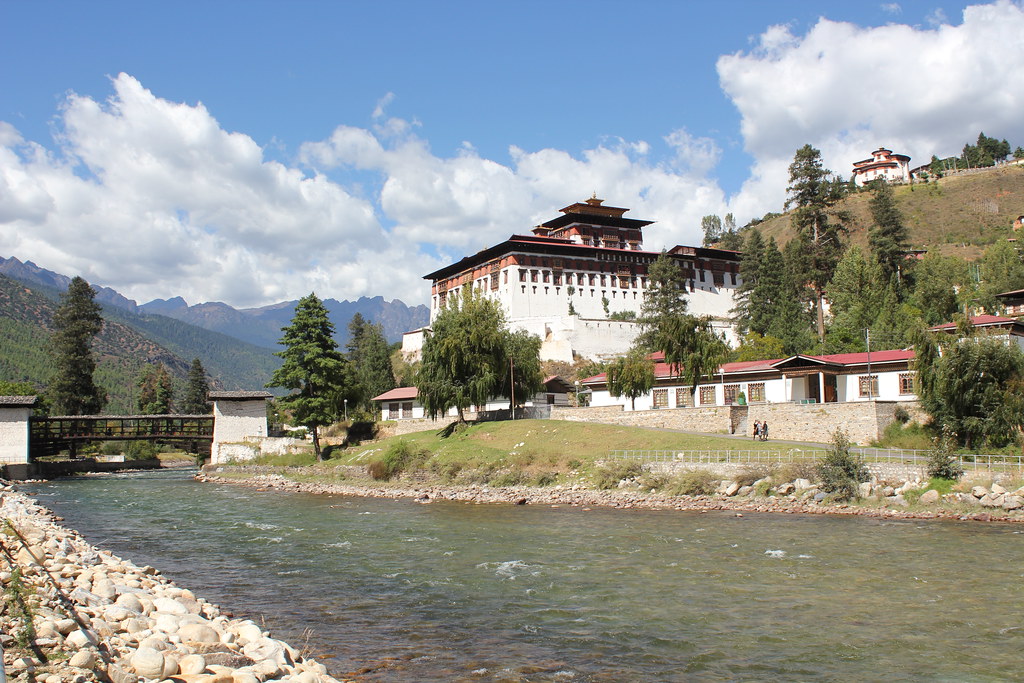 Is a beautiful dzong (fort), with towering walls, built in the 16th century. Known as the Fortress on a Heap of Jewels, Rinpung Dzong is among the best tourist places to visit in Bhutan and a classic example of Bhutanese architecture and deep-rooted traditions.
Buddha Dordenma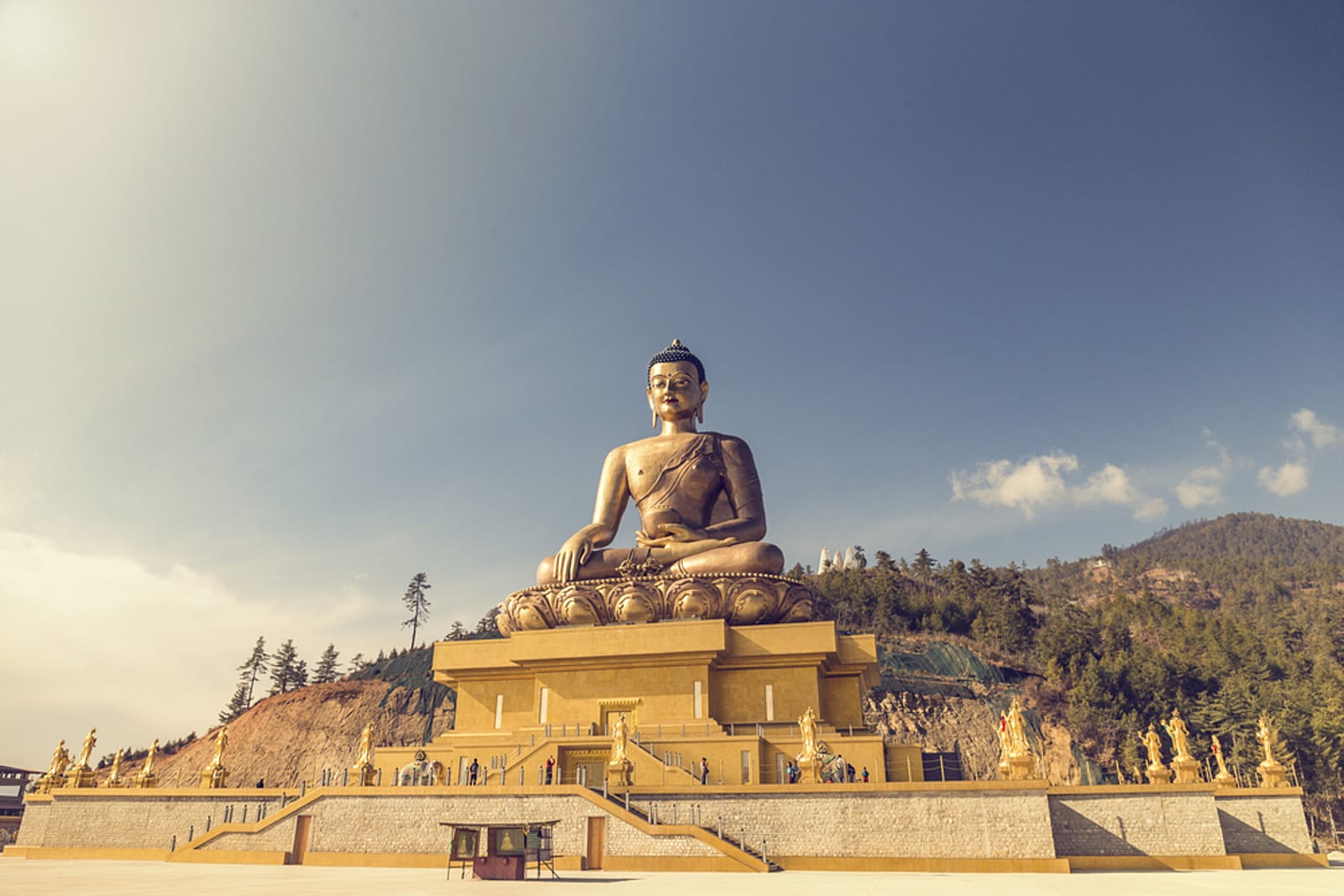 The Buddha Dordenma Statue is a 169 feet tall statue of Buddha, built at the foot of the hills in Thimphu. This iconic gold and bronze statue is visible from almost anywhere in Thimphu and is among the best tourist places in Bhutan.
Norzin Lam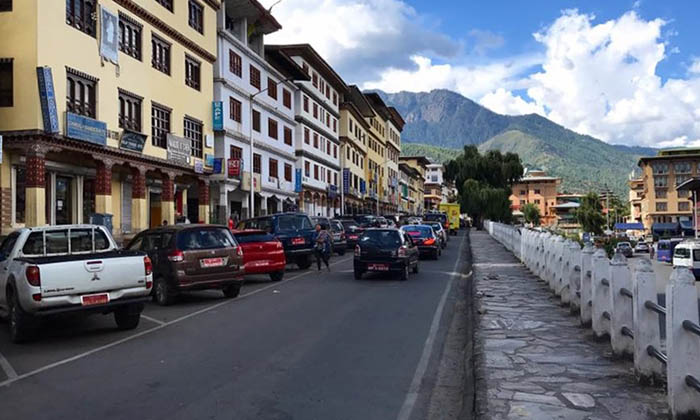 The capital city is probably the most beautiful tourist places in Bhutan. At the main street of Norzin Lam, you will find shops filled souvenirs, woollen clothes, crafts, and local wine. Although slightly expensive, there are a lot of things that you would absolutely want to buy here.
Bhutan should totally be your next travel destination. Let us know if you've been here already & about your experience.
Featured Image Source: trailfinders