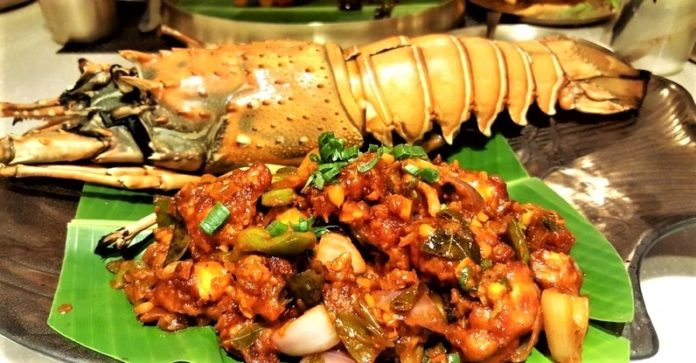 Dilli is the best place in India for foodies and any cuisine on this planet can be easily found in this majestic city. One such amazing cuisine which has caught our attention is the coastal cuisine! We think we're in love and why not! It is prepared using fresh, local seafood which originated in India's coastal places like Kerala, Tamil Nadu, Maharashtra, and Andhra Pradesh. And their food includes some amazing dishes- from prawns, fish curries, squids and what not! So, if you feel like treating your taste buds to something new and exciting, you must head to 8 restaurants in the city serving amaze coastal food.
1. Sanadige
(Image Source: Facebook/SanadigeRestaurant)

(Image Source: Zomato)


(Image Source: Facebook/SanadigeRestaurant)


(Image Source: Facebook/SanadigeRestaurant)
If you haven't been to Sanadige then you are surely missing out on the best coastal food in the town! Sanadige is a place meant for people who wants to enjoy authentic and flavourful coastal food. Their menu is an absolute delight for all the seafood lovers with numerous offerings from the coast of Kerala, Goa, Kudla (City in Karnataka) and Maharashtra. You must try their seafood thali which has two types of fish – one in gravy and the other one fried, prawn masala, sabzi, rasam, rice, sevai, and choice of bread. And yes don't leave the restaurant without having their tender Elaneer Payasam (coconut), trust us, it's the best.

Where: 22/48, Commercial Centre, Chanakyapuri, New Delhi
Contact: 011 61495254

2. Coastal Reef
(Image Source: Facebook/COASTALREEF1)

(Image Source: Zomato)
When it comes to coastal cuisine, we want our Malabar Fish to be piquant! Giving us some major cravings with their offerings is Coastal Reef. It's a little restaurant in the town but peeps this should be on your list for sure. Their Chicken Chettinad should obviously be your first pick, but other than that try Goan Prawn Curry, Chicken Sukka, Kerala Mutton Fry and Malabar Fish accompanied by mouth-watering Malabar Parota and Appams. So for some seafood delights, you know where to go when around Gurgaon!

Where: Bani Square, Sector 50 & DLF Galleria Gurgaon
Contact: 011 66107231

3. Zambar
(Image Source: Facebook/zambar.india)


(Image Source: Facebook/zambar.india)

(Image Source: Zomato)
If you can't get enough of coastal food in general, then you have got to drop by Zambar for sure! Their Zambar Net Dosai (rolled with chicken), Chettinad Kozhambu (Malabar kottu parantha), Andhra Prawn masala, and Veg Chettinad Korma is something you should order for sure. The ambiance is decorated according to the theme and has different photos linking with Karnataka and Kerala culture and events. Also, a soothing and calming traditional music is always going on in the background. It's a family restaurant so you should come to drop here for a lavish dinner.

Where: Shop 310, 3rd Floor, Ambience Mall, DLF Phase 3, Gurgaon
Contact: 0124 4665639

4. Swagath

(Image Source: Zomato)


(Image Source: Zomato)
From Mughlai to Malabari to Mangalorean food, Swagath has everything in the store. Their menu reads like a dream for a hardcore non-vegetarian. With the most outstanding ambiance, it's totally apt for a family outing. You should order their Fish Fry, Chicken Ghee Roast, Mutton Sukha. And yes a special mention to their yummy and mouth-watering Butter Pepper Garlic Crab is for sure. Swagath's food is always great and also you will be treated with a great list of both alcoholic & non-alcoholic drinks to choose from!

Where: Defence Colony, Noida, Greater Kailash & Gurgaon
Contact: +91 9953964748

5. Chateau de Pondichery
(Image Source: Zomato)


(Image Source: Zomato)


(Image Source: Zomato)


(Image Source: Zomato)
Chateau de Pondicherry is winning our hearts over for their stellar food French, Tamil food and of course the gorgeous decor. They have a simplistic and elegant decor adorned in gold and Turkish blue, serving authentic coastal food. Their menu includes Kothu Paratha (egg or chicken), Kozhi Molavu Varuval (pepper chicken), prawn erral varuval (prawn fry) and prawn erral assad (served with rice). Go step into the land of warm seas, sunshine, something fancy and magic!

Where: 84, Aurobindo Marg, Opposite Hero Showroom, Adchini, New Delhi

Contact: +91 9811134085

6. Whisky Samba
(Image Source: Zomato)


(Image Source: Zomato)
A modern bar with sprinkles of old world charm, Whisky Samba is all about yummy food with a great balance of yummy cocktails. Their menu includes everything from Charcoal Grills to juicy burgers and creamy Italian (yummy)! But the dishes which you can't miss out are Roasted Prawn (herbs, coconut), Spicy Crab Leg Meat and Rock Shrimp Tempura Roll. Time to get experimenting peeps!

Where: Plaza Level, Two Horizon Center, Golf Course Road, Gurgaon
Contact: +91 9811801682

7. Mahabelly

(Image Source: Zomato)


(Image Source: Zomato)


(Image Source: Zomato)
Known for serving authentic Keralan and seafood cuisine. While you're digging into their delectable Chicken Curry you must also treat yourself Prawn Varathathu (spicy prawn), Fish Fry, Prawn Mango Curry (Signature dish) and Pollichathu (Seer fish). End your meal on a happy note by ordering Caramel Custard. So when you the hunger pangs come calling head straight to Mahabelly to fill up your belly!
Where: DLF Phase 4 & Saket
Contact: +91 9017906907
8. Oh! Calcutta
(Image Source: Zomato)


(Image Source: Zomato)
All the non-vegetarians out there, Oh! Calcutta is a must visit place and is perfect for a family gathering. With some authentic preparations like Ilish Paturi (Curry), they offer an amazing range of seafood also. All the Prawn and Crab lovers should try their Daab Chingri (prawns spiced with green chilly), Khulna Chingri Curry (Prawns in coconut curry). And don't forget to add there Smoked Hilsa(boneless fish).
Where: Nehru Place & DLF Cybercity
Contact: +91 9310149804
(Featured Image Source: indianfoodfreak)