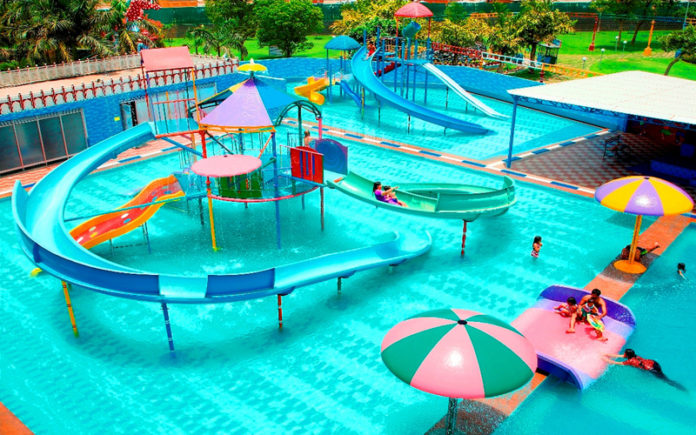 The summer is on in full swing, but thankfully the summer vacations are about to start. We get it, us adults don't get these vacations. But come on, it's the perfect excuse to spend quality and super fun time with your kids and the entire family. Right? So, check out these 8 amazing water parks in town where you must head out this summer.
1. Worlds of Wonder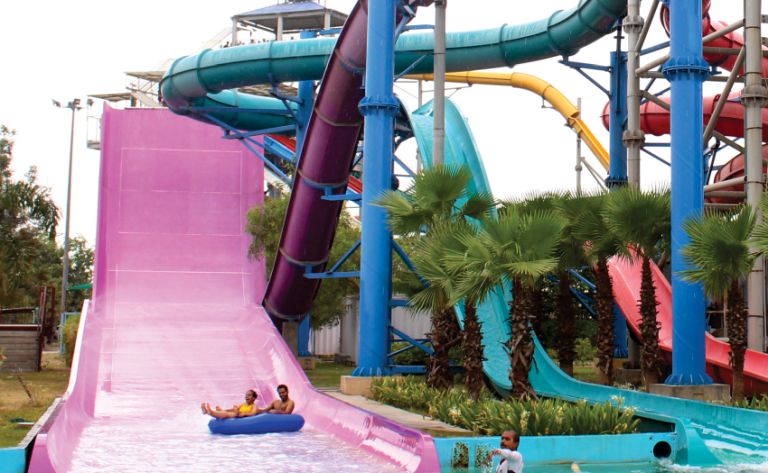 Nothing can beat the fun of sliding down rides and splashing right into the cool water. Right? Then you should check out Worlds of Wonder. They have more than 10 amazing rides in their water park! Once you are there, do hop on to their Rapid Racer & Turbo Tunnel, which are the coolest rides of them all. So, round up all your friends & fam and head to this place.

Where: Sector-38 A, Entry from Gate No. 11, Adjacent The Great India Place Mall, Noida
Timings: 10:30 AM To 7 PM
Book Your Tickets Here

2. Appu Ghar, Oysters Beach Water Park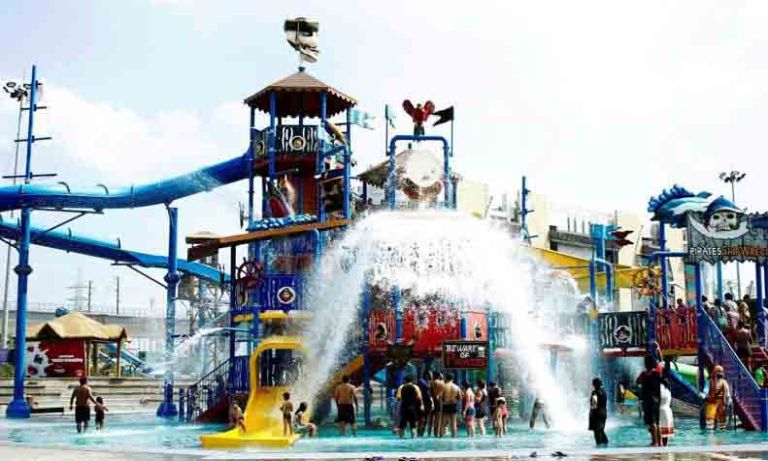 Located behind HUDA City Metro Station Gurgaon, Oysters water park is quite famous amongst the kids. The place is overloaded with water rides ranging from thrilling, adrenaline pumping steep falls to Typhoon tunnel, wave pool, and rain dance. Their 90-feet slide, the Free Fall, is one of the tallest slides in India! So make sure that you try this one out for sure.

Where: Leisure Valley Rd, Sector 29, Gurugram
Timings: 11AM To 6 PM
Book Your Tickets Here
3. Fun N Food Village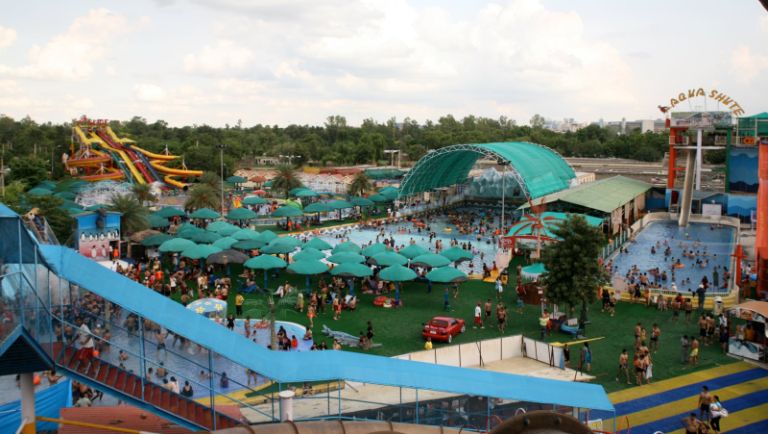 We're sure you all know about this one. From the age of 6 to 60, no one feels left out here as they have a slide for people of every age! For all of those who are looking for a gentler experience, there is a 'Lazy river' which is over 800 feet long. You can simply chill and swim there, and have a great time. Their thrilling water slides like Tornado, Speed Coaster and Aqua are perfect to enjoy the water in this weather! Now, if you are all about #famjam, then you've got to try their tube slide in which a family of four can ride together to splash into a jacuzzi. How cool is that!

Where: Old Delhi Gurgaon Road, Kapshera, New Delhi
Timings: 10 AM To 6 PM
Book Your Tickets Here

4. Aapno Ghar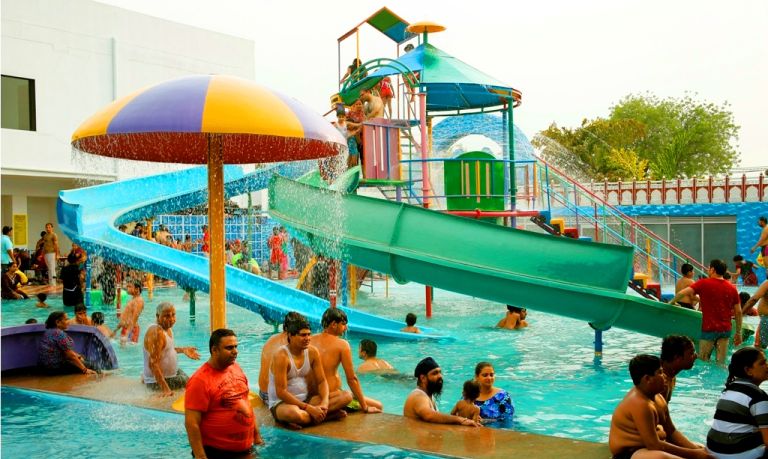 Aapno Ghar is all about surprises. Once you are here, you'll find yourself enjoying a regular swim at one moment and sliding down groovy water slides the next! Their water park provides options such as the rainbow fall, water curtain, and an artificial rain hut. It's an ideal place for a family weekend outing. Why? Well, they have 42 rooms to house guests who want to spend more than a day here. Isn't that great?

Where: Sector 77, Gurugram
Timings: 10 AM To 10 PM
Book Your Tickets Here

5. Ffunmax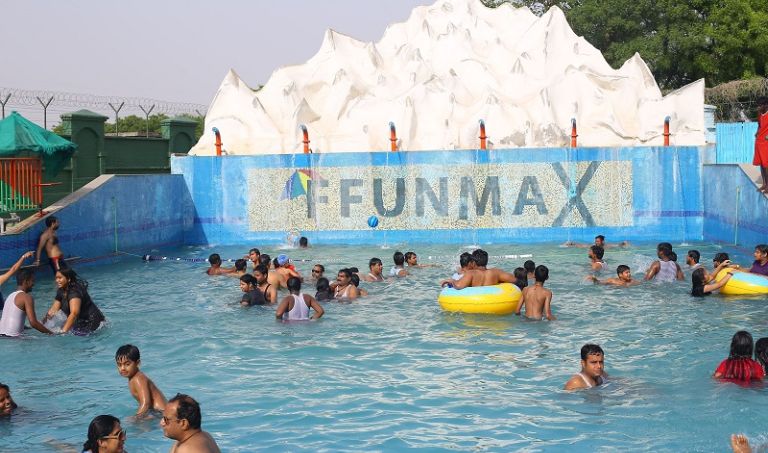 Did you know there is a water park in Faridabad? Ffunmax is a water and amusement park which promises to be the best summer hangout spot in the area. They have 12 cool rides, water slides, some nerve-wracking spiral roller coasters, and a pool to just chill and swim. They have some amazingly exciting slides- Frisbee, Breakdance, Giant Wheel, Frog, Carousel, Sun n Moon, Toy Train, Body Slide, Tube Slide, Multi-lane, Rain Dance, Wave Pool, Family Pool, kids rides and more! If you are anywhere near Faridabad then you simply can't miss out on this place.

Where: 42 Milestone, Main Mathura Road, Behind Royal Villa Banquet Hall, Village Sikri, Faridabad
Timings: 10 AM To 7 PM
Book Your Tickets Here
6. Adventure Island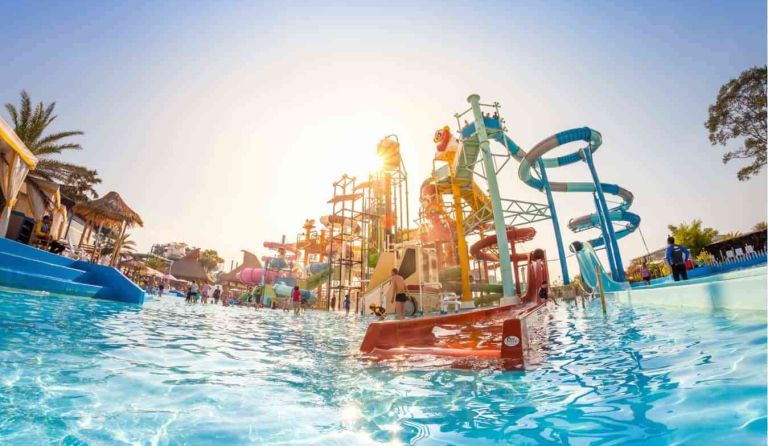 Call us biased, but Adventure Island has got to be our favourite one from the lot! It's a  family-friendly theme park which has water rides like Aqua Bump, Splash Pool, and Splash Dunk. And for all those who want to enjoy some more, Rain Dance is the perfect place for you. And once you are here, hop on the super cool thrilling slides like Winder ride, Lightning Bolt and more.
Where: Opposite Rithala Metro Station, Sector 10, Rohini, New Delhi
Timings: 12 PM To 8 PM
Book Your Tickets Here

7. Atlantic Water World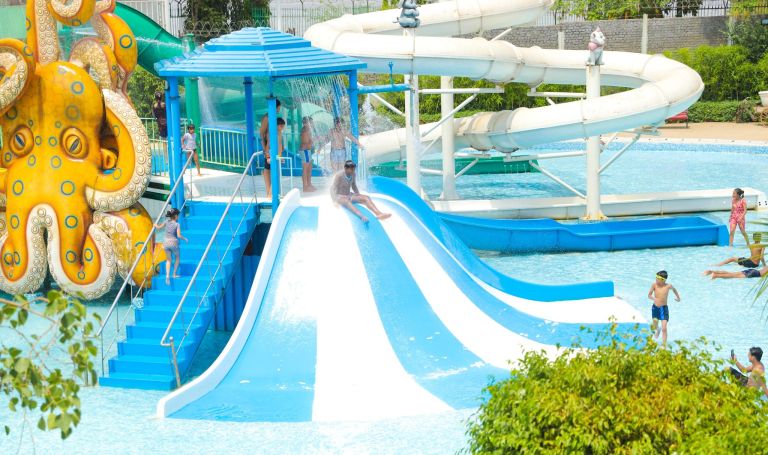 This summer, beat the heat at Atlantic Water World as you go splashing into the water, trying all their thrilling water rides! For all the little munchkins, they also have a baby cool pool. Their amazing rides like Wave Pool, Octopus Pool and more will ensure you have the time of your lives here! And if you have plans to get that adrenaline kick, then rush to their adventure slides Aqua Funnel, Storm Eye or Tornado which are definitely not for the faint-hearted!

Where: Kalindi Kunj Park Adjacent to Kalindi Kunj Metro Station, New Delhi
Timings: 11 AM To 6 PM
Book Your Tickets Here

8. Drizzling Land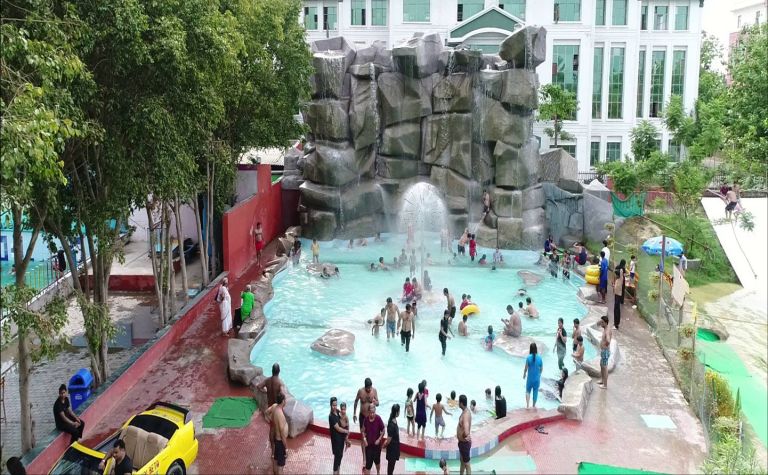 Do you know what made us drove to Drizzling Lands? Their own version of Kempty Falls! Yes! They have amazing Roller coasters, pendulum rides, pools, and more than 30 fun activities. What more can you ask for! Not just that, they even have a poolside food court which is just amazing! Wait up, there is also a dedicated kiddy zone for the toddlers. Ah, perfect!
Where: 8 KM Mile Stone, Delhi-Meerut Highway, Duhai, Ghaziabad
Timings: 10 AM To 7 PM
Book Your Tickets Here
Check out these water parks and enjoy a day filled with lots of fun with your family and friends. Let us know which one you liked the best.
(Featured Image Source: nerd's travel)