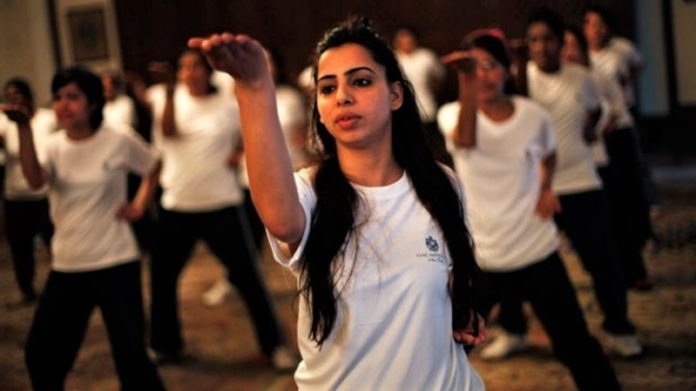 We love our city. There are no two ways about that. But the rate of crime, especially crime against women is embarrassingly high. In such a scenario it makes perfect sense to know at least a few moves to knock someone out and protect yourself. So, check out these self-defence classes in the city which you should totally join.
1. Knockout Delhi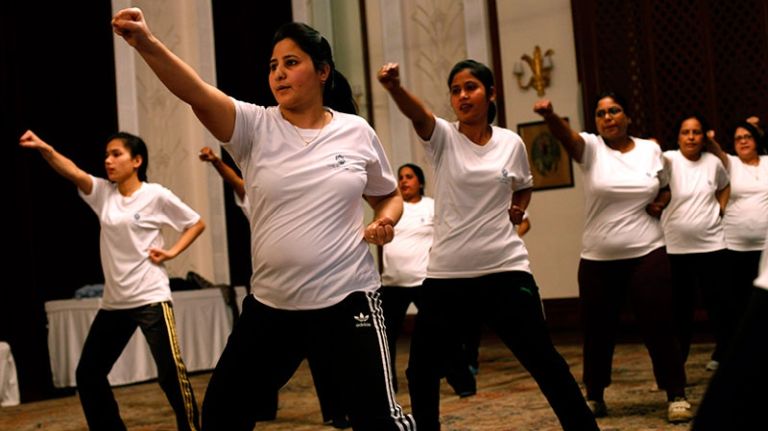 Knockout Delhi is one of the largest spreading centers in the town as they offer special courses for martial arts or for self-defense. Their Street Fight Secrets is a programme that teaches you with Knife Defence Training, Use of Legal Weapons, The Art of Sweeping, Fighting Grappling, Throwing, Breathing Training and even Ground Fighting. There are in total six levels in which you get fully trained with self-defense skills.

Where: Lajpat Nagar, Dwarka, Jankapuri, Gurgaon & other centers
Contact: + 91 9999-053-185
2. Crime Check India
Kapalini is the six-month course designed by Crime Check India to empower us physically and mentally to meet the challenges. The course offers a blend of striking, kicking, throwing, grappling, ground fighting, joint locks, and weapon disarmament. Also, it offers every student a guide on most practical solutions to handle crisis situations. Crime Check India teaches you how to use all of your body parts as well as ordinary objects like pen, keys, chair, etc that can be used as a weapon.

Where: 2567, Tiraha Behram Khan, Darya Ganj, Delhi
Contact: 09871705100
3. Dynamic Kickboxing CrossTraining Fitness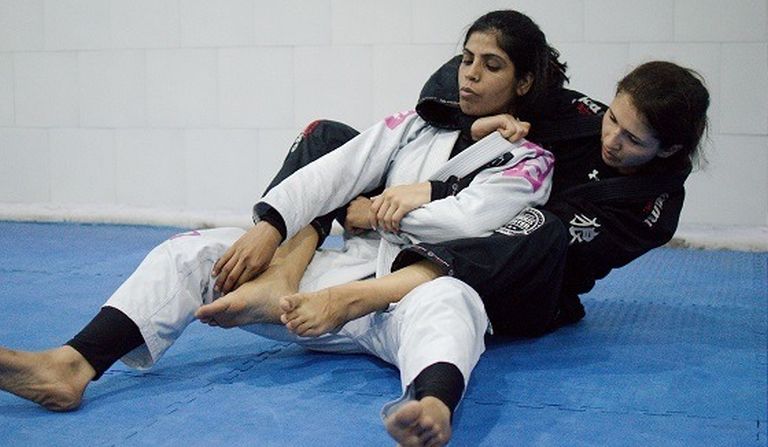 Taking inspiration from Muay Thai(Thai kickboxing), MMA(Mixed Martial Arts), BJJ(Brazilian Jiu Jitsu), and Fitness Kickboxing, Dynamic Kickboxing has developed has a self-defense routine that braces you up with several tricks to stand strong. Their courses will teach you everything required to become a competitor. From Martial Arts to Physical fitness you will be able to gain everything. Their MMA Fighters Training courses are one of the most popular and challenging fitness courses.

Where: BHN Tower, 1st Floor Sector-44, Sadarpur, Noida
Contact: + 91 9810687485
4. Warrior's Cove MMA Academy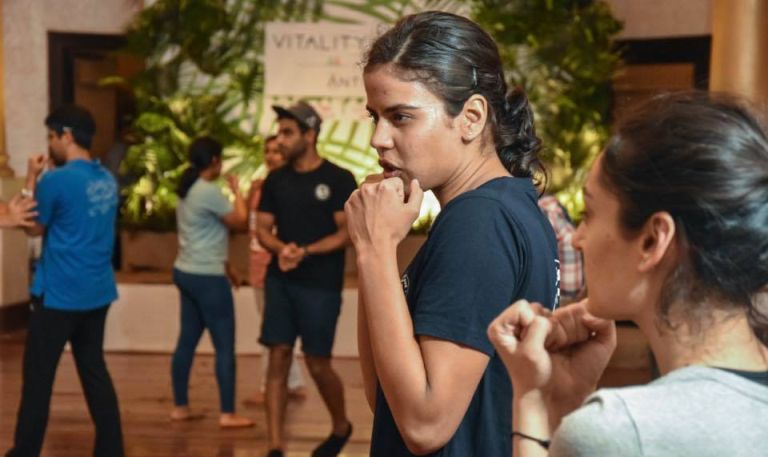 They provide classes in numerous disciplines, but their Brazilian jiu-jitsu is something you should defo check out. It works on your mental health more than anything else, which makes it the perfect style of self-defense. Apart from this program, Warrior's Cove MMA Academy has Thai Boxing, Wrestling, Boxing and Grappling. We bet you it will help you to break free from your insecurities and take on the world head, no matter what it throws at you.

Where: The Basement of 42 Asoka Crescent Marg (BodyCare Building), Golf Course Road, Gurgaon
Contact: 9958605606
5. Sanshinkan Martial Arts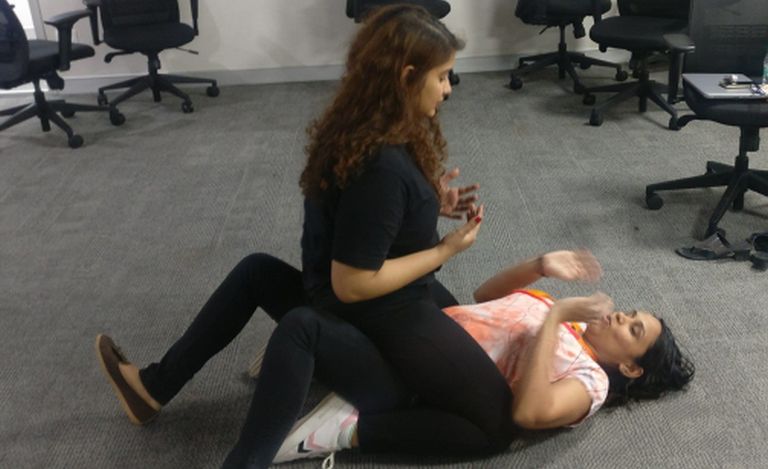 The Sanshinkan Martial arts offers various martial arts like Karate, Mixed Martial Arts, Jiu-Jitsu, Weapon, Boxing, and Kickboxing. They also offer special training like Self Defense, Training Armed Forces, Women Self Defense, Corporate Self Defense. In their special self-defense programme for women and girls, they teach a combination of mixed martial arts and defensive stances. Sanshinkan Martial Arts offers Kids Special in which they train the kids to fight for themselves.

Where: Plot number : 159, Sector 56, Gurgaon
Contact: +91-9312877677

6. Delhi Dance Academy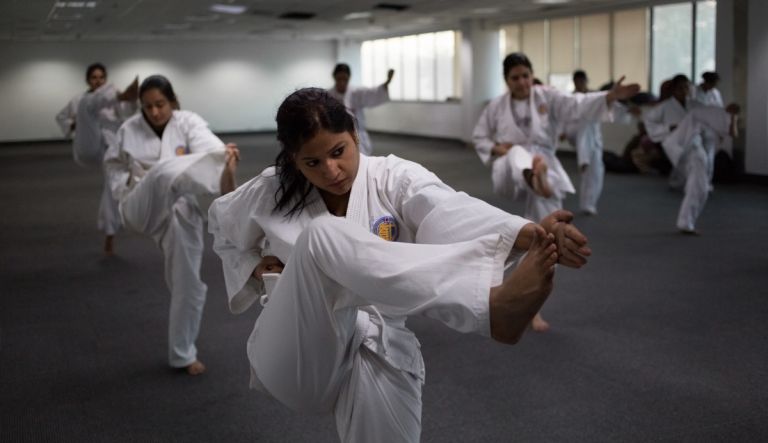 Delhi Dance Academy's self-defense program focuses on building your core strength through weight training and toning exercises. At DDA, you will learn how to build your stamina and flexibility, so that you will see the difference in the power of your kicks and punches. The classes are arranged on special demands at the center. And yes, they also teach you how to react to tricky situations.

Where: E-238/239, Amar Colony, Lajpat Nagar 4 & B-94/95, Panchsheel Vihar, Sheikh Sarai Ph-1
Contact: 011 41012909
7. The Martial Arts and Self Defense Academy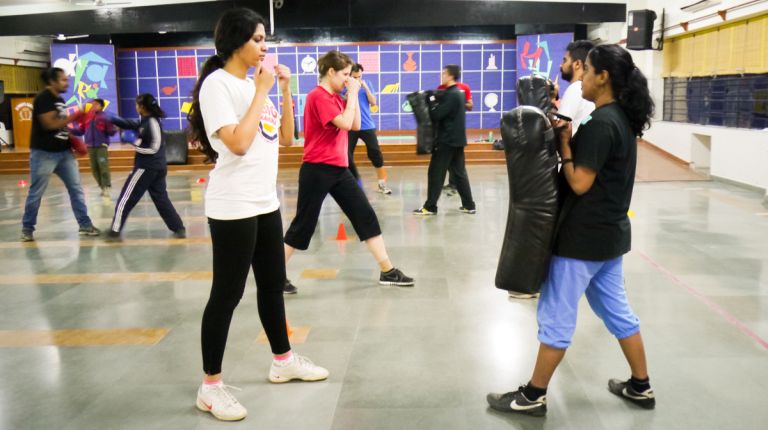 This academy will train you in martial arts and self defense programs. All the programs are formulated keeping in mind keeping civilians (men, women and children) in mind, with special techniques that could be life-savers. The course is also flexible when it comes to schedules.
Where: RZ J 17, (basement), West Sagarpur, New Delhi
Contact: 070655 79097
(Featured Image Source: cp24.com)