All of yesterday our Instagram feeds were flooded with pictures of some… let's say quirky outfits from Met Gala. And unless you're living in a cave, you'd know it's because of the annual fundraising gala for the benefit of the Metropolitan Museum of Art's Costume Institute in New York City. Also known as the Met Gala or the Met Ball.
The theme for the Met's 2019 Costume Exhibition was "Camp: Notes on Fashion." No, as in exaggerated fashion, not what you're thinking silly! The exhibit derives inspiration from Susan Sontag's 1964 essay that defines camp as "love of the unnatural: of artifice and exaggeration." So you can say basically the theme was an exaggeration. Take one look at these pictures, and you'd know none of them disappointed!
So let's take you through some of the crazy outfits we saw this year!
1. Nickyanka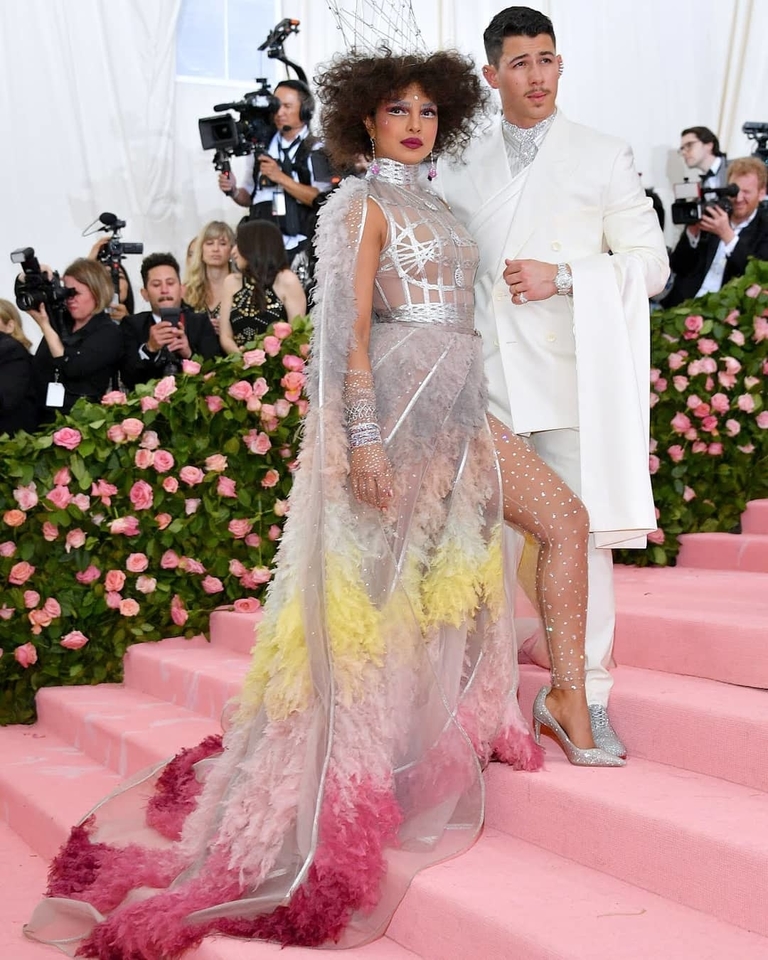 Nickyanka looked on top of their fashion game as they came dressed in matching outfits. Dressed in a Dior gown with jewels by Chopard and a dramatic crown, Priyanka Chopra Jonas stole the show! The actress paired her outfit with sparkly silver stilettos while Nick went for Dior Men tux, Chopard jewels and silver Christian Louboutin shoes.
2. The Jenner Girls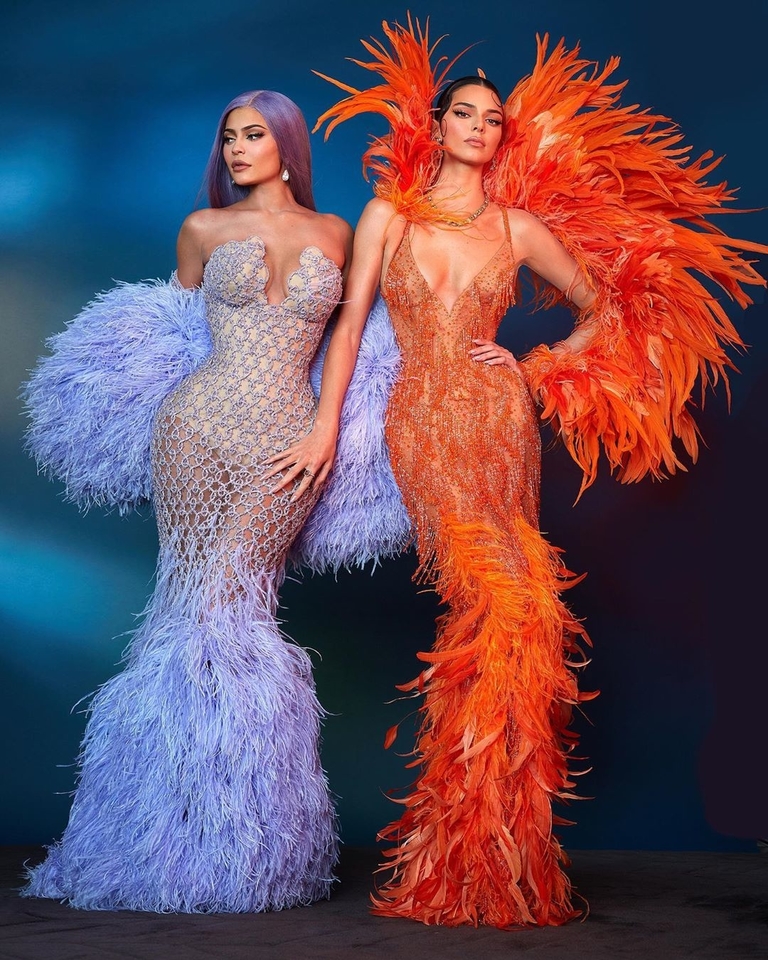 The sisters had a twinning moment as dates for this year's fashion event.
Kendall stunned in a Cher-inspired bright orange feathered naked dress, while Kylie opted for a lavender feathered naked dress. Both by Donatella Versace.
3. Deepika Padukone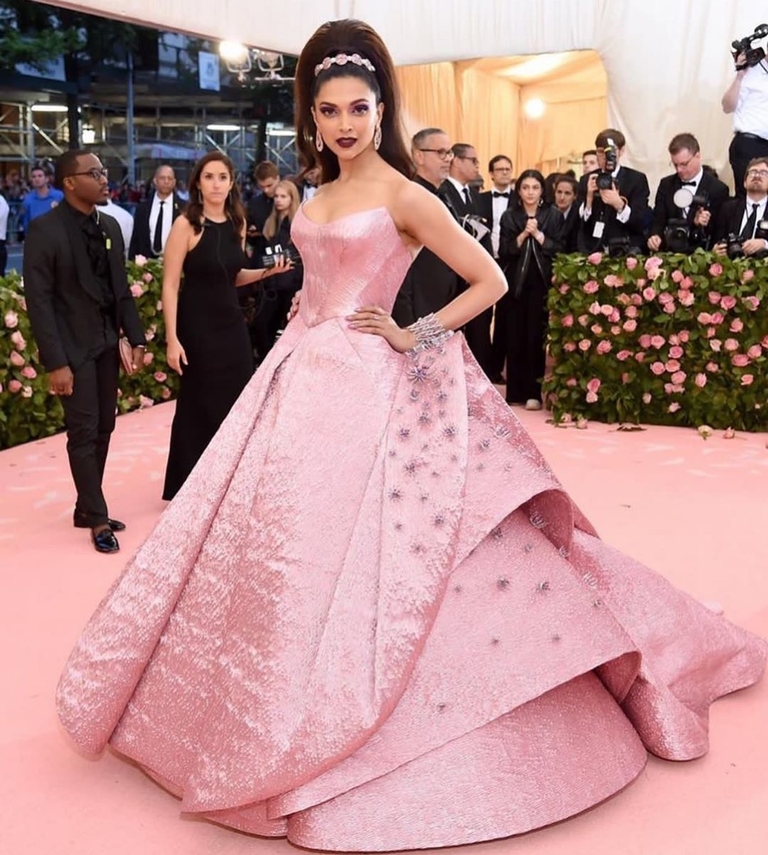 Deepika Padukone, resembling a real-life Barbie Doll stunned us in a strapless pink Zac Posen embellished gown. She completed the dramatic look with a pair of diamond earrings and a statement cuff. While she did not go the outrageous route like some of the other celebs, but we are digging this look. However, had Ranveer Singh been invited, we think he would've done better justice to the theme. What say?
4. Zendaya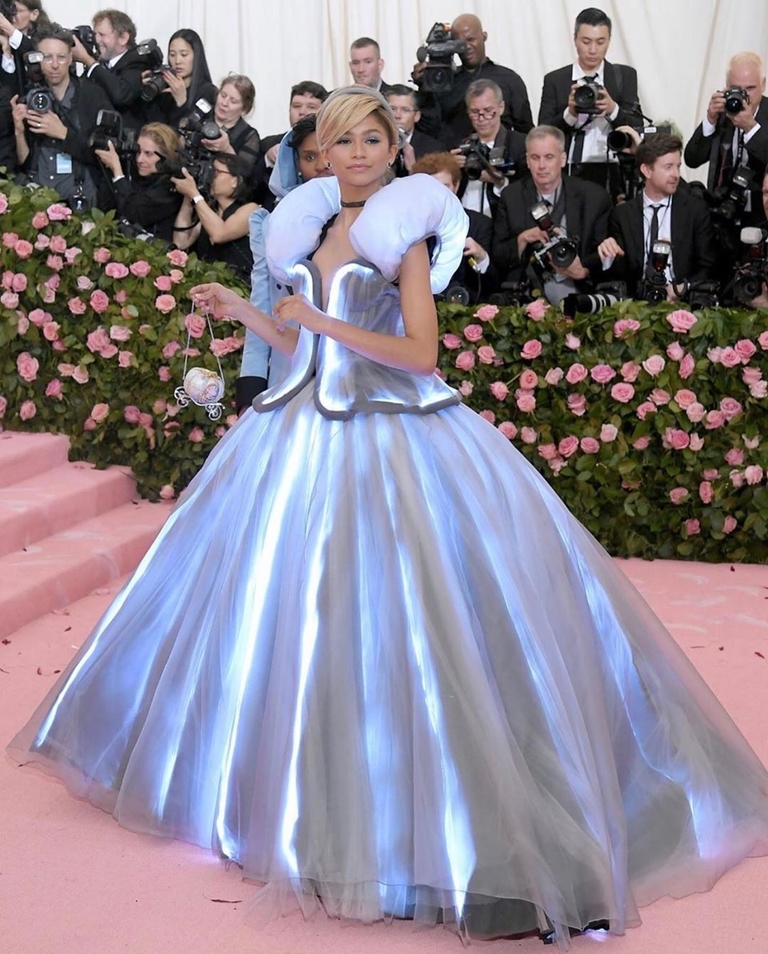 One of the biggest show-stopping moments at the 2019 Met Gala came courtesy of Zendaya. She arrived dressed as Cinderella in her blue Tommy Hilfiger Gown. With her hair in a similar style, complete with blue headband and a simple black choker, she looked every bit the part. She walked down the red carpet hand in hand with her stylist Law Roach, who was dressed as the Fairy Godmother. As Roach waved a magic wand, which had smoke streaming out of it, Zendaya's gown began to twinkle and light up.
5. Harry Styles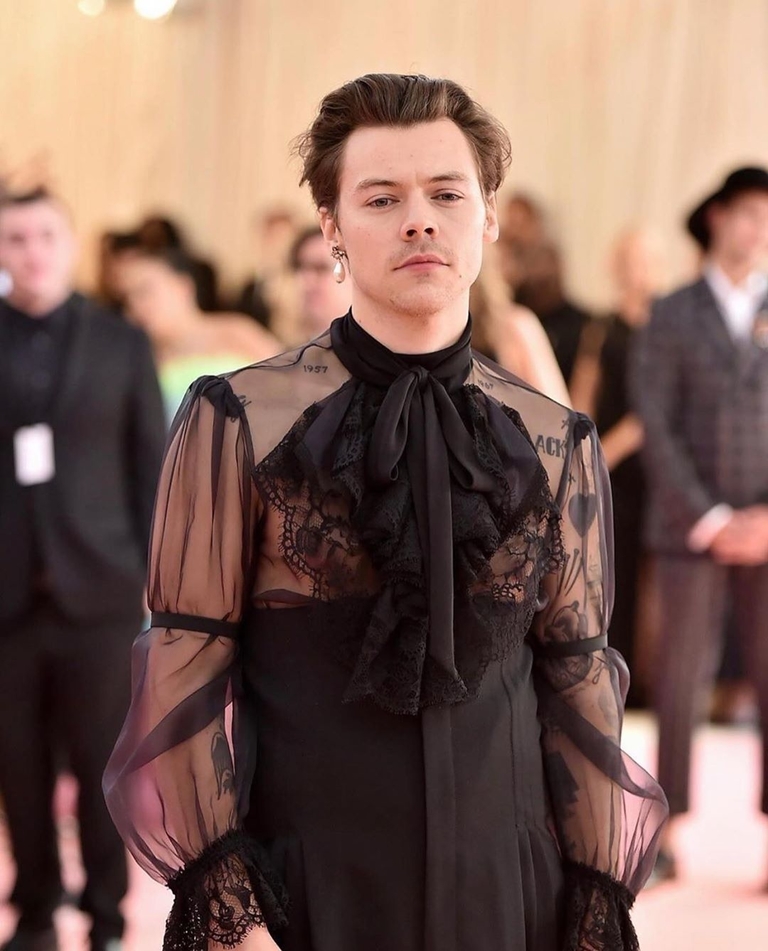 Harry Styles, who along with Lady Gaga, Alessandro Michele, Serena Williams, and Anna Wintour co-hosted the show, was made for this year's camp theme. And, of course, he wore Gucci. He walked the pink carpet with Gucci's creative director Alessandro Michele.
6. Jared Leto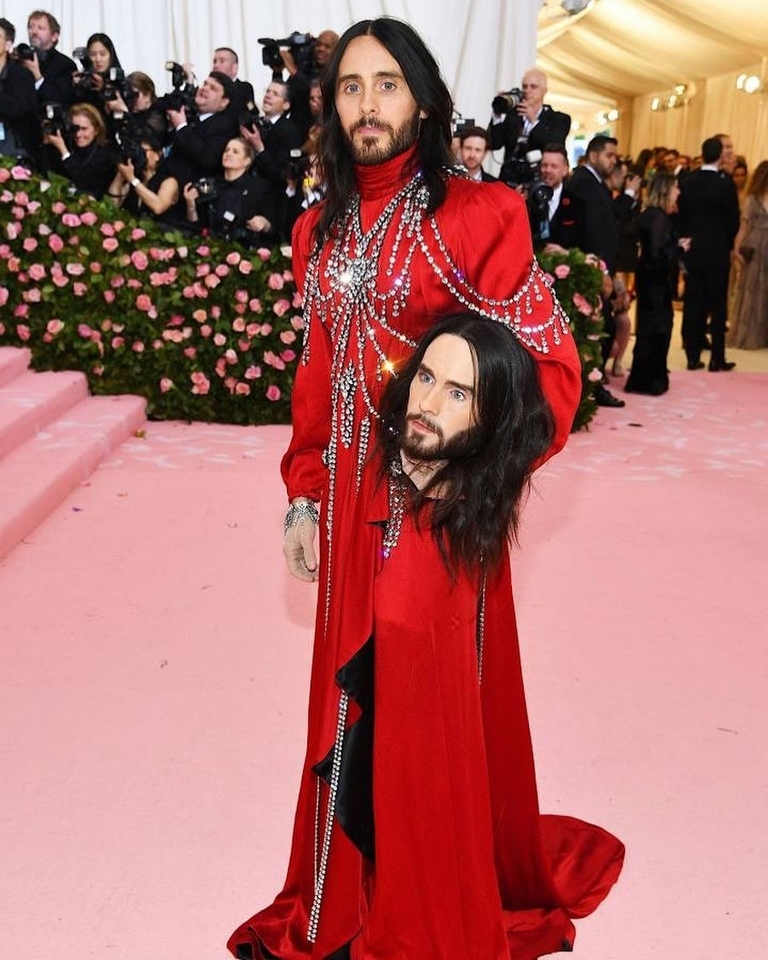 Leto was also among the showstoppers in a long-sleeved silk red gown with diamond-encrusted detail along the bodice, also by Gucci. However, the ultimate accessory was an axed head that was a wax-like replica of his own face, which he carried like a clutch. Boys, take notes. A man purse is nothing if it's not as extra as Jared Leto's clutch!
7. Katy Perry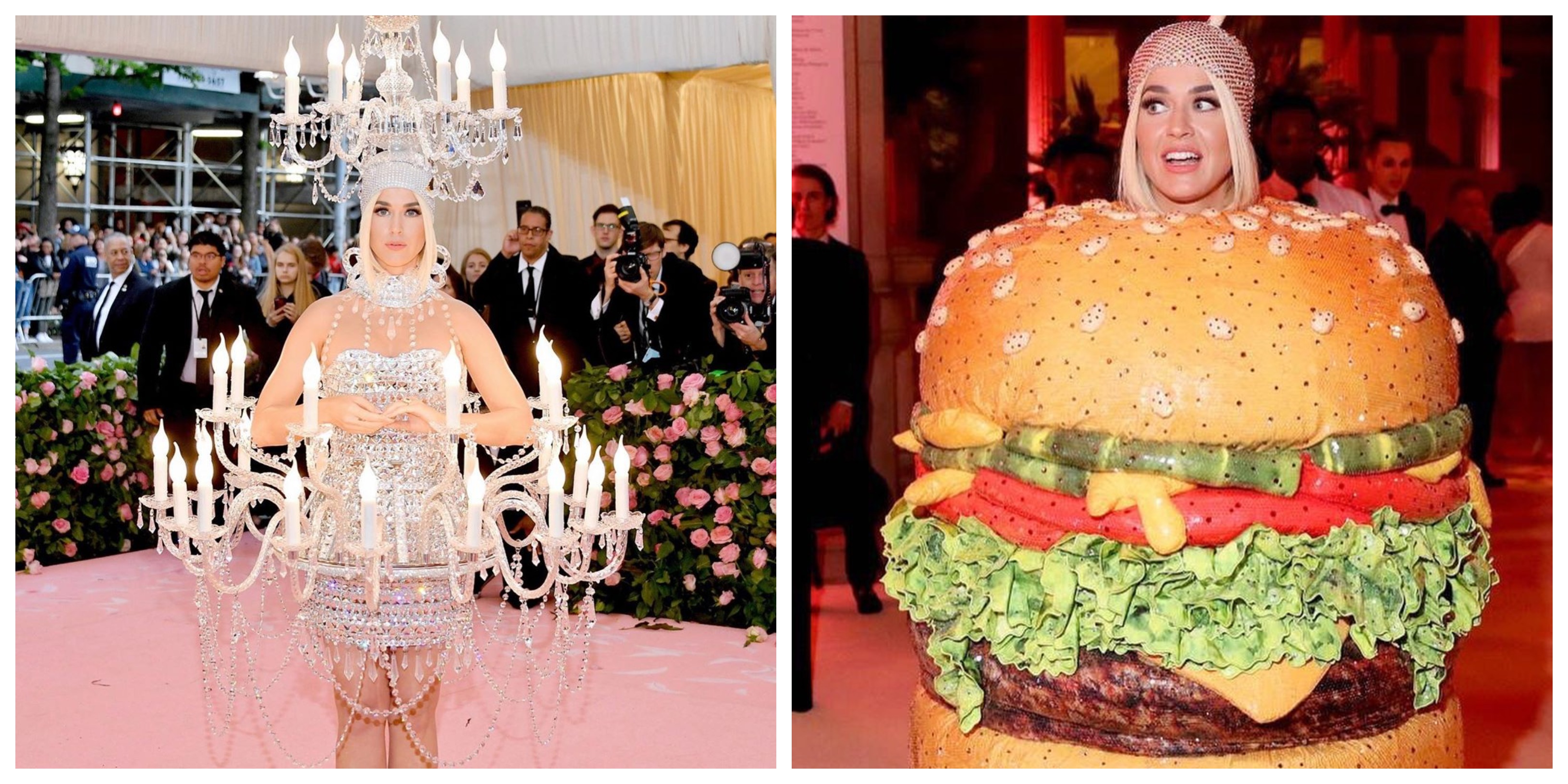 From a chandelier to a hamburger, we know where Katy Perry's priorities are at! The singer walked the pink carpet flaunting a chandelier outfit designed by Moschino. For the after-party, she decided to 'switch off' her chandelier and get-up to something that can make your tummies grumble, a Hamburger. Yes, Katy Perry dressed as a hamburger for the Met Gala after-party. We know she's a foodie!
8. Lady Gaga
We saved the best for the last! Lady Gaga made a grand entry as she changed into not one, but four different outfits. Gaga, who arrived at the pink carpet with a group of male dancers dressed in suits and holding umbrellas, started off with a pink Brandon Maxwell gown that included a giant bow and a massive 25-foot train. Gaga shed the pink cape dress off to reveal a strapless black gown by the designer. Next came a body-hugging hot pink gown. And eventually, she stripped to black undies with sky-high platform boots. What a woman, right?
Features Image Source: Instagram/ladygaga