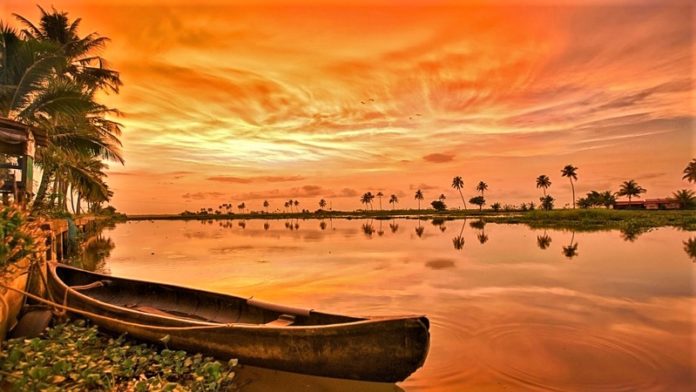 It's officially the season to take a break and head on a lovely vacation. And peeps, if you are in love and want to spend some quality time with your bae, then let's just say think beyond Netflix and chill! Because it's now merely a passe. In fact, you must check out these 8 dreamy spots in the country where you can spend some mushy time with your partner. Yeah, thank us later!
1. Andaman
Image Source: TripFactory Blog

Image Source: zeenews.india.com
We're sure the beauty of Andaman and Nicobar Islands needs absolutely no introduction. With their serene beaches and secluded romantic hideouts, these islands make for a perfect vacay spot for couples! If you and your partner are interested in marine life, there are also many activities to keep you busy such as Scuba Diving, Snorkelling and other water sports. Trust us, this would be a break you'd wish to never return from!
Where to stay: We recommend you stay at Sinclairs hotel and resort's Bayview which offers a spectacular view of the Bay of Bengal from almost all its rooms.
2. Coorg
Image Source: www.coorgtourisminfo.com

Image Source: Yatra Blog
Coorg is also known as the 'Scotland of India' because of it's immense beauty. It is a perfect vacay spot for those of you who are looking to get away from the heat. It is a beautiful, picturesque hill town known for its sprawling coffee plantations and waterfalls and luscious green hills. The perfect backdrop for a romantic summer getaway, right?
Where to stay: You can stay at The Wildflower Resorts and Spa. We suggest you make use of their award-winning Emerge spa therapies, carefully chosen to help you relax and rejuvenate.
3. Pondicherry
Image Source: TripAdvisor

Image Source: Trodley
If you're in the mood for an international destination, but don't want to end up spending a bomb, you can take your bae to Pondicherry. Pondicherry, also known as the 'little Paris' of India and was home to several French colonies in India. It is the perfect fiesta for couples with its age-old French colonies and rocky beaches. While it may be a little hot during the day time, you can enjoy a pleasant, lively evening. Sip on a glass of red wine, taking in the beauty of this place.
Where to stay: You can check out the Dune Eco Beach Hotel. It's a beautiful spa resort set amidst 35 acres of greenery and also offers aromatherapy at their Paradise Spa.
4. Gulmarg
Image Source: Indian Holiday Pvt Ltd

Image Source: BeBeautiful
The name Gulmarg translates to 'Meadow of Flower' which literally spells romance! With its snowclad hills and landscapes full of blossoming flowers, this place is sure to invoke lovey-dovey feelings between you and your partner. This hill town, in the J&K, is full of beautiful picturesque locations and you'll never fall short of scenic places to explore here. For those of you who enjoy it, this place is a famous skiing location in the country. Those of you who don't know how to ski, this could be a chance to pick up a new skill!
Where to stay: The Khyber Himalayan Resort and Spa, capturing the pristine beauty of Gulmarg would be the perfect place to enjoy a romantic stay with your partner.
5. Alleppey
Image Source: Goibibo

Image Source: ravishingkerala.com
Alleppey or Alappuzha has become a super popular destination in the last couple of years. The place offers a lovely romantic experience for couples of all ages. It is a coastal town with several inland waterways, beaches and canals. So, definitely, it's a treat for all water babies! You will find yourself falling in love all over again, amidst the scenic backwaters of Kerala. You should definitely spend a night or two at a houseboat, it will be an experience like no other!
Where to stay: Vasundhara Sarovar Premiere offering Luxury Houseboats and Floating cottages should be on top of your list for places to stay at in this heavenly town.
6. Auli
Image Source: Travel Triangle

Image Source: Visit.com
For couples who enjoy adventures together, Auli is a place you must explore. This place is the Holy Grail of Skiing in India! Auli is full of lakes, ropeways and viewpoints with gorgeous, scenic views. It is situated at a massive elevation of 3,049 meters above sea level, with beautiful snow-clad mountains. If you're young, a bit wild, and full of energy and adrenaline, then this is the right spot for you. You can even take advantage of the cold weather and find a cosy spot by the fireplace to cuddle with your love!
Where to stay: Being the second highest located resort in the world, Cliff Top Club will literally give you major 'on top of the world' feels.
7. Lachung
Image Source: thrillophilia.com

Image Source: Travel Triangle
The northeast of our country has scenic beauty like no other place. Agree? You must head to this gorgeous village in Sikkim and enjoy each other's company walking along the streets. It houses the beautiful Gurudongmar Lake, which is a must-visit. You can also experience the blossoming of flowers if you happen to visit in mid-June. To say the least, this place is nothing short of a paradisaical abode which makes for a perfect spot for a romantic holiday.
Where to stay: Stay at the beautiful and cosy Yarlam Resort which has the best of facilities to offer. Indulge in a couple's massage at their luxury spa to relax and rejuvenate!
8. Kanyakumari
Image Source: hoteltempleciti.com

Image Source: Travel Triangle
What's better than watching the marvels of nature right in front of your eyes, with your SO by your side? The meeting point of three oceans-the Bay of Bengal, the Arabian Sea and the Indian Ocean, Kanyakumari serves as the perfect destination oozing romance. It's got pristine beaches, ancient temples and historic forts, there is literally nothing else you need! Witness the sunrise and sunsets holding hands with bae and that is all the magic you'll ever need in life!
Where to stay: With its gorgeous sea view and amazing location, Sparsa Resort is where you should be staying at your romantic getaway!
So, all your romantic souls out there, head to these destinations and spend some cosy time with your loved one!
Featured Image Source: keralaluxuryholidays